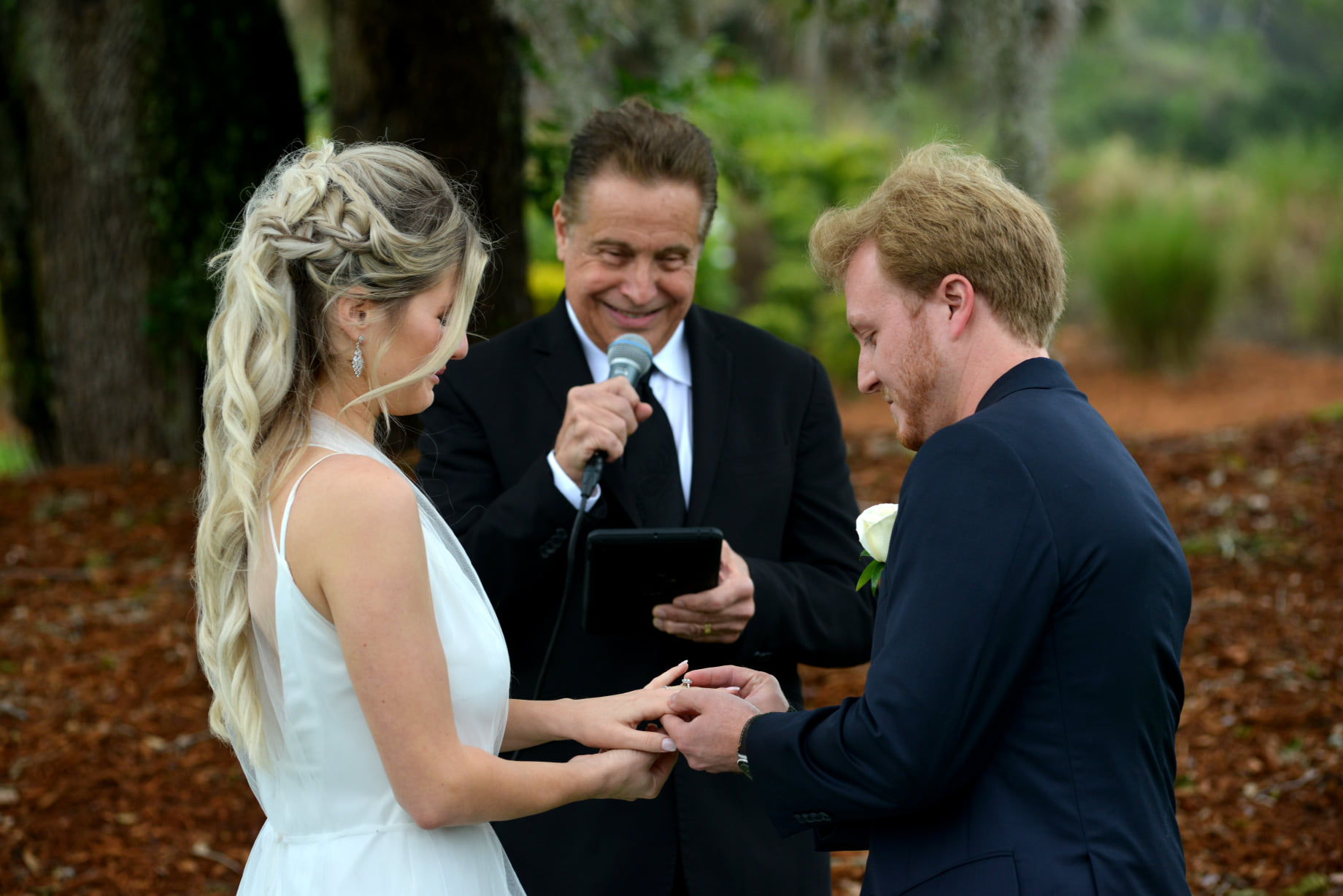 Ashley and Chamler
As a wedding venue, Celebration Golf Club provides an outstandingly gorgeous setting. There is that beautiful gazebo nestled just behind the clubhouse on a wonderfully green lawn. And then there is the option to hold a ceremony under an old oak tree just off the course, on a slight hill with a view of the clubhouse. Either is prefect for having a wedding experience to be remembered. While the gazebo if more suited for smaller more intimate weddings, the oak tree setting can easily accommodate a much larger group. So, everyone can find their perfect spot at this Celebration, Florida treasure. Ashley and Chalmer chose the oak tree setting with their larger group after taking a tour with Vanessa the club representative. And they chose well! They had the perfect setting for their magical day.
For a wedding experience to be perfect and memorable, the ceremony needs to be tailored to the couple; to match their needs and vision. And that is exactly what Ashley and Chalmer had, as a result of working with Lon Tosi, an officiant with the Orlando, Florida team of wedding officiants from Sensational Ceremonies. Lon worked with them using a detailed planning kit to construct an intimate custom ceremony that fit them perfectly.
While there were many items in the ceremony that made it unique and beautiful, the spot that included their special words to one another, was especially unique and poignant.
Chalmer wrote: "Ashley, I want to be your rock to support you and be the wind behind your sails pushing you to your dreams. To love you in every peak and valley and every moment in between.
To remain the best of friends and always ignite the flame with gifts, trips and kindness.
To always stand up for you and to put you first and the center of my life.
To never lose focus on your love, because that's what matters.
To better myself every day to learn and grow with your love, friendship, and unbreakable bond."
Ashley wrote: It's been 5 years since we've first met and with the help of a lot of Disney, fireworks, and laughs, we quickly became best friends and you were someone I loved spending time with.
I remember connecting with you in a way I've never connected with anyone else before.
It was clear as day you were different and special.
The ceremony ended with a wonderful reading by Lon of the Irish Wedding Blessing. The reading ends with a wish for the future of the couple: "And, today, may the Spirit of Love find a dwelling place in your hearts. Amen."
The Vendors
Married by Mail the largest licensing service in Florida, provided the Florida Marriage License for the couple. Dianne their president, was even on site with a sound system for the ceremony. Talking about customer service! It is notable that Dianne hand delivered their license to Lon Tosi their wedding officiant. Flowers by Lesley provided the delightful ivory bouquet and boutonniere for the couple. Christopher Smith of Snap Fine Art, the amazing Orlando photographer, took the photos. And of course, Celebration Golf Club, and their very professional representative Vanessa, provided the venue and reception package that completed a wedding experience to be remembered by all.
And it all happened on a cool but sunny day in Celebration Florida!