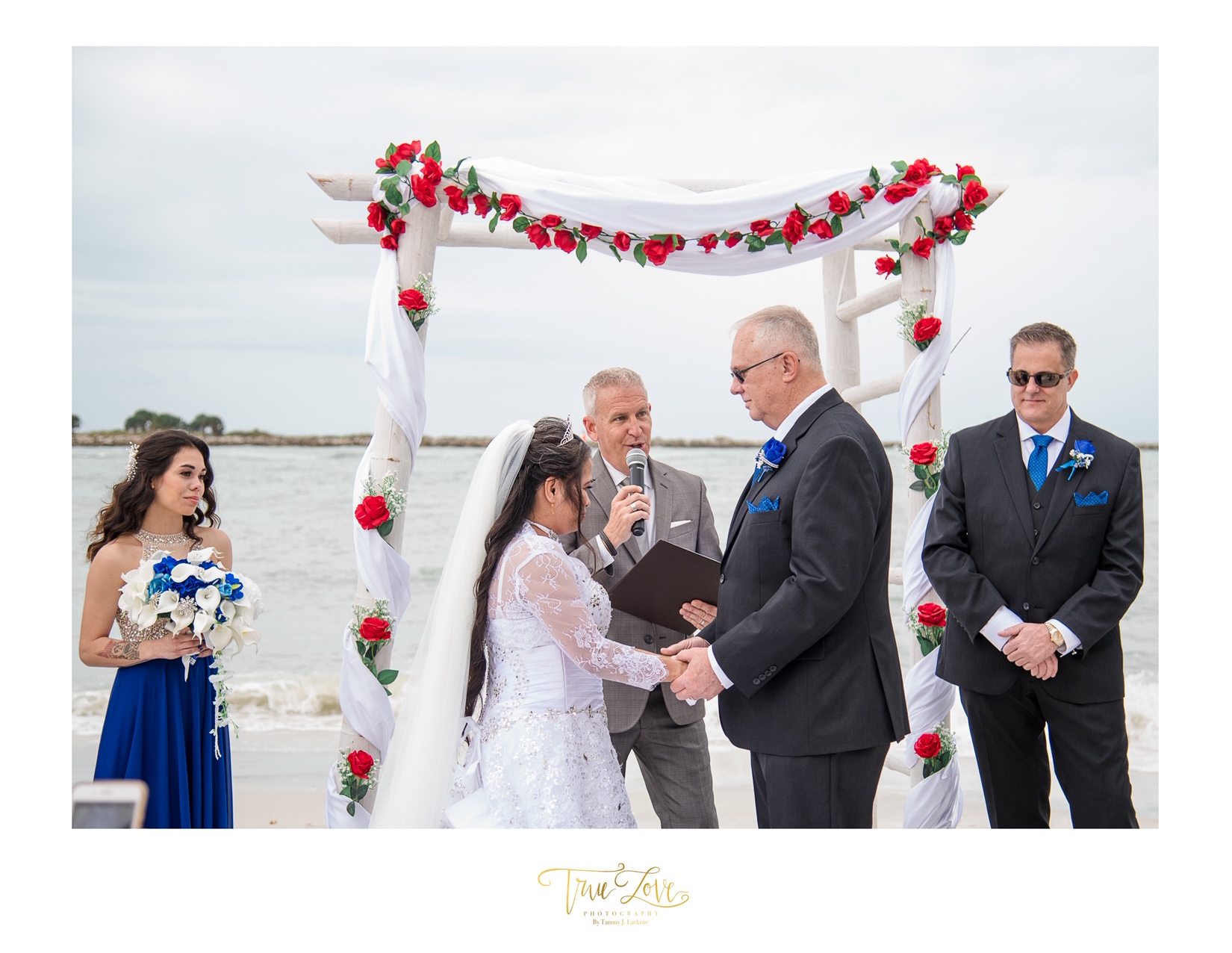 Valentine's Day
Loida and Robert chose Shephard's Beach Resort on Clearwater Beach as the venue for their wedding ceremony on Valentine's Day. Recognized as one of the best beaches in the U.S., the powdery white sands and relaxed culture of Clearwater Beach provides the perfect backdrop for romantic getaways and fun-filled family vacations. Clearwater Beach was recently named the 2019 Best Beach in America again by TripAdvisor for the second year in a row!
Shephard's Beach Resort has evolved into a premier Gulf Coast Beach Front Entertainment Resort, and is known for their cutting-edge food choices, signature rooms, amazing sunsets, cool cocktails and famous daily entertainment.  Guests can enjoy all that Shephard's has to offer from well-appointed accommodations including specialty suites, a tropical pool deck and SOAK Bar, a white sand beach with watersports rentals, the amazing Ocean Flame Open Kitchen Buffet, famous beachside Tiki Beach Bar & Grill, Salt Tequila Bar and Tap Room, and the exclusive 2 level Wave Night Club, shops, rentals and more! Everything about Shephard's is created to deliver an unforgettable vacation. Brides and Grooms can also choose the resort for as an unforgettable beachfront wedding venue, featuring multiple indoor and outdoor venues, even on Valentine's Day.
Loida looked gorgeous in her wedding gown as she was escorted across the sand on Valentaine's Day by her son to join Robert in front of their wedding arch.  The couples' custom designed wedding ceremony included words about Love, Friendship, Loyalty, Fidelity and Trust, Scripture readings from the book of Genesis, Proverbs and 1 Corinthians 13, and the poem On Your Wedding Day.  Then, as their family and friends looked on, and with an amazing view of Clearwater Pass and the Gulf of Mexico as their backdrop, the couple shared their vows, exchanged rings and were pronounced husband and wife by Rev Rick Lackore of Sensational Ceremonies. 
Thank you to A True Love Affair Intimate Florida Weddings , as well as Leah and Ashley and the rest of the staff at Shephard's coordinating all the details of this Valentine's Day wedding.  Wedding Photographer Tammy, with True Love Photography, also provided this beautiful photo during their ceremony.   
Congratulations to the new Mr. and Mrs. Robert Van Orden!