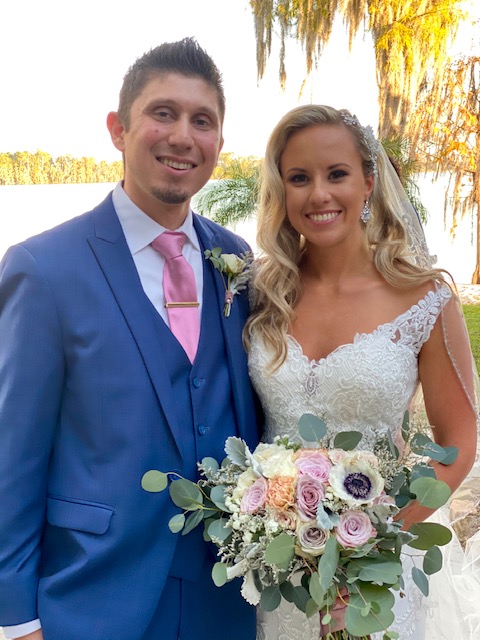 Beautiful Day
What a beautiful day it was for Renee and Dominic to get married at Paradise Cove, in Orlando, Florida.  The weather was amazing, for the couple to walk the aisle and become husband and wife.  Daniel with Paradise Cove coordinated every aspect of the couple's big day.  From recommending vendors, setting up decor, making sure everything ran perfectly Daniel took care of it all.
The Orlando Flower Market did a great job making the bouquet and boutonnieres for the bridal party and the centerpieces for the reception.  With blush, lavender, and cream roses surrounded by seeded eucalyptus and lambs ear, Renee's bouquet was a thing of beauty
.Rhythm of the Night was the DJ for the .  Renee and Dominic wanted music that fit the two of them and would be fun for their guests. The DJ really kept the dance floor full throughout the evening.
Cocktails Catering made sure every bit of food for the beautiful day was perfection.  From passed hors devours  that made your mouth water to a delicious buffet, everything was delicious.  For their ceremony Dominic and Renee wanted something that really fit the two of them.  From choosing the style of ceremony, vows, readings, etc.  they wanted it to be completely their ceremony. 
The couple asked Rev. Glynn Ferguson the owner of Sensational Ceremonies and an Orlando wedding officiant to help them put together a touching ceremony for their beautiful day. Rev. Ferguson asked the couple to each write and tell him why they love each other.
Renee wrote :I love Dominick for so many reasons, and the list seems to grow and change for each year that I know him. In the beginning, I loved him because he was adventurous and exciting. Every new place we visited together became a special memory, a feeling that I never experienced with anyone else before. As time went on, I loved him because he was my best friend. Everything changed from "I" and started to become "we". Our visions of what we wanted our lives to become lined up so perfectly. Our morals, beliefs, values, everything I wanted he wanted, and our relationship was effortless. Now, I love him because he makes me feel safe. I look at him and know that without a doubt, no matter what hardships life may bring us, he is going to pull us through. As I try to navigate my purpose in this life, he constantly reminds me that no matter what job I have or where I am headed, he not only accepts and loves me, but he encourages and supports me. My entire life, I have always been in a rush – for everything. Dom said to be once that "As long as you're doing something you enjoy, nothing is ever a waste of time." This is why I love him.
Dominic wrote: The first time I met Reneé was when I worked at Carrabbas Italian Grill and she got a job there. I still remember how beautiful (and nervous) she looked when I first introduced myself to her. After about a month or two of working together I finally made an attempt to ask her out after work to grab a drink and play some pool. Thankfully she said yes, because from that moment on the sparks kept flying. We ended up hanging out more and more as time went on. Of course we didn't agree on everything and she would get mad when I didn't want to cover her shifts but what work couple doesn't go through that. She didn't just become my friend, but whether she realizes it, she became my inspiration. She gave me the confidence to start a locksmith business and of course she was my number one customer since she used to lock herself out of everything. Car, house, you name it. It didn't even take a year, but we both knew we were each others forever person as we used to call it. Her family took me in with open arms and even let us live at their house together while we figured out our life journey together. From their we both found solid career fields and rolled with it. Which is how we ended up moving to Georgia. I would've never done this for any other person, but that is how much I love her. Even without being around our families in Florida she always gave me a sense of comfort. If the move and work didn't get in the way I would've proposed a lot sooner. I don't think I could have found a better soul mate. I don't believe in perfect but if she enjoyed watching action movies as much as me then we would be set. Here we are five years later and and handful of action movies later closer than ever. I love Reneé with all my heart and cant wait to add this story to our lives and grow old with her. 
We wish them happiness for a lifetime.