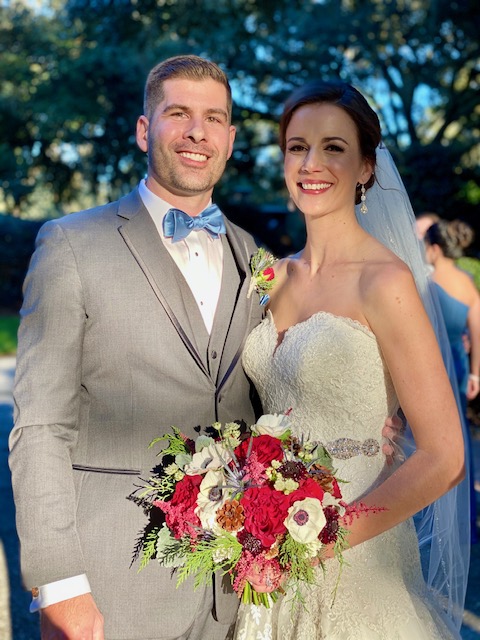 Wedding Under the Oaks
What a beautiful day for a wedding under the oaks at Club Lake Plantation. Adam and Amber loved the feel of this beautiful venue in rural Orange county. With barns, ponds, towering live oaks, and easy access from Orlando it was the perfect location for the two of them. For the task of putting this beautiful wedding together under the oaks, the couple chose Bella Sposa Events. Clara from Bella Sposa took the reigns of the planning and worked with Amber to make sure every detail was to their liking. Foodie Catering did an excellent job of providing the food the couple and their guests would enjoy through the evening. With passed appetizers served under the oaks, Foodie Catering made sure everything was perfect. Adam and Amber wanted to make sure that every moment of their wedding day was captured by a trusted photographer. The couple chose Penny Hawk Photography to make sure everything was recorded in detail for them. From photos of the couple getting ready, through the ceremony, and into the reception Allison captured it all. Even the detail of having Faces by Shannon help with makeup for the bridal party was captured for the couple. Likewise, Paul Literal Productions was chosen to capture the wedding on video for the couple to share for years to come. The Orlando Flower Market created beautiful florals for the couple. With a bouquet filled with poppies, lambs ear, and cypress; the bouquet was not only beautiful but smelled fantastic. Our DJ Rocks really took care of the day by not just providing incredible music for the reception, but Jennie and her team provided ceremony music, microphone for the officiant, lighting and music for the reception under the oaks as well. Sweets by Holly did a fantastic job or providing the delectable desserts for the reception. Not a bite was left at the end of the evening. Amber and Adam asked Rev. Glynn Ferguson, of Sensational Ceremonies, to help them create a beautiful and custom ceremony under the oaks. With selections of a traditional Christian ceremony and personal touches of custom vows the ceremony was almost perfect. Rev.Ferguson asked Adam and Amber to also write and tell him why they love each other. He incorporated those paragraphs into the ceremony to make their ceremony super personal.
Amber wrote: When Adam loves, he loves fully. I cherish the relationships he has with his family and his friends that have become his family. Over the last 6 years, those relationships have evolved to become "ours". He welcomed me into a world full of love and laughter, and I am forever grateful for it. Adam's commitment and devotion to those he loves is just one of his amazing qualities. This is especially shown through our beloved, although rotten, cat (Kira). The love he shows for Kira through the endless cuddles she barely tolerates, the lengthy conversations he has in which he provides both the human and cat perspective of the conversation, and dances he shares with her in the living room always make me laugh. If he can love our cat that much, the love for our children will be immeasurable. I just know he will be an incredible father.
Adam's playful side is my favorite. The memories of him doing the British Crab and the Seahorse in random public places, enjoying all things Disney together, slip n sliding on frozen Bear Lake in Colorado, listening to Christmas music and watching Christmas movies immediately following Halloween, and singing a rhyming song about every mundane daily task always brings a smile to my face.
He gives the best cuddles.
He is so thoughtful and gives the best gifts. From Birthdays and Christmas', to our engagement, I am lucky to receive the best presents! Adam, on the other hand, will never run out of socks.
Our relationship has helped me build a level of self-confidence I didn't know existed. Despite my resistance at times, Adam has continually pushed me out of my comfort zone. From skiing trips, to zip lining a full kilometer at breakneck speed in Costa Rica, to navigating roundabouts in England, to scuba diving and most recently, tolerating my barely average ballroom dancing skills, all have given us memories that will last a lifetime.
Together we share a love of tea, Hobnobs, and really food in general, especially when paired with pants with expandable waist lines. Adam was, is, and always will be my baby dinosaur.Adam wrote: Why I Love Amber
One of the first times we went to dinner, I wondered where she was putting everything as I subtly watched her eat. I told her she eats like a baby dinosaur and she has been my baby dinosaur ever since.
We have a fun and energetic connection. We can have full conversations while brushing our teeth, speaking only in grunts…we know exactly what the other is saying. We have a playful banter that is genuinely fun. We hiss at each other (like an angry cat) for no reason other than it's funny. We have conversations with our cat Kira, where we play both sides of the conversation. Kira's responses are usually profanity laced and inappropriate. I don't think I could do this with anyone else.
She knows all my quirks. She knows that if I am eating I am probably bored. She knows that I need to stay busy all the time. She knows that I am more balanced when I work out. She knows I am secretly okay with watching dancing with the stars with her rather than Monday night football. She knows I am my best self during the months of October through December.
She understands the importance of our growth as individuals as well as as a couple. She advocates for time with my friends just as much as time for us as a couple, because she knows it is therapeutic for me. My friends love her almost as much as I do.
She is a calming influence in my life. She knows how to turn my moods around. She makes me do things I think I don't want to do because she knows that I will be happy I did them, and she is right. I am always glad.
Sometimes she looks at me in a certain way. She doesn't know she's doing it and I don't tell her. But it always catches me off guard. It's all in the eyes. So often we are stuck running in the hamster wheel of life. But when she looks at me that way, everything going on around disappears for a split second. And I immediately feel good inside. If I could bottle that look I would make a fortune.
She is my travel buddy, my life partner, my confidant, the future mother of our children. She is literally the best person I know. Thank God she is mine. We wish them happiness for a lifetime.