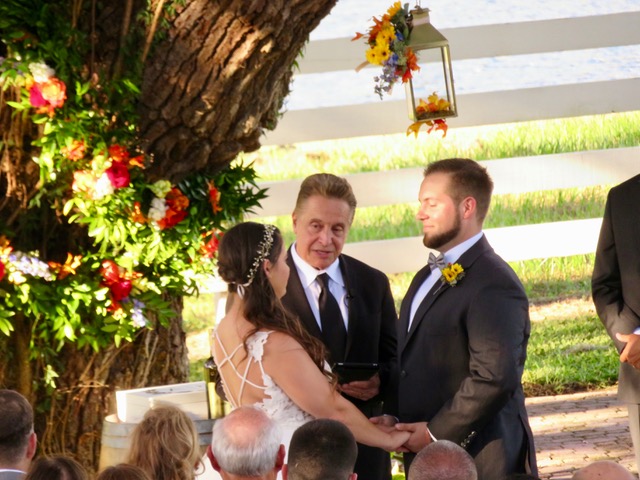 Fantastic Wedding Venue
A large Oak tree graces the back lawn of the Highland Manor mansion located in Apopka, FL.  That amazing tree has provided a gorgeous backdrop for countless wedding ceremonies over the years. Spanish Moss hangs from its ancient branches providing an unreal and serene backdrop for what are always certain to be beautiful photos and videos. The mansion itself, also provides for a sense of elegance. That wonderful old home has stories to tell of galas and wedding celebrations; of happiness and joy. It was for these reasons and more that Cory and Katie brought their families and friends to this to this fantastic wedding venue.
They approached Lon Tosi, of Sensational Ceremonies and the Orlando Team of wedding officiants to support their efforts in creating a custom ceremony that met with their dreams.  They found him through reading his many reviews on the Knot.
Their group was large with over 120 attendees. They had 10 attendants between them, but the ceremony felt warm and intimate. It glowed with happiness! Both the bride and groom wrote of their love for one another, and Lon read those special words for them. The couple requested that Lon thank their parents for their love and support. There were tears around those words. So beautiful! The Wine Box Ceremony is becoming ever so popular in weddings in Central Florida. Sensational Ceremonies was the first company to offer that particular option in its planning kit. It was not surprise then that Cory and Katie selected it for their special day. They wrote letters to one another about their love – "love letters". Together they placed the letters into the box with a bottle of wine. On their first anniversary, they intend to open the box, read the letters and drink some wine. Then that will add other letters to the box. What a wonderful tradition!
They had a great list of vendors and a great wedding venue for their event. John Unreal Photography is certain to have lived up to their amazing reputation with beautiful photos!  Event Concepts provided both the music for the ceremony and the reception entertainment. That was going to be a rocking event with their owner Steve on hand to control everything. Of course, the incomparable Flowers By Leslie provided the floral!  Just look at the attached photo of the tree behind Lon and the couple. Amazing beauty!
Lon Tosi is a successful wedding officiant serving the Central Florida and Orlando area. He has conducted thousands of ceremonies over a decade of service. Lon works with each couple to create a custom wedding document that actually speaks of their story. He always requests that they write special words to one another, that he will read for them. The ceremonies are peppered with readings that they select. As a Florida Notary, he conducts weddings of both a religious and non-religious nature. He also serves as Vice President of Business for Sensational Ceremonies the largest officiating company in North America. Lon is an award-winning officiant. There are numerous videos of his work on the internet for your viewing pleasure. And it all happened on a sunny day in warm and beautiful Central Florida!