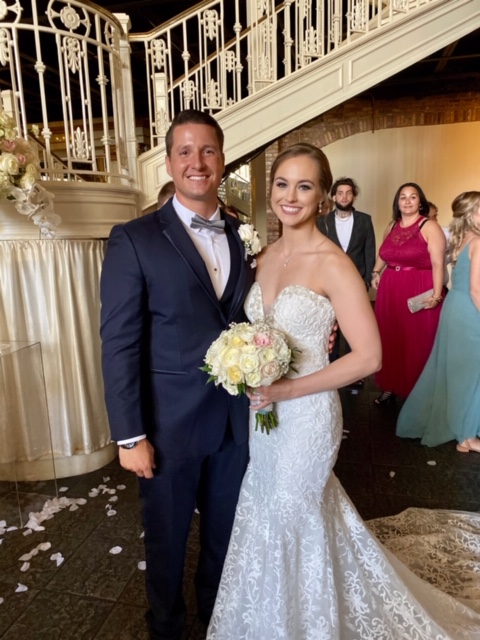 A Luxurious Wedding at the Orchid Garden
Their Story
Stephanie and Ricky had a magical evening surrounded by their family and friends. When the couple went looking for their wedding venue they knew they wanted something that really spoke to them, that was unique, and timeless and would allow them to have their luxurious wedding. Upon visiting the Orchid Garden in downtown Orlando they knew they had found their place. With wrought iron, flying buttresses, a two-story ballroom, and a bar that stretched three quarters the length of that space, they were sold.
Their Team
Caitlin with Plan It Events was their first vendor to book. Stephanie said that Caitlin made planning their luxurious wedding effortless and that she took care of everything. Planning a wedding can be a task and a treat, but Caitlin took it all in stride. She made suggestions, directed the couple to the very best vendor, and let them out their unique imprint on the wedding and location.
From beautiful floral displays that hung from above the ceremony, table decor that sparkled with elegance, and even their florals for the wedding party RJ Glam did an outstanding job of bringing that vision to life.
Their photographer from Matthew Hayford Photography — was perfect as well. He captured every angle of this venue, from the floor to the vaulted ceilings, and the on to the outside. With the Orchid Garden scheduled for demo lotion this winter he want to make sure that anyone who saw the photos would really get a feel for the opulence of this beautiful building. He went high and low to photograph the couple and their party in relative angles to capture every moment. For getting ready shots, the ceremony, cocktail hour, family photos and on to the reception, his work was tireless.
Soundwave Entertainment was in the House for the evening. With lighting and DJ services they really highlighted the beauty of the venue and kept the night rockin' on the dance floor. Their interaction with the couple gave them insight into the types of music the couple liked and they made sure to play their favorites.
Rhodes Studios was there to make sure the entire event was captured in video. It's one thing to see wedding pictures hanging on the wall, it is entirely another to see a great wedding video. Rhodes recorded every moment of the couple's day and are creating a masterpiece for them to cherish for a lifetime.
Puff 'n Stuff the in-house caterer for the event and the food was out of this world. The Puff and Stuff team were professional, generous with their time, and the food was delicious.
Their Ceremony
Ricky and Stephanie definitely had their style. From the vendors they chose, the venue, the decor, and the food, everything screamed classic romance; the same was true of their ceremony. Stephanie and Ricky asked Rev.Glynn Ferguson, an officiant and minister with Sensational Ceremonies, to help them make their ideas for the ceremony really come to life. With traditional vows, the Blessing of the Hands, and a reading of The One, everything was perfect. Rev.Ferguson also gave them a homework assignment to write and tell him why they love each other.
Stephanie wrote:: Ricky,
I love you because you are a strong, handsome, hard-working man. You are generous, brave (unless we're talking about heights), and intelligent. You give 110% in whatever you do, especially when it comes to making me happy. Your thoughtfulness is seen in little acts of love, like waking up early to pack my lunch, bringing home flowers just because, or telling me I'm beautiful every day. When I'm feeling down, you never fail to find a way to lift me up and support me. You understand me, you know me-so much so that you know what I'm thinking before I've even had a chance to say it. Your smile is contagious, and I love that you always keep me laughing. While you can be a manly man, you're also a big child that has lots of fun. Leo is lucky to have you as his fur daddy and I know you'll be an incredible father to our future children. I promise to keep finding the best hiding places for you hats and belts, as long as you promise to keep me fed. Most of all, I love you simply because you're you. You let the world know how much you love me, and you love me without judgment– acknowledging my strengths and choosing to see the beauty in my flaws. I can't wait to embark on this new journey together. You're my best friend, my dream come true, and now my husband. You will forever me my always. I love you
Ricky wrote: Stephanie, you are my whole world, the love of my life, and my entire future. Your beautiful smile electrifies every room you walk in to and it's so contagious I can't help but smile back every time I see it. I love that you always support me, take care of me, and make me feel loved. I love being your best friend, your partner, and your protector. I can't wait to be your husband, for you to be my wife, and for you to be the best mother in the world to our children. I love you!!
Congratulations! We wish you happiness for a lifetime.