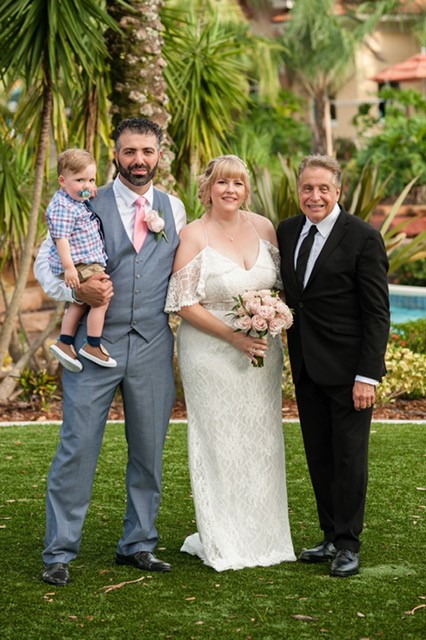 A Magical Elopement

Orange Lake Resort is located approximately 30-miles south of Orlando and is in the heart of the tourist area surrounding Walt Disney World. Pamela and Sean chose the resort because of its beauty, featuring lush vegetation, and amazing customer service. There is a specific location at the resort that presents a gorgeous lawn overlooking a "lazy river" with a wonderful waterfall. It is that very location that the couple chose to hold an intimate and heart felt marriage ceremony. It was just perfect!

They approached Lon Tosi, of Sensational Ceremonies and their Orlando Team of wedding officiants to support their efforts in creating a custom ceremony that met with their dreams.  They found him through reading his many reviews on the Knot. Their group was small. It was just the two of them, a close friend, and their two children. It was an intimate, warm event that glowed with happiness. Both the bride and groom wrote of their love for one another, and Lon read those special words for them. They had a "love theme" for their ceremony. There was a reading "What is Love". In part it states the following: "Love is a promise that is always kept, a fortune that can never be spent, a seed that can flourish in even the most unlikely of places". Their ceremony also outlined the importance of their hands in their relationship. That specific part of the ceremony outlined how their hands will support their family into the future, and were meant to act as a strong support when each is in need.

Lon worked with the couple to build a package of vendors for their wedding that included a gorgeous bouquet, and boutonniere, as well as photography and music. Their marriage ceremony was truly a magical event with all factors in perfect union.  Mike Briggs Photography provided the photo expertise in a most professional manner. Flowers By Leslie supplied the amazing floral arrangements.

And it all happened on a sunny day in a magical place in Central Florida!