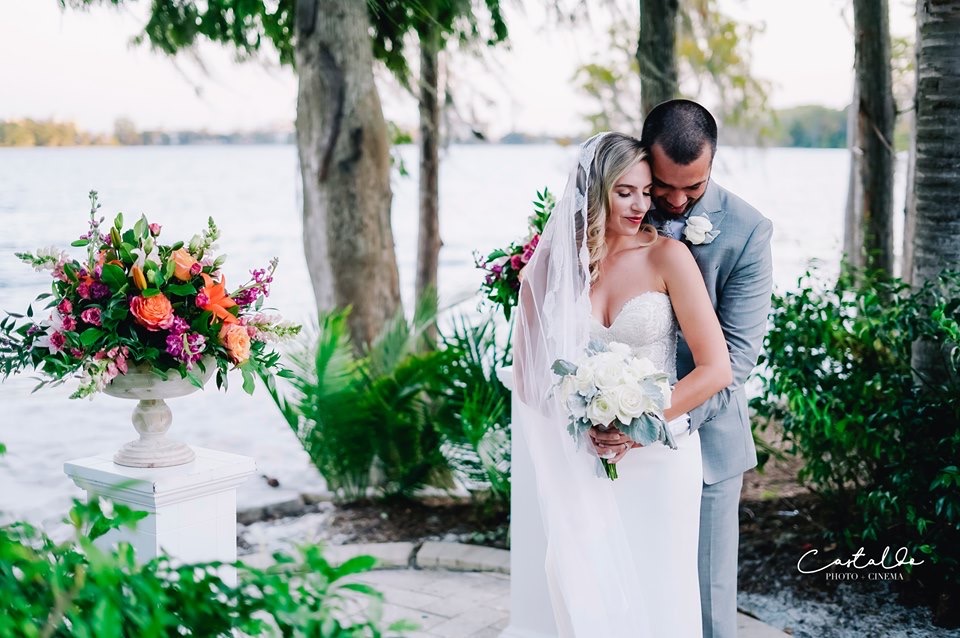 Paradise Cove Wedding
Their Story
Michael and Kimberly just knew that getting married in Orlando was the logical thing to do.  They wanted a central location where their family and friends could easily fly into, and yet have something that felt secluded.  Paradise Cove checked off every box for them.  Nestled right in the heart of the tourist area on Lake Bryan, you would never know this gem of a wedding venue even existed.   With towering Bald Cypress trees, green palm trees, and a the tranquil lake, it made for the perfect backdrop to their ceremony and reception.
Their Team
Daniel with Paradise Cove made sure to help assemble an award-winning team of vendors that would take the stress off the couple and let them enjoy their wedding day.  He coordinated setup and decorations and kept everything running smoothly and on time. Harpist Christine MacPhail provided beautiful pre-ceremony and cocktail hour music for their guests to enjoy. The ladies of Our DJ Rocks really did rock out the evening.  With great music for the groom's boat entrance all the way through the reception; they kept everyone on the dance floor and the night movin' along. Debra with Atmospheres Floral and Decor crafted  fantastic floral arrangements for the reception along with the beautiful bouquets and boutonnieres for the bridal party.  She also hung geometric wire shapes with candles inside to really draw attention to the ceremony space. Domenico Castaldo with Castaldo Studios did an amazing job capturing the couple's wedding day.  From the bride slipping into her dress and the groom entering the wedding via the speedboat, he got it all.  The artistry of Castaldo's photography and videography was beautiful, rich, and romantic.  Cocktails Catering wowed the crowd with the delectable cuisine.  From appetizers to a plated meal, there was never any doubt that no one would leave this wedding hungry. Rev.Glynn Ferguson and officiant with Sensational Ceremonies worked with the couple to craft a beautiful ceremony.  Rich in love and laughter this custom ceremony really fit the two of them like a glove. Rev.Glynn asked them to write and tell him why they love each other.
Kimberly wrote:
Loving Michael comes easy. He is such a pure person. He is highly respectful of his family, his friends, our dogs and most importantly he's beyond respectful to me. Everything he does makes me want to thank his parents for creating such a wonderful person. Michael has always been my biggest supporter during good and bad times. He's helped calm me down from being such a "HUGE crazy dog mom" to a "kind of crazy dog mom." ; ) There's not one day that goes by that he doesn't make me feel loved. I never second guess myself with him.. we try everything together and even if it fails he turns it into something fun and memorable, even if it is a new dinner dish gone wrong. He makes me laugh so much I tried buying him stand up comedian classes. I honestly cannot wait to marry him… 1. to finally take this wonderful man off the market 😉 and 2. to make baby Michael's to affect others like he has done me. I truly cannot wait to grow with this amazing person.
Michael wrote:
It didn't take me long to fall in love with Kimberly, from when we first started spending time together I could not get enough of her. seeing the way she was with her dogs, how they weren't just animals to her, and how her motherly traits shining through has always made me look at her in awe, and when she finally got to meet my dog, And how they acted towards each other, I knew no other woman would ever come into my life again. She has always made me want to be the best version of myself, not through force, but just through being herself, she's so amazing that I feel she deserves my best version and more. My life has been changed for the better ever since she has come into my life. She makes every day amazing for me, whether it be her incredible sense of humor, her ridiculous dance moves, her phenomenal cooking, or even just listening to her stories from work. I love her more than anything in this world and I can not wait to spend the rest of my life with her!

We wish them happiness for a lifetime as husband and wife!