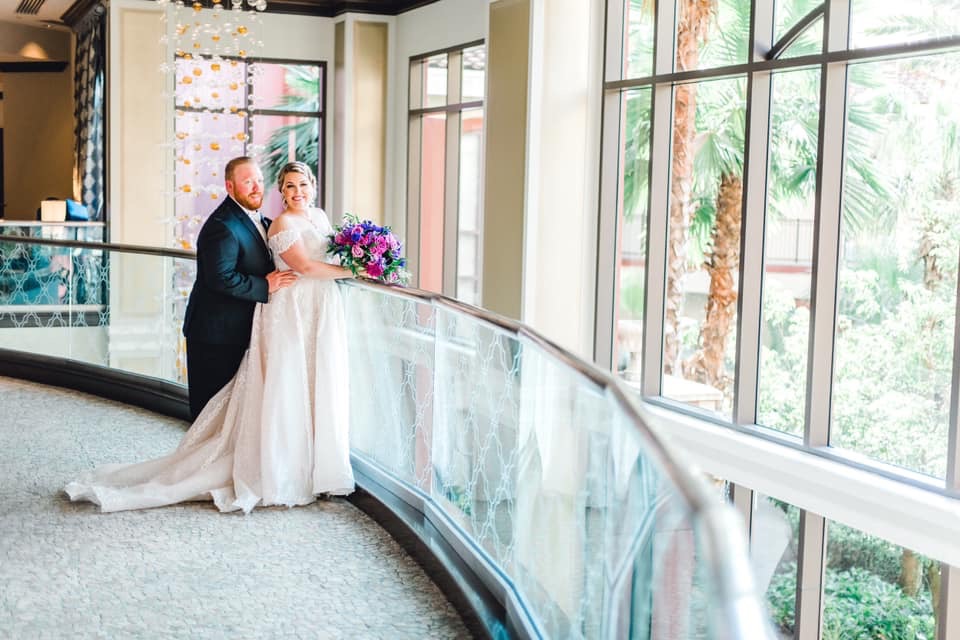 Wyndham Grand Bonnet Creek
Their Story
Some weddings are just fun!  From beginning to end that is what Mark and Brittany wanted for their dream wedding.  Everything from a poolside ceremony at the Wyndham Grand Bonnet Creek to a whiskey barrel included in that custom ceremony just screamed how much fun this couple was. When we met them earlier this year we just knew that this wedding was going to be one to remember. 
Their Team of Vendors
Andrea Pavone with Pavone Events really did an amazing job.  When the couple was unsure of where they wanted to hold their wedding, Andrea took them on a grand tour of the finest hotels in Orlando and they chose the Wyndham Grand at Bonnet Creek, near Walt Disney World.  Being that the couple were not locals Andrea worked with them and the vision they had for the wedding to surround them with an amazing vendor team and would help their vision come to life.  Jackie from the 911 Stylist got there early to make sure all the ladies looked beautiful for the wedding day.
Raining Roses took care of all the floral decor for the ballroom and ceremony space at the pool, as well as  the Incredible bouquets and boutonnieres for the Brittany, Mark, their wedding party and family.  The rich colors popped and made the perfect backdrop for their ceremony and reception.
Photography is always important to the wedding couple and they wanted to capture every moment of their fun wedding day.  The couple chose Claire and Rob with That First Moment to capture every moment.  From the beautiful stylized shots before the ceremony at the Wyndham Grand, with just the two of them to  their shots with their immediate family on to the ceremony and lastly into their beautiful reception.  They also wanted to make sure that the day was captured in video as well and used Elmwood Forest Productions to make their wedding video just perfect.
Christine McPhail played the harp for their guests as they were being seated for the ceremony and on inside to the cocktail hour.  She kept the music fun and upbeat, just like the couple.Junction 88 was the DJ for the reception.  Not only did they provide the music, but also the uplighting for the reception.  The DJ kept the couple and their guests dancing late into the night.
Their Ceremony
When Mark and Brittany first met Rev.Glynn Ferguson, an officiant with Sensational Ceremonies, they had not settled on their venue or solidified their wedding date, but they knew they wanted him for their wedding.  As soon as the venue and date were booked he was the first vendor they booked.  As an officiant and minister Rev.Glynn worked with them to create a custom ceremony that was perfect from the two of them.  Mark had proposed to Brittany at the Members Mark Distillery and so the couple wanted to have a Whiskey Barrel ceremony as a representation of their two lives being joined together as one.   Rev.Glynn wrote "Brittany and Mark started their journey to being married at the Maker's Mark Distillery where Mark Proposed November 26, 2018. It is only fitting that they continue that journey by joining Bourbon today to age for 10 years in their own mini barrel. There are two universal truths about bourbon. One you can't have a wedding without booze and two bourbon is the best drink to symbolize eternal love. You might ask why? Because bourbon lasts a lot longer than other spirits and it only gets better with age. "
It's a process that takes time. So too is the relationship that Brittany and Mark are beginning today as husband and wife. It is a process of aging and refining, treating and working on, and ultimately enjoying the fruits of their labors. Brittany and Mark, as you add the spirits to this barrel to make the whiskey you will share in ten years, my challenge to you is to pour all of the necessary ingredients into your relationship, love, friendship, loyalty, fidelity, trust, and hope, so that as time passes and cures your life barrel, you will find your relationship wonderful and prospering. Please add the spirits to your barrel."Congratulations Mark and Brittany.  May you find your lives enriched forever as you journey on this road of life together.