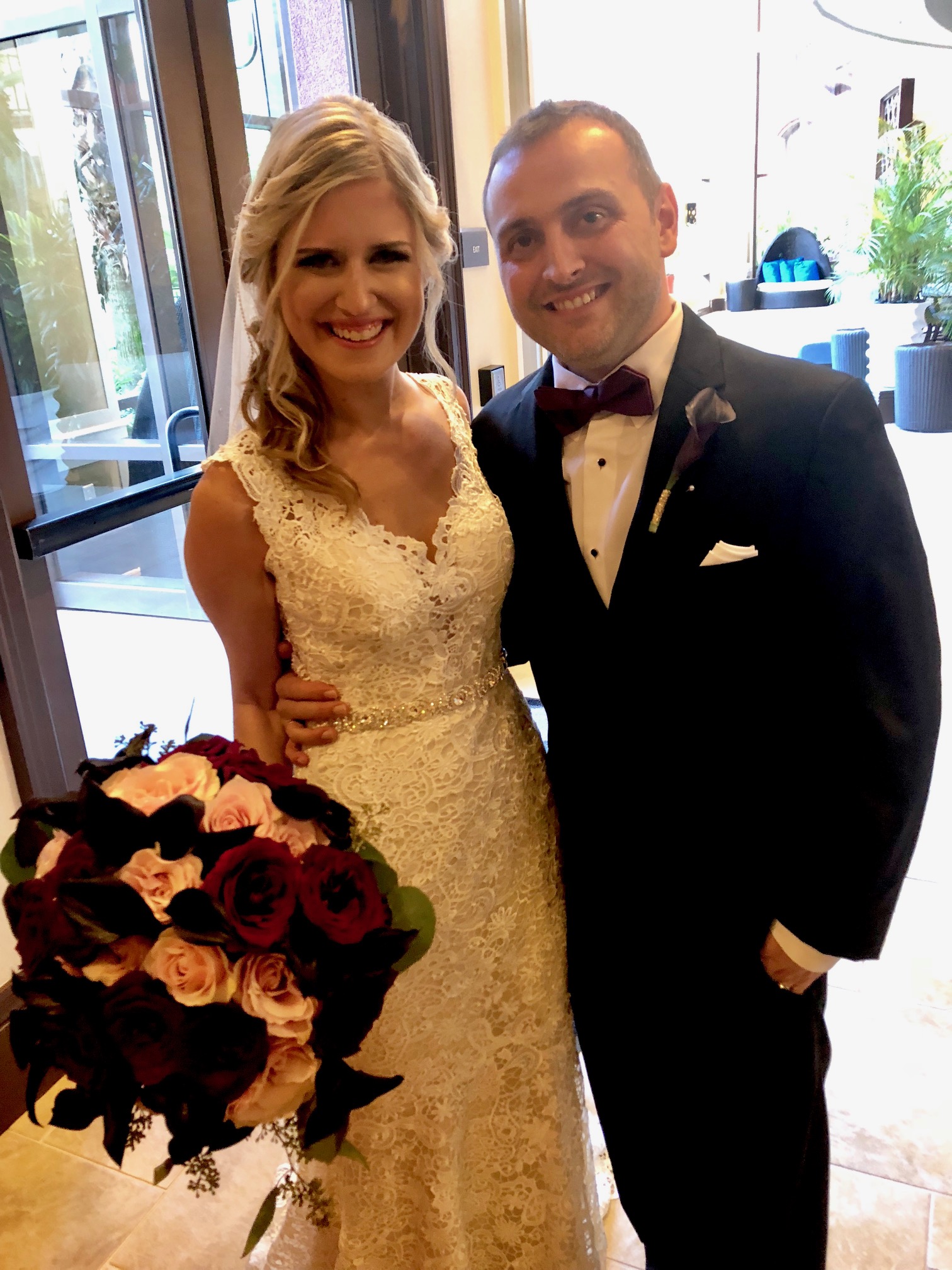 The Wyndham Grand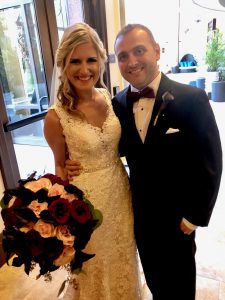 Matt and Jen married at Wyndham Grand to the Walt Disney World Resort, in Orlando, Florida. The beautiful event was celebrated by family and friends from all over the east coast; from New York to Florida.
Matt wore a dark grey tuxedo with a stylish burgundy bow tie as he watch the approach of his lovely bride down the aisle in lace cover, form-fitting Vera Wang dress.
Nicole from Pave Weddings took the vision of the couple and made it come to life with the amazing vendor team them assembled. Aaron with Fiora Design Studio took the crude drawing of the bride and made them pop off the pages of the sketch book into reality. The bouquet was filled with burgundy roses and dark florals and accentuated with just a touch of blush.
White Rose Entertainment did an awesome job from providing the microphones for the ceremony to getting everyone on the dance floor and making the Rock!
Dawn from Corner House Photography captured every moment of the day from the bride getting reach, the walk down the aisle, the first kiss, to the exit at the end of the evening.
Rev.Glynn Ferguson with Sensational Ceremonies worked with the couple to create a unique and custom ceremony, just for them. From vows to readings they chose every details. Rev.Glynn also gave them a homework assignment and asked them to write and tell why they love each other.
Jen said:
I love so many things about Matt that it is hard to just put it all in just a few words. I know that ever since our first date, when I look at him, I feel a joy in my heart that I've never known before. I love that he is so kind to everyone, he would do anything for his loved ones, and he treats me and Daisy like gold. He makes me laugh, he is interesting, he teaches me new things, he is talented and intelligent, and he has the biggest heart. I fall in love with him every day and I can't wait to do so forever.
Matt said:
"I could write a tome on all the things I love about Jen. It is too easy to just focus on how beautiful I think she is, or how genuinely sweet and kind-hearted she is. How she loves her family, is loyal to her friends, works hard, makes me laugh, loves her dog and gets along great with kids. This was clear to me early on in our relationship. But the thing that surprised me the most was how much she enjoys and amplifies the little things in life – those moments we take for granted that may seem routine. A perfect evening to her can be as simple as grabbing a bottle of wine, a baguette, some cheese, and sitting outside listening to music and talking about our favorite breakfast cereal as kids. Or maybe a random Saturday morning in the fall, making French toast and making fun of how many games my 'Noles have lost. A rainy night at home watching Singin' In The Rain and snacking on popcorn. And through it all she is smiling and laughing and having a great time. This makes every day special and I wake up every morning knowing it is going to be the best day of my life. When even the most mundane moments are memorable, life is made infinitely sweeter."
It was an Incredible night! Congratulations Jen and Matt!!!