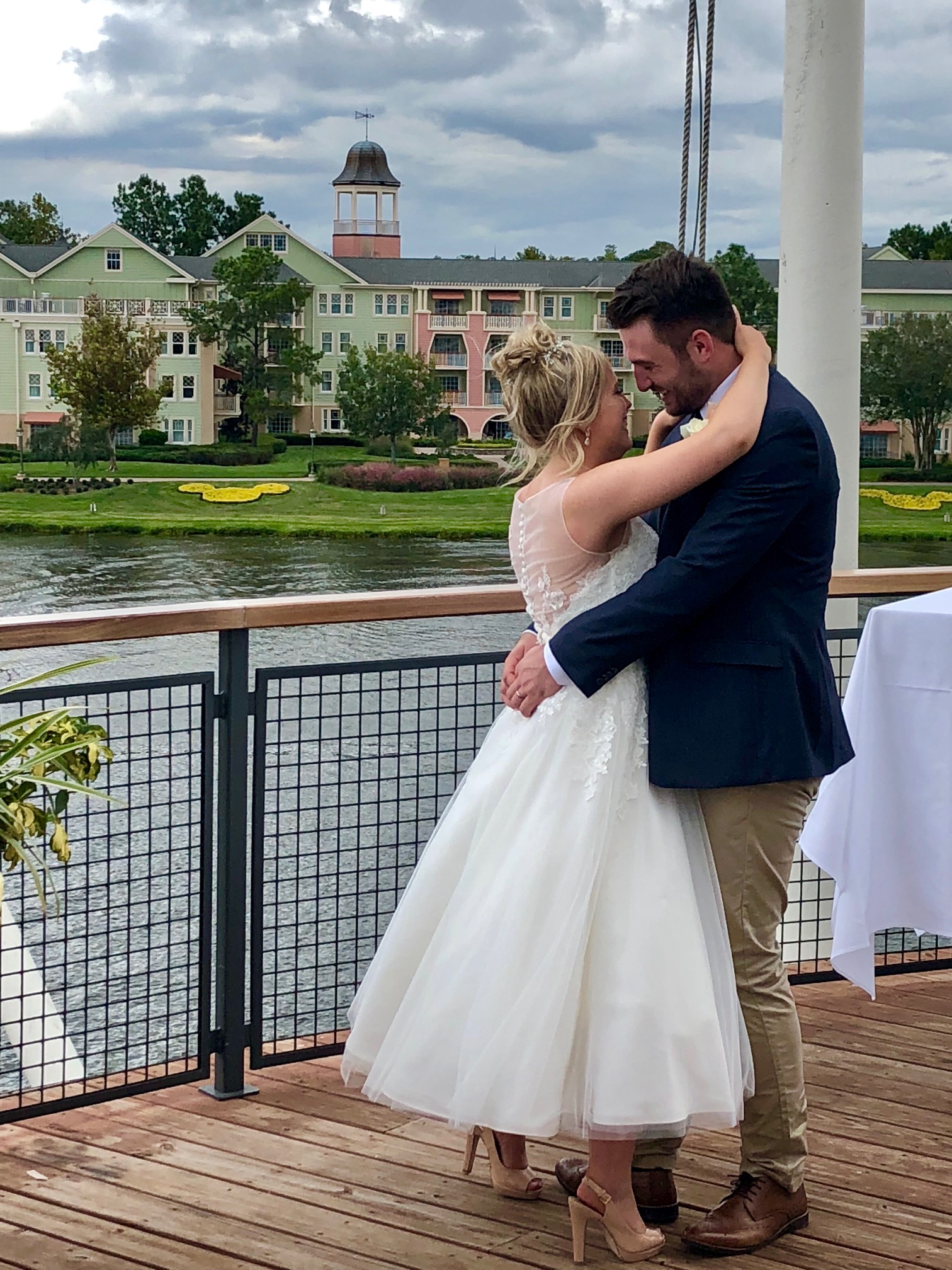 A Disney Springs Wedding
Ryan and Daisy came to Orlando to get married in a Disney Springs wedding. Located in the heart of Walt Disney World, Disney Springs is the world-class shopping and dinning venue adjacent to Interstate 4. Traveling from the United Kingdom to Florida for a wedding can be a daunting task, but Daisy and Ryan chose Intimate Weddings of Orlando to help them find a venue perfect for the two of them. Paddlefish fit the bill perfectly. Close to their hotel, guests could use Disney transportation, and kind on their wallet.
Victoria with Intimate Weddings of Orlando assembled an award winning team of vendors to assist in making their ceremony and reception run smoothly.
Flowers by Lesley
crafted a beautiful bouquet and boutonniere in white roses and greenery.
Married by Mail
assisted the couple in getting their Florida marriage license long before they ever arrived in Orlando.
Rev.Glynn Ferguson with Sensational Ceremonies worked with the couple to create a custom ceremony, rich in love and personal remarks. Ryan and Daisy took their homework assignment to write and tell why they love each other. Daisy wrote:
Ryan is the virtual other part of me that keeps me going and makes my life worth living for, my one true love, my partner in crime, my rock, my best friend, my soul mate, my reason. I love Ryan for always accepting me for who I truly am, for putting up with me when I'm mad, for listening to my problems, for facing my fears with me, for giving me stability, for always being by my side through good times and bad times, for loving me, respecting me and cherishing me everyday. I love his smile, his rubbish jokes, his kind heart, his good looks, his passion, his feet, his commitment, his family, his dedication and his devotion that he has for our relationship but most of all I love him for the man he is. I love Ryan for always putting us first and never letting me down, I'm honestly forever grateful for the love he shows me every day. I fall in love with Ryan more and more as time goes by and if I could live my life a hundred time over again, I would choose to spend it with Ryan every time over. I trust Ryan with my life and soul and for this, my heart is unconditionally and inevitably devoted to him. Ryan is undoubtedly the better part of me that I will love forever and will always keep safe in my heart. I'm so proud to call him mine and I am forever grateful for what we have. I could of wrote a 50 page novel on all the reasons why I love Ryan, but that doesn't matter, I'd much prefer to spend the rest of my life showing him instead. I love you Ryan I can't wait to spend the rest of my life with you!
Ryan wrote:
Where do I start. Daisy is the part of me that truly make me tick. I love the way Daisy laughs at my jokes, I love her big smile that could glow up an entire room, how she knows all of the lyrics to our favourite songs and her soft skin but most importantly I love the way that she makes me feel every day.
I met Daisy on 12TH July 2014 and since the day I met her, I have been in awe of how strong she is as a human being and how kind she is to everyone around her, not just me, but also both of our families. She is definitely the better half of me and with every day I spend with her, she teaches me new things every day and makes me a better person.
Marrying Daisy in our special place (Orlando) is a dream come true and I cannot wait to build our future and make memories on the way. She is my world and I cannot wait to show Daisy exactly that for the rest of our lives.
With the tables decorated in themes of The Little Mermaid and Beauty and the Beast and their music selections were from Disney movies, it was the perfect way to celebrate their Happily Ever After.
Congratulations Ryan and Daisy!