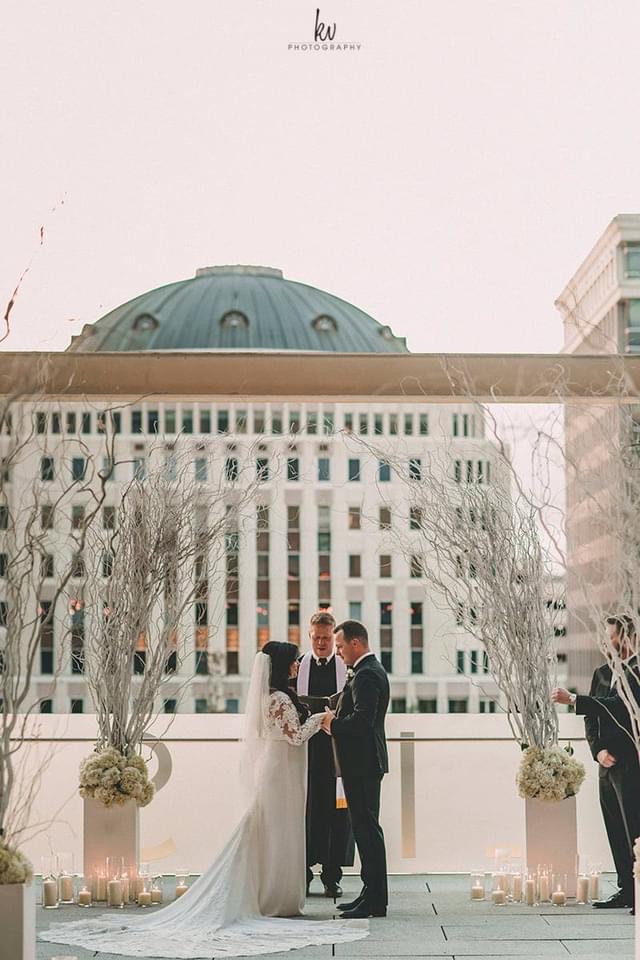 A Wintery Wedding
Leigh Anne and Tim had the most magical wedding you can imagine.  When their initial plans to fly to Colorado and get married in a snowy location fell through, then they decided to make their wintery wedding right in the heart of Orlando.  There at the Dr. Philips Center for the Performing Arts, Tim and Leigh Anne gathered with their family and close friends to say their vows, exchange wedding rings, and become Mr. & Mrs. Campbell.   
Leigh Anne had always dreamed of having a wintery wedding and to make that happen she enlisted the talents Blush by Brandee Gaar to bring it all to life.
Jim O'Neill with FyerFly Productions listened to the couple's desire to have a wintery wedding in Orlando and brought the powder to the ceremony and reception.  With snow making machines blowing snow in the air as Tim and Leigh Anne walked down the aisle it was absolutely perfect!
LeJeune Artistry worked their makeup magic for Leigh Anne and her bridesmaids.  They looked absolutely beautiful for this wintery wedding.   
Val and Ed with KV Photography worked in tandem with Love and Lustre to make sure that every moment of the couples wintery wedding was captured on video and photo.  Their creative styles turned out to beautifully capture this incredible celebration.
Leigh Anne and Tim were already friends with Rev. Glynn Ferguson, the owner of Sensational Ceremonies and an official Walt Disney World  Wedding Officiant.  When they decided to tie the knot in their wintery wedding there was no other person they wanted to do it with than he.Rev. Ferguson wanted their custom ceremony to be unique, very personal, and beautiful.  He gave Tim and Leigh Anne a homework assignment to write and tell him why they love each other.
Leigh Anne wrote:  Loving Tim is easy. You asked me to write a paragraph saying all the things I love about Tim, but truth be told, I could write a novel. Tim possesses endless qualities that make me love him.
I think Tim said it best when he told me "We are so similar, yet completely different". Tim is my best friend and the love of my life. Every single day, the goodness of his heart amazes me.
He makes me laugh until I cry and keeps my spirits high when I am down.
I love that Tim sees the positive in every situation. He stands firm on his faith and never lets the negative creep in.
He is always up for an adventure, no matter what the suggestion is, his answer is yes – even when I ask to cut his toenails and end up making him bleed, he is on board!
I love that Tim is always teaching me something new. Whether he realizes it or not, I am always learning when we are together.
Tim is a dreamer, just like me. I love how he will sit, talk and dream with me. No dream is too big for us. With Tim by my side, I feel like we can conquer the world.
I love that Tim is faithful and true. He is a man of his word and when he makes a promise, he keeps it.
But most of all, I love Tim for the way that he loves me. He is bold with his love and never lets a day go by without making me feel special. He loves me fiercely and without hesitation. He is the man of my prayers. When I look into his blue eyes, there's no doubt in my mind that God made us for each other.  
Tim wrote:  Waking up with Leigh Anne in the Bahamas on our first morning, I looked at her and said, "I'm so in love with you."  This was the first time I said it, and have said it every day since then.  Ever since our first date at the Boat House, I have never looked back, always looking forward.  Looking forward to our next date, next challenge, but most of all, our next adventure.  I love spending every day with Leigh Anne, and knowing that there is something new waiting at every moment.  I love how caring and compassionate she is.  How she always lights up my day with her beautiful smile and loving words of affirmation.   She is honest and truthful, a woman who loves sharing every moment with me.  What we share together is the most meaningful of relationships.  We share our laughs, cries, worries and excitements in everything we do.  We share our hearts with each other, and my love for her is endless.  I love you Leigh Anne.

Congratulations to this beautiful couple!