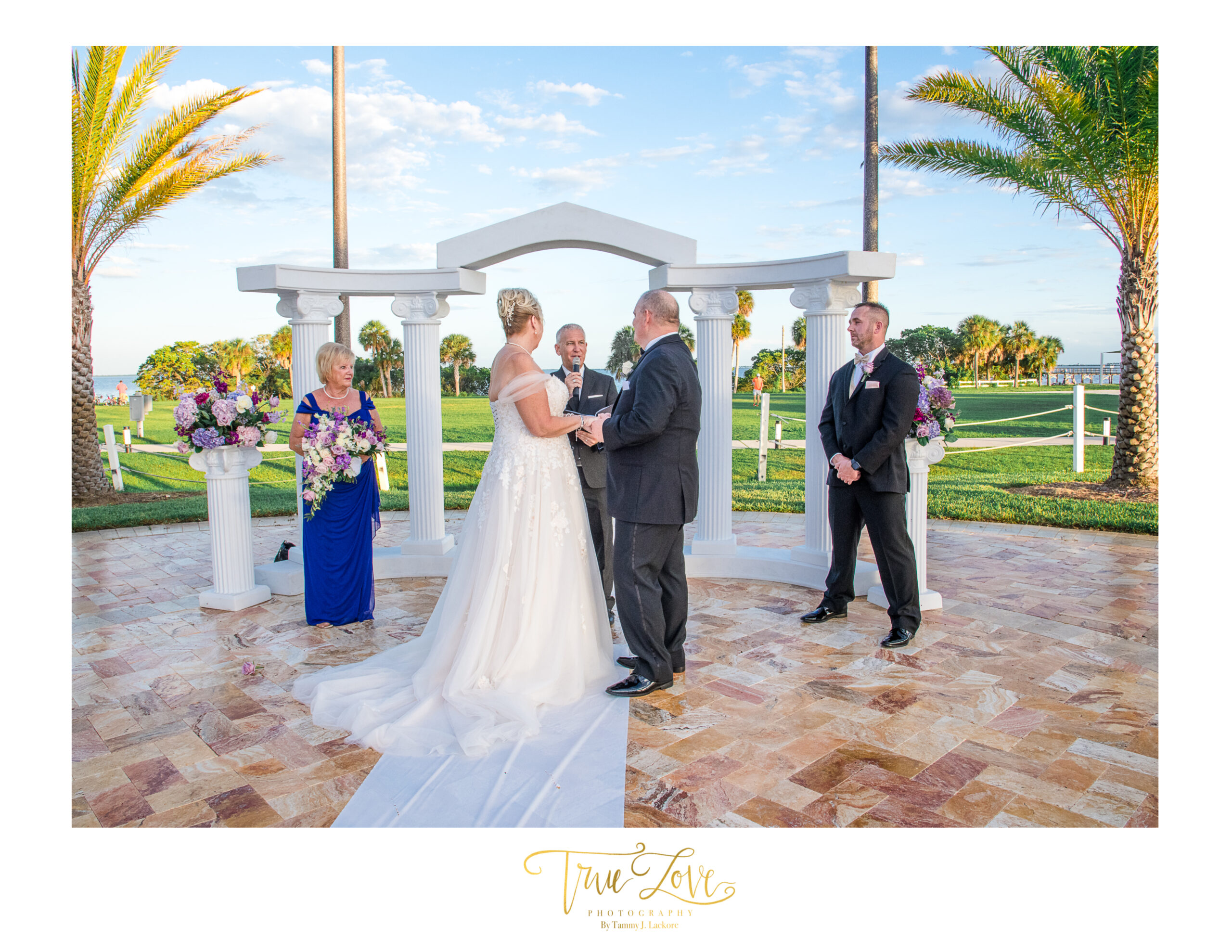 West Shore Wedding
Barbara and Doug chose the beautiful Safety Harbor Resort and Spa as the venue for their wedding ceremony in late October.  Nestled on 22 acres on the west shore of Tampa Bay, the Resort anchors the city of Safety Harbor from which the city found its beginnings and was subsequently named. Safety Harbor Resort and Spa is one of America's oldest and finest spa resorts where guests have enjoyed the healing mineral waters and tranquil waterfront location on Tampa Bay since the early 1900s.  Florida's only Natural Mineral Springs Spa was established in 1925, utilizing the waters from the Espiritu Santo Springs, discovered by the Spanish explorer Hernando Desoto in 1539.  For years, Safety Harbor has been known as a special place in Florida; a haven where "healing waters flow." 
Barbara looked amazing as she was escorted down the aisle by her brother in law, to join Doug in front of their wedding arch on the promenade behind the resort.  The couples' custom designed ceremony included: scripture readings from the book of Genesis and 1 Corinthians 13 (read by Doug's niece), The Lord's Prayer, the song, "I will be here" (sung by Barbara's friend), words about love, friendship, loyalty, fidelity and trust, and the blessing of the hands.  Then, as their family and friends looked on, and with an amazing view of Tampa Bay as their backdrop, the couple shared their vows, exchanged rings and were pronounced husband and wife by Rev Rick Lackore of Sensational Ceremonies. 
Flawless venue and event coordination was provided by Maria and the rest of the staff at the Resort. Special thanks to Tammy, with True Love Photography, for providing this beautiful picture during their ceremony.
Congratulations to the new Mr. and Mrs. Doug Garrett!