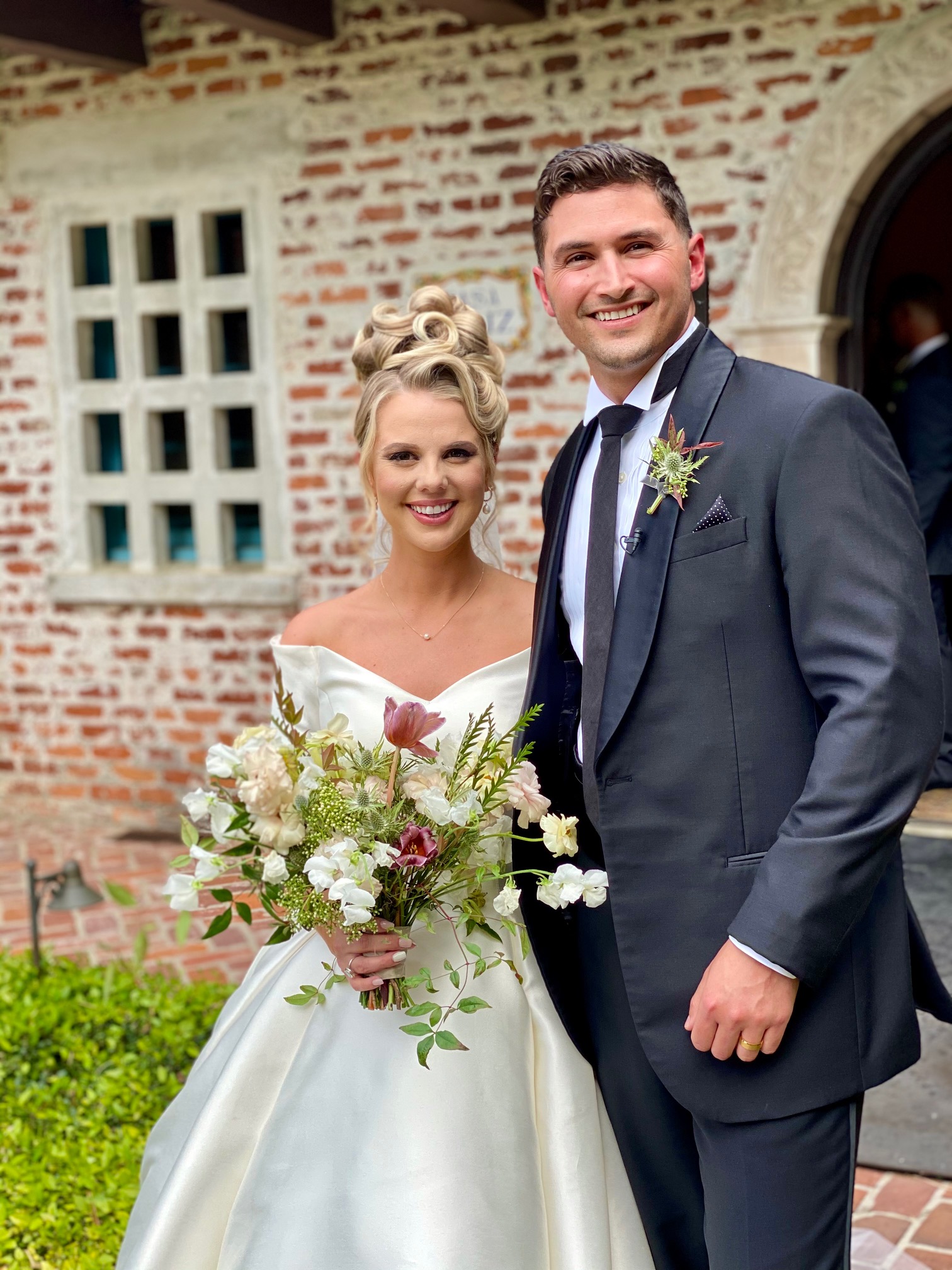 Big Brother Wedding
When their original wedding(s) were cancelled due to travel restrictions and COVID, Victor and Nicole decided to take their Big Brother wedding to Casa Feliz in Winter Park, Florida.  It's not easy to plan a wedding across the country, but when you want it bad enough you can make it happen.

Heather Miller with Elsily Event Planning really stepped to the plate to make sure this Big Brother wedding was exactly what the couple wanted.
  DJ Casey Rush with Rusch Entertainment came down from Michigan to work with Victor and Nicole on their Big Brother wedding.  The music was great.  He kept the dance floor rockin' and the ceremony sound was perfect.  

Arthur's Catering really took the food for this Big Brother wedding to the next level.  From the passed hors d'oeuvres to the main course, everything was delicious and perfectly displayed.  

The Sugared Oven made a very unique cake for this Big Brother wedding couple.  The cake looked like impressionism art of flowers and fit perfectly into Nicole and Victor's theme.  

Cole's Classic Cars provided the couple with a beautiful antique car for the Big Brother wedding.  The couple and guest posed with the 1947 Cadillac, before Darrell drove off with Victor and Nicole at the end of their wedding celebration.  

The couple asked Rev. Glynn Ferguson, the owner of Sensational Ceremonies and an Orlando wedding officiant, to work with them to create a personal and unique custom ceremony for their Big Brother wedding.  After they had chosen selections from the ceremony planning kit he provided them, he asked them to write and tell him why they loved each other.  

Nicole wrote:  Victor makes me feel safe, warm and so, so loved. I've never been with someone that makes me feel beautiful 24/7 until I met Victor. He makes me think better of myself, he lets me be my whole self, and loves me through all my hangry moments. Since the moment he laid eyes on me, I could tell he loved me.  I tried to run from him and he only let me run for a year. He never gave up pursuing me even though I'd push him away, scared of what could come from it. I really believe God had us run into each other one night in New York City, we fell in love and never looked back. When he looks at me I can see and feel his heart. His heart is ginormous and he always sees the best in everyone and gives them the benefit of the doubt. Something I need to do more of. His eyes smile so big and his laugh at first is a bit obnoxious but it becomes very missed on days spent apart. I think my favorite thing about him though is the fact that I sincerely feel that he will never give up when times aren't easy. He's not a man that will walk away, he's loyal, loving and easy to love. I'm so grateful to have him as a life partner. I've always wanted someone goofy, kind and genuine. I found him.

Victor wrote:  As much as I hate to say it, I honestly believe Nicole saved my life.  Not in a hurt myself way, but finding purpose and stability.  Before Nicole I was all over the place, but now we are starting a family, I have a career I love, and a woman I love even more.  I wish I could say this was my own doing, but it was her.  We have a child on the way and I couldn't be more happy.  Nicole is honest and loving, clumsy and weird, and a pure soul.  She would give everything she has to save an animal, which honestly says a lot about a person.  She is my best friend and partner in crime.   She can also be feisty at times, but she is quick to apologize.  I cannot wait to spend the rest of my life with her and have a lot of babies.  This will truly be one of the happiest days of my life.

Congratulations to the two of them and their growing family!