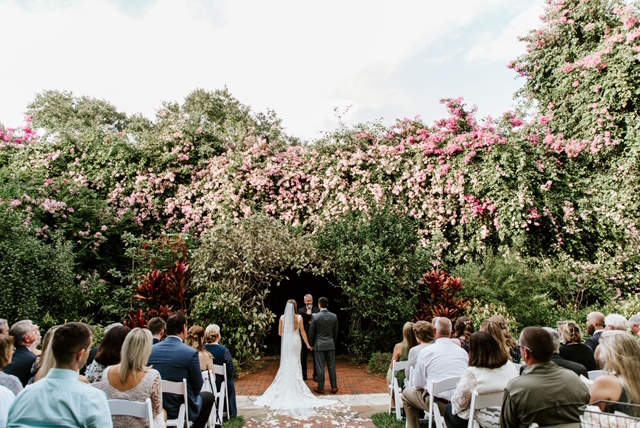 Botanical Paradise
Their Story
Kelli and Joey chose the iconic botanical paradise, Sunken Gardens, as the venue for their wedding ceremony on a beautiful evening this Fall. Sunken Gardens is a tropical garden wedding venue located in St. Petersburg, FL, and is tucked away the midst of the bustling metropolitan city, and provided a private, tranquil atmosphere that added to the air of romance for the couple's special day. Kelli looked gorgeous in her wedding gown as she was escorted down the aisle by her father and mother to join Joey under their bougainvillea covered wedding arch.
The Ceremony
The couple's custom ceremony in this botanical paradise included a Declaration of Intent and Affirmation of Community Support from their wedding guests.  Then, as their family and friends looked on, the couple shared their personal vows, exchanged rings and were pronounced husband and wife by Rev Rick Lackore at Tampa officiant and Minister with  Sensational Ceremonies.  Rick's professionalism and personality put the couple at ease on their wedding day and allowed them to just be present in the moment. 
Their Vendors
Andrew, DJ with DJ Cory Barron and Co., provided the beautiful audio, and a custom playlist crafted with the bride and groom for the ceremony in the botanical paradise. Andrew kept the mood perfect for the ceremony and when the reception came, his energy kept the guests on the dance floor.   Perfect venue coordination was provided by Stephanie and the incredible professional staff at Sunken Gardens.  Flawless Wedding and Event Coordination was provided by the super-talented Crystal and her staff with Chantilly Chic Celebrations.  Special thanks to Jessica with Jessica Cruz Photography for providing this beautiful picture during their ceremony.  Jessica worked with the couple from start to finish to make sure every detail of their wedding was captured for years of enjoyment.            
Congratulations to the new Mr. and Mrs. Joey Kleinsorge!