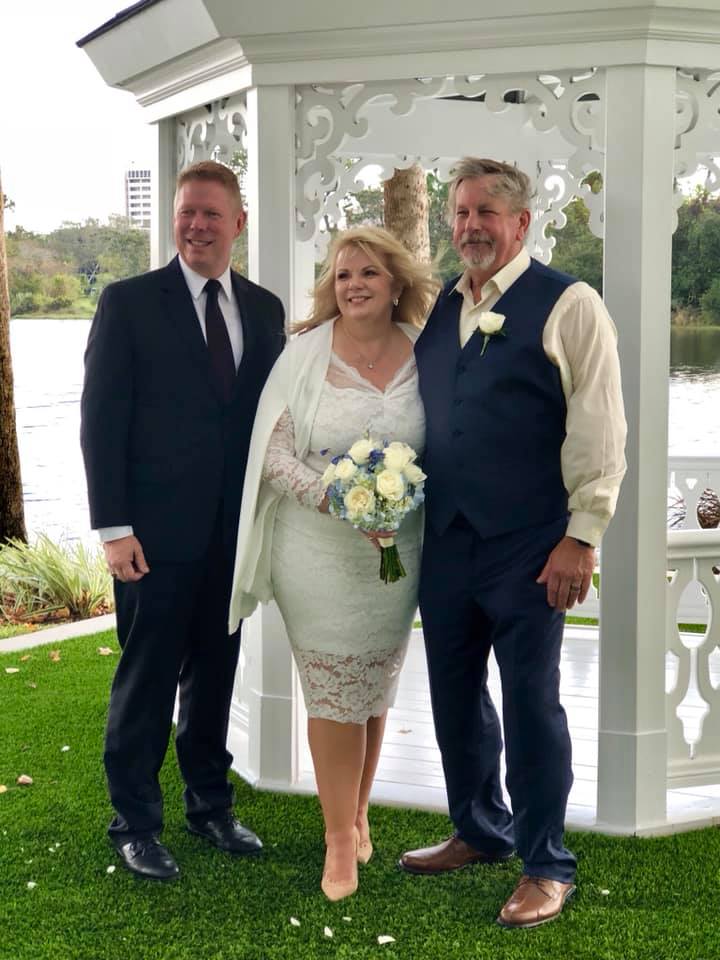 Breeze
Central Florida is known for the gentle breeze that flows over the state most of the time, but I'm sure that Mark and Lori had no idea of how strong the winds would be on the day of their wedding. With plans to be wed at the Hilton Buena Vista Palace late in the afternoon, Lori contacted Intimate Weddings of Orlando four days before with concerns that it was going to rain. Victoria let her know that weather changes in Florida often and they should wait until the day before to make changes to their itinerary. In the meantime, Victoria contacted the hotel and all the vendors to make sure they were flexible with their schedules, to accommodate the couple.
On the day of the wedding, the sky was beautiful as Mark and Lori stepped onto the event lawn and took their place in front of the gazebo. The winds were blustery and the trees rustled, but that is what memories are made of.
Flowers by Lesley created the most delicate bouquet and boutonniere of white roses and blue hydrangeas for Lori and Mark. There was even a hidden "Mickey" in one of the blooms.
Kim, with Intimate Weddings of Orlando was the on-site coordinator. She made sure everyone was ready to go, lined up, and stayed with the couple all the way through to their reception in LetterPress.
Sugar Sugar Cake Boutique created a beautiful, simple and delicious chocolate cake with chocolate mouse filling and covered in their signature buttercream icing.
Edmund with Rhodes Photography andVideography captured every moment of the ceremony and family pictures afterward.
Rev.Glynn Ferguson with SensationalCeremonies worked with the couple to create a one-of-a-kind custom ceremony. He let them pick out selections from his ceremony planning kit and make the ceremony all their own. He then asked them to each write and say why they love each other.
Mark wrote " I am in love with Lori because I totally respect her for who she is. She's the most wonderful person I've ever met because of her heart. I keep falling in love with her over and over again. I love her thoughtfulness, her Personality and especially love her Cute little smile."
While Lori wrote "I have to say that it took courage for Mark and me to love again, but it all happened very quickly. Since the day I met Mark, I haven't stopped laughing. His humor brings endless joy to my life. He accepts me for me, and he is dedicated to our relationship and to our family. Mark comes to me with the desire to be a good man, a strong man, he wants to take care of me, he wants to be my man without control and he loves and adores Pastelle who is my life. He knows what it means to be a man, yet he touches me with gentleness like I've never known. I know for sure that living without him would be far too great a sacrifice, so I chose to let my heart be free to love again with all that I am. He's my dreamboat. When he's sleeping and I look over at him, and he's the most handsome man in all the world. I thank God for him every day."
We wish them happiness for a lifetime and as the Irish Wedding Blessing says "May the Wind always be at your back."