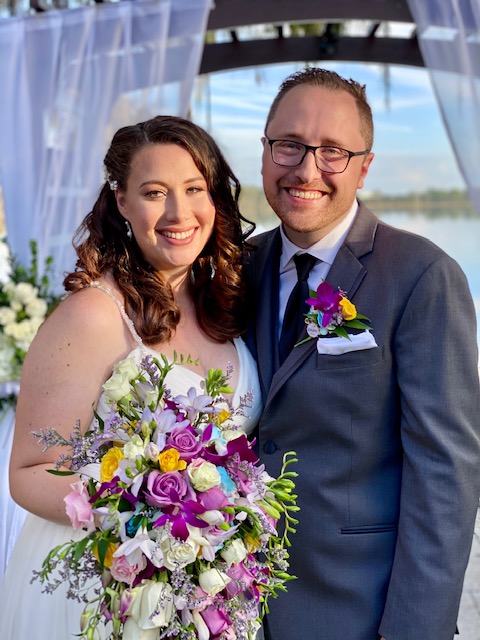 Bring the Magic
Their Story
Living and working in Orlando one can get to the point that they believe they have seen everything.  For Billy and Nicole they both had been around the Disney magic for a while and so when they decided to get married, they chose a venue where they could bring the magic with them.
The Venue and Vendors
Nicole and Billy fell in love with Paradise Cove the minute they saw it. With towering bald cypress trees, Spanish moss, and a location on Lake Bryan what is not to adore about this venue.  Daniel, the coordinator at Paradise Cove worked with the couple to make sure everything was perfect.  He timed every song and knew exactly when to release the bridal party down the aisle.
The team of Steven Miller Photography did an exceptional job of capturing every moment of the wedding day and as a former cast member himself knew how to bring the magic.  From pictures of the couple getting ready, the detail pictures of all the incredible "Up" themed decorations, the ceremony details, and on to the reception; they got it all.
Jim with FyerFly Productions was on spot with fantastic timing for all the ceremony music.  The blend of Disney music with music from LaLa Land made the couple's entrance down the aisle absolutely perfect.  The florals for this wedding were stunning.  With colorful arrangements of hot pink, white, yellow, and lite pink roses, sweet peas, lilies, and orchids the bride's bouquet was out of this world.  The inspiration for the wedding florals was the balloons from the movie "Up" and the Clermont Florist did not disappoint.
Millenia Catering cooked some delectable culinary masterpieces for the couple and their guests.  From cocktail hour appetizers to the full catered meal, everything was superb.
Billy and Nicole asked Rev. Glynn Ferguson, an Orlando officiant and owner of Sensational Ceremonies to work with them to create a custom ceremony for their "Up" themed wedding.  Rev. Ferguson knew how to bring the magic. As an official Walt Disney World wedding officiant he sees those magical touches every day. With tons of options to choose from, they chose a traditional Christian ceremony with several personal touches.  Rev. Ferguson also asked them to write and tell him why they love each other.
Billy wrote:  I love Nicole, because she is beautiful both inside and out.  She is endlessly optimistic, patient, and kind; she is the type of person I aspire to be.  Nicole and I bring out the very best versions of each other and grow together.  We have the same passions and can have fun in any situation (even bingo).   While I constantly worry about our future, she makes us live for today and dream about the great adventures that lie ahead for us.  I love Nicole, because she loves me on the days that I know I don't deserve it.  Her slightest touch or smile means more to me than she will ever know.  Nicole is attentive, supportive, and giving even when she is exhausted or grieving herself.  Every trait I ever wanted in a partner, Nicole not only has but sets the bar for.  I am lucky to have her as my best friend, and forever grateful that she chose me to spend her life with.  While there are many unknowns about our future; I know she will always be there and that is why I love her most.  From now til forever, come what may."
Nicole wrote: For some people, explaining the reasons they love someone may come naturally. I am not that person. I struggle using words to articulate the thoughts inside my head. So, as I write this please try not to judge too harshly. I love Billy Miller. There are of course the superficial reasons like his height, intelligence, and overall handsomeness. However, the thing I love most about Billy is his heart. Billy has one of the strongest hearts I know. He is constantly demonstrating his love and dedication to his work, family, and friends. His heart is honest, kind, and sensitive to everyone around him. He always knows how to cheer me up when I am sad, and he knows how to encourage me to push myself when I struggle with my own motivation. He has shown me time and time again his loyalty, love, and admiration for our little family. Now, I understand that no one is perfect. Billy and I are no exception. We both have our childish and/or impulsive moments. Billy even tends to have a flare for the dramatic in his reactions, but I love him despite that. Our faults are part of what makes us human. Plus, I have NO problem calling him out on it. In fact, his willingness for open communication is just another reason I love him. William Christopher Miller is more that just the love of my life. He is my best friend. More than my best friend, he is my partner. The Carl to my Elle. The Doctor to my Rose, and I can not wait to go on a lifetime of adventures with him. May your love lift you "Up" as you become each other's greatest adventure.
Nicole and Billy really did bring the magic to their beautiful wedding and we know they will bring the magic to their marriage!