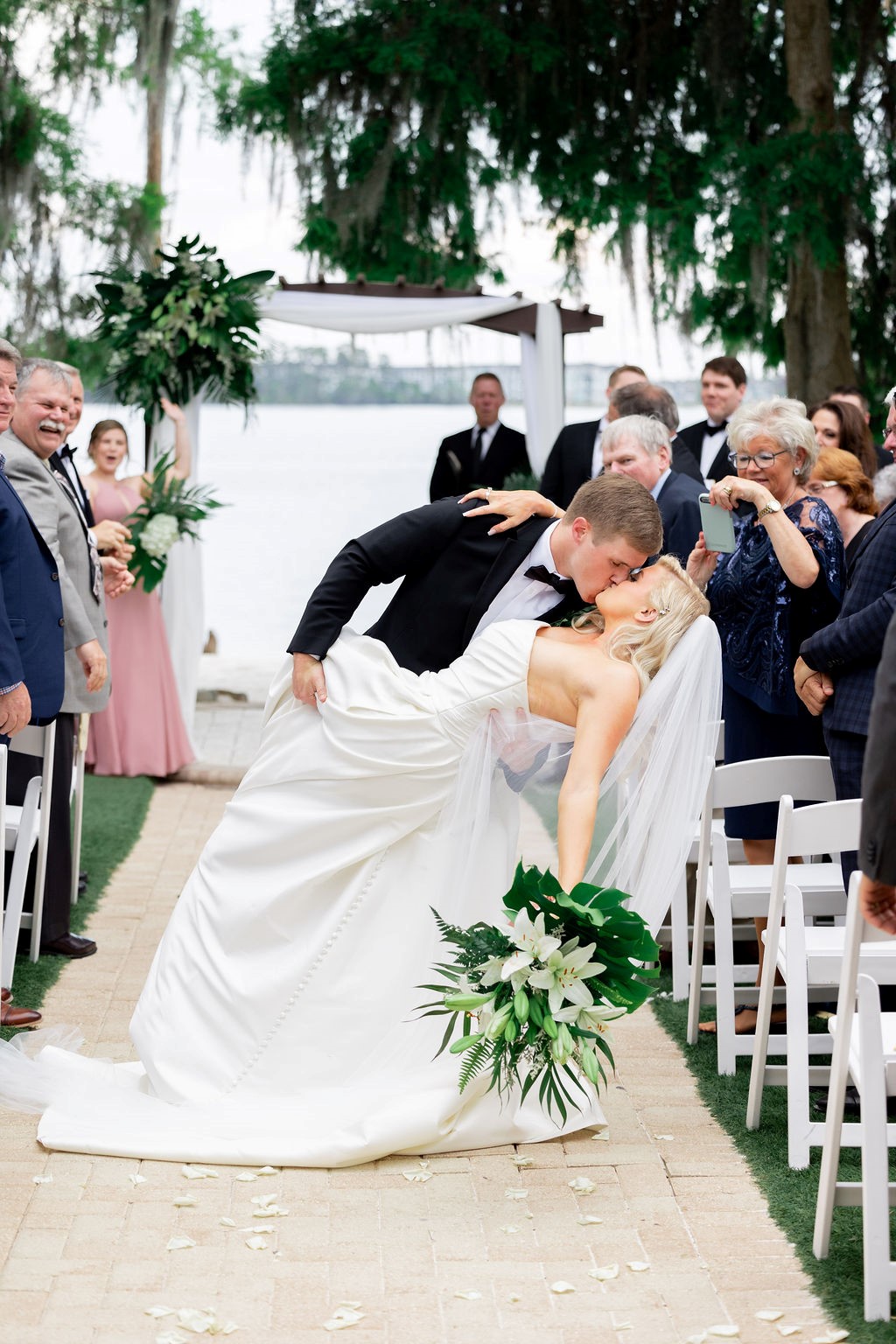 Bryan and Savannah
Bryan and Savannah were married on a beautiful spring day at Paradise Cove in Orlando, Florida. The venue is a stunning waterfront location with lush tropical gardens, a sandy beach, and stunning views of Lake Bryan.
The ceremony was officiated by Rev. Glynn Ferguson, an Orlando minister and Walt Disney World Wedding Officiant, of Sensational Ceremonies. He created a custom ceremony that was personal and meaningful to Bryan and Savannah. The couple exchanged vows and rings, and were pronounced husband and wife. He also gave them a homework assignment; to write and tell him why they love each other.
Savannah wrote: Bryan is my everything. He is my light, my love, my other half. He is laughing until our stomachs hurt and an endless flow of sarcasm. He is my first phone call when I've got good news or had a hard day. He is Friday nights in binge watching a new show and Fall afternoons watching the Dawgs play. Bryan is my home no matter where we land in the world. He is my partner and companion. He makes me a better person and feel a love I've never known. He is the cheese to my macaroni and the chicken to my quesadilla. Without him the world doesn't make sense. He is my rock and my protector, the one who makes me feel safe and puts my mind at ease. He is the love of my life and my best friend.
Bryan wrote: Savannah is the most caring, loving, and devoted woman I have ever met. She loves with reckless abandon. She has shown unmatched resilience despite natural disasters and long distances apart at different points in our relationship. She is a graduate of the greatest university in all the land. She is the most beautiful thing I have ever seen, which you can all clearly see right now. I can still remember the exact moment my world changed when I watched her walk into a house in Jacksonville; this was my greatest memory until seeing her here just now.
After the ceremony, guests enjoyed a cocktail hour on the lawn. The sun was shining, and the birds were singing. It was a perfect day to celebrate love.
The reception was held under the beautiful pavilion of Paradise Cove. The room was decorated with tropical flowers and candles. The rich dark green and white color scheme looked absolutely perfect and elegant.
Jen Feliciano from JF Events was in charge of the flowers and planning for the wedding. She did an amazing job creating a beautiful and elegant atmosphere for the event.
Pine and Forge was the photographer for the wedding. They captured the day perfectly, from the first look to the last dance.
Meister Productions was the DJ for the wedding. They kept the dance floor packed all night long with a mix of classic and modern hits.
FourRivers Smokehouse brought the delicious food and desserts. There was not a morsel left at the end of the evening.
Bryan and Savannah danced the night away with their friends and family. They were surrounded by love and happiness. It was a night they would never forget.
Sensational Ceremonies
Average rating:
0 reviews