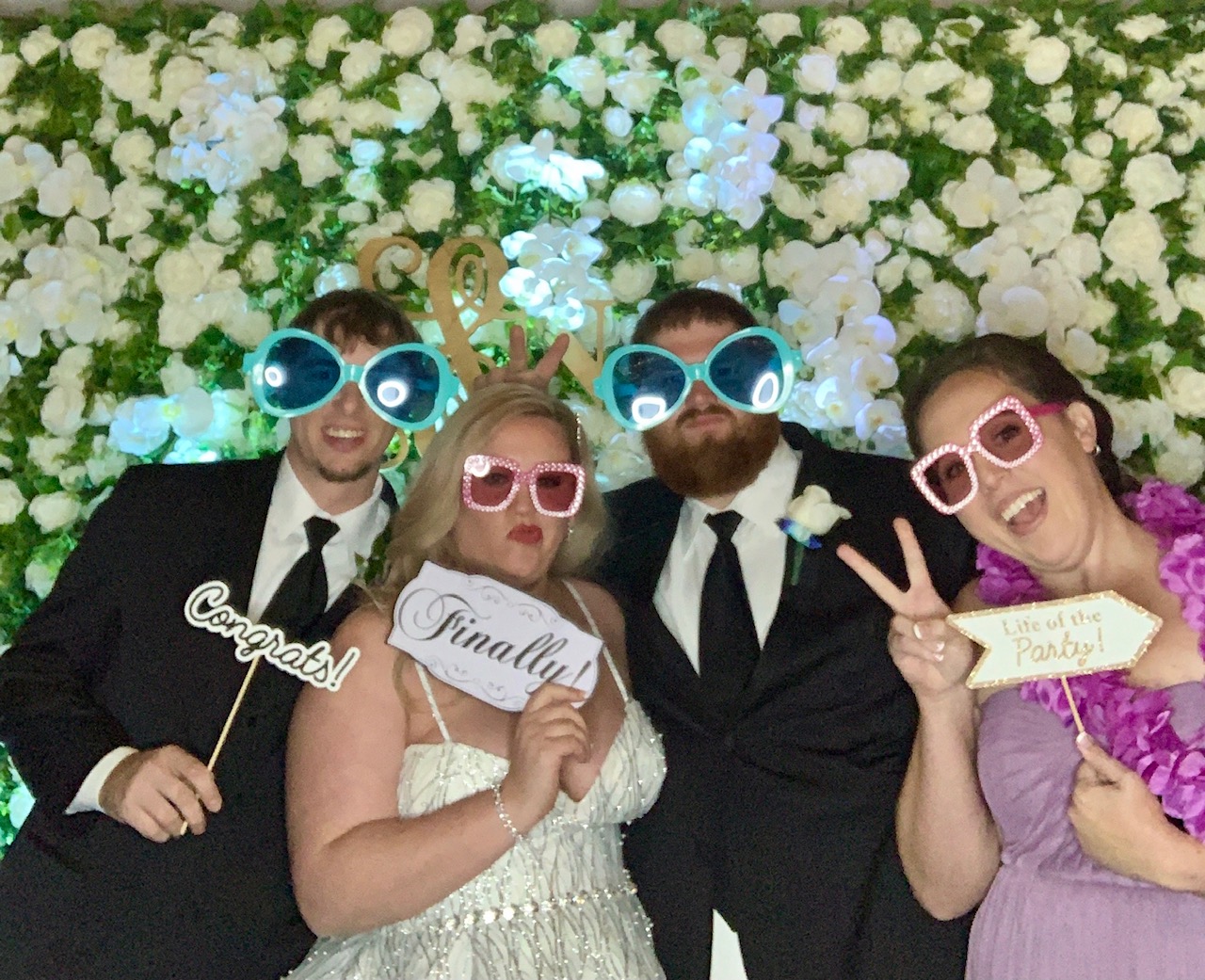 Chic Rustic
Johnnie and Nicolette had an awesome wedding surrounded by their family and friends at Paradise Cove.  Their chic rustic theme was felt throughout the night from beginning to end.

Monica with As You Wish Planners worked with the couple to make sure their chic rustic theme was carried through every detail of the evening and that all their vendors were on the same page.  With Monica's help everything ran smoothly.

Jeff with EnerrJam Entertainment made sure that all the music for their ceremony, cocktail hour, and reception was perfect for the two of them.  His vibe went hand in glove with their chic rustic theme and he kept the dance floor rocking into the night.

Regina Hyman Photography brought some magic with her from Disney and made sure all the pictures of the couple were spot on.  Regina and her husband captured every moment of this chic rustic wedding.  From the ladies getting ready to the last dance, they got it all.   

Jason with the Orlando Flower Market really out did himself.  With a limited budget and the integration of silk flowers with real flowers, he was able to really bring the magic for the chic rustic wedding.  

Four Rivers Smokehouse really made it feel that the food was also a part of the chic rustic theme of the event.  Their delicious BBQ was a hit with everyone and their desserts were out of this world delicious.

Rev. Glynn Ferguson, the owner of Sensational Ceremonies and an Orlando wedding officiant/ minister, worked with Johnnie and Nicolette to make sure their chic rustic wedding had everything they wanted in their ceremony.  From traditional vows to the homework assignment he gave them, everything was personal and perfect. For that homework Rev. Glynn asked them to write and tell him why they love each other.

Nicolette wrote:  I love JP for who he is; caring, sweet, gentle, funny, strong, dedicated, and selfless. He is selfless and caring in the way he takes care of me, his friends and family, and our dogs. Always the one to come to everyone's rescue when called upon. He is gentle with everyone but above all for animals. He is the type of person who always has to pull over and help a turtle cross the street. His sense of humor is infectious. Sometimes it can be as simple as coming up with funny nicknames or personally making himself the butt of a joke. He is strong and dedicated to his job. No matter the time of day or if he is sick. He is always answering the phone and solving problems. For it's his dedication to his family's owned and operated concrete business that's at stake. All of these qualities and so many more are why I love JP

Johnnie wrote:  Why do I love Nicolette? 11th grade, I never would've guessed this girl behind me would've been the one who would have changed my life so many years later. Her simple, sweet demeanor was like no other, at the time, I was just not ready for her and we parted our ways. Many years later we met back up, the sparks began to fly and the rest was history. This girl has shown me what a loving, sweet, kind, and caring person to no end can really be. She has been my rock, my shoulder to cry on and my answer to all of my prayers when I need her, always and forever a best friend. She's my adventure partner, whether it's a simple Trip to the beach, or a trip halfway across the world, as long as we are together, nothing can stop us. This is why I love Nicolette

Johnnie and Nicolette used Married by Mail to obtain their Florida Marriage License for their chic rustic wedding at Paradise Cove Orlando. 
 
Rock Your Photo Booth offered to unveil their newest photo booth set up at Nicolette and Johnnie's chic rustic wedding.  The open concept paired with the greenery wall was the perfect combination for their reception.

Congratulations to the two of you.  May you enjoy a lifetime of happiness.