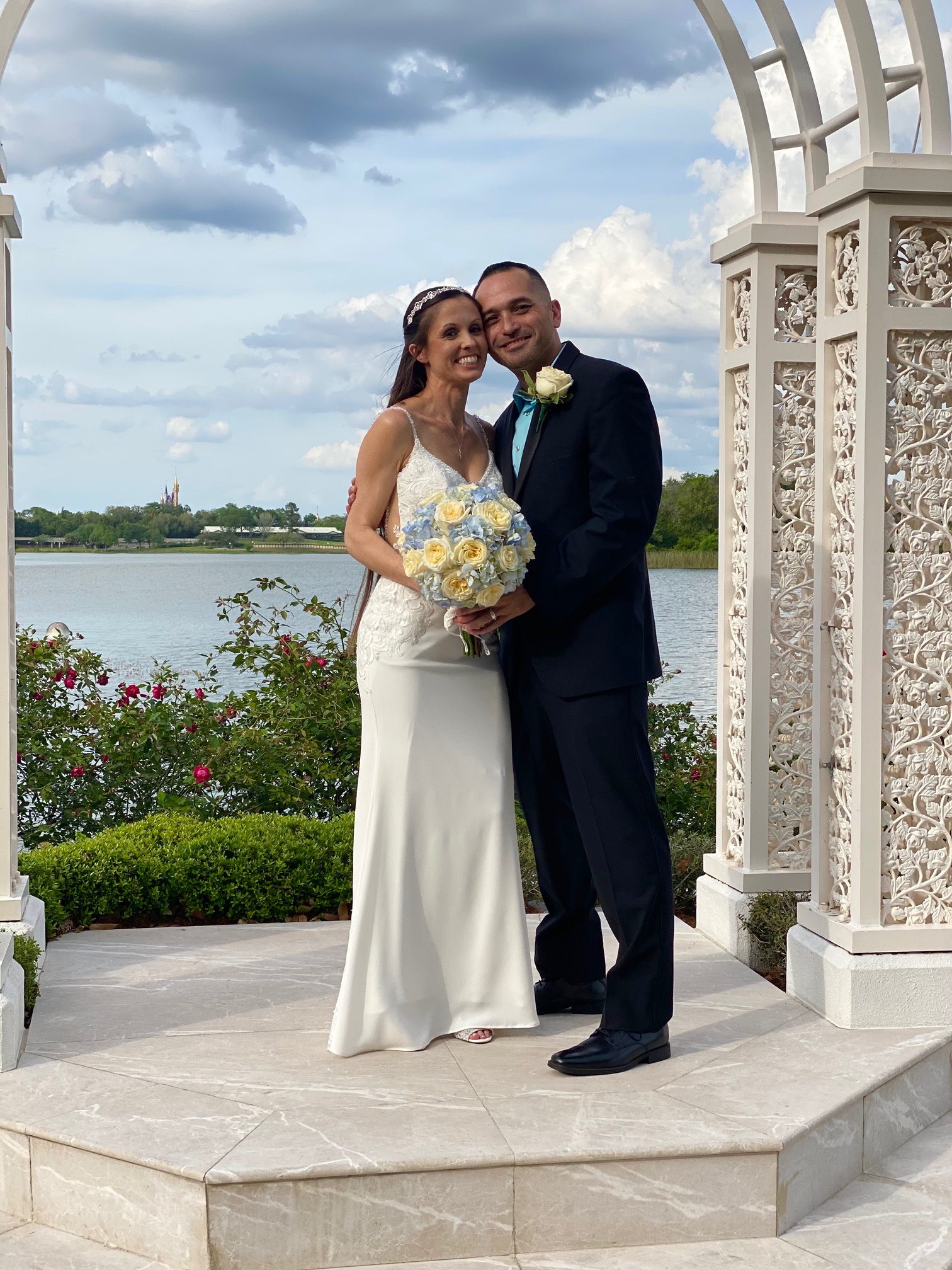 Disney Magic
Kristie and Nino didn't come from far off, but were Orlando locals who wanted to get married at Walt Disney World.  Their beautiful fairytale wedding in the Walt Disney World Wedding Pavilion, was nothing short of amazing and every part of their day was filled with Disney magic  

Kristie and Nino worked hand in hand with Kristie with Disney Fairytale Weddings to make sure their wedding not only had all the Disney magic, but that it really fit them as a couple and was nothing short of amazing.

The couple loved the Disney magic that seems to permeate through every aspect of a wedding there.  The Disney Florist made sure to add those touches to all the floral arrangements and even had a hidden Mickey or two, hidden in Kristie's bouquet.

Working hand in hand to bring the Disney magic, the Disney Fine Art Photography team worked with Cricket Photo and Cinema to make sure every aspect of the couple's day was captured to relive the day for years to come.
Nino and Kristie asked Rev. Glynn Ferguson, an official Walt Disney World Wedding Officiant and owner of Sensational Ceremonies, to work with them to bring the Disney magic to their custom wedding ceremony. He gave them an assignment to write and tell him why they love each other.
Kristie wrote: He always wants the best for me, so he works hard to provide for us. He is responsible, dependable, honest and trustworthy in a world where those traits are scarce. He tries to please me and make me happy. He compliments me. He gives generously even when it means he has to sacrifice to do so. He makes me feel safe and loved. He is committed to our relationship. We complement each other. His strengths are my weaknesses and my strengths are his weaknesses. It makes us stronger together than apart.
Nino wrote: Kristie is an Angel. She is pure of heart and one of the most positive people you will meet. She is principled in her belief to help people as well as her faith. She is nurturing, attentive, patient, a closet brain (scored top 2% on national chemistry exams), doesn't take herself too seriously, beautiful, and fun. Most importantly, I'm in her top 3.
Congratulations on your beautiful wedding. May your lives be ever inspired by the Disney magic you had on your wedding day.