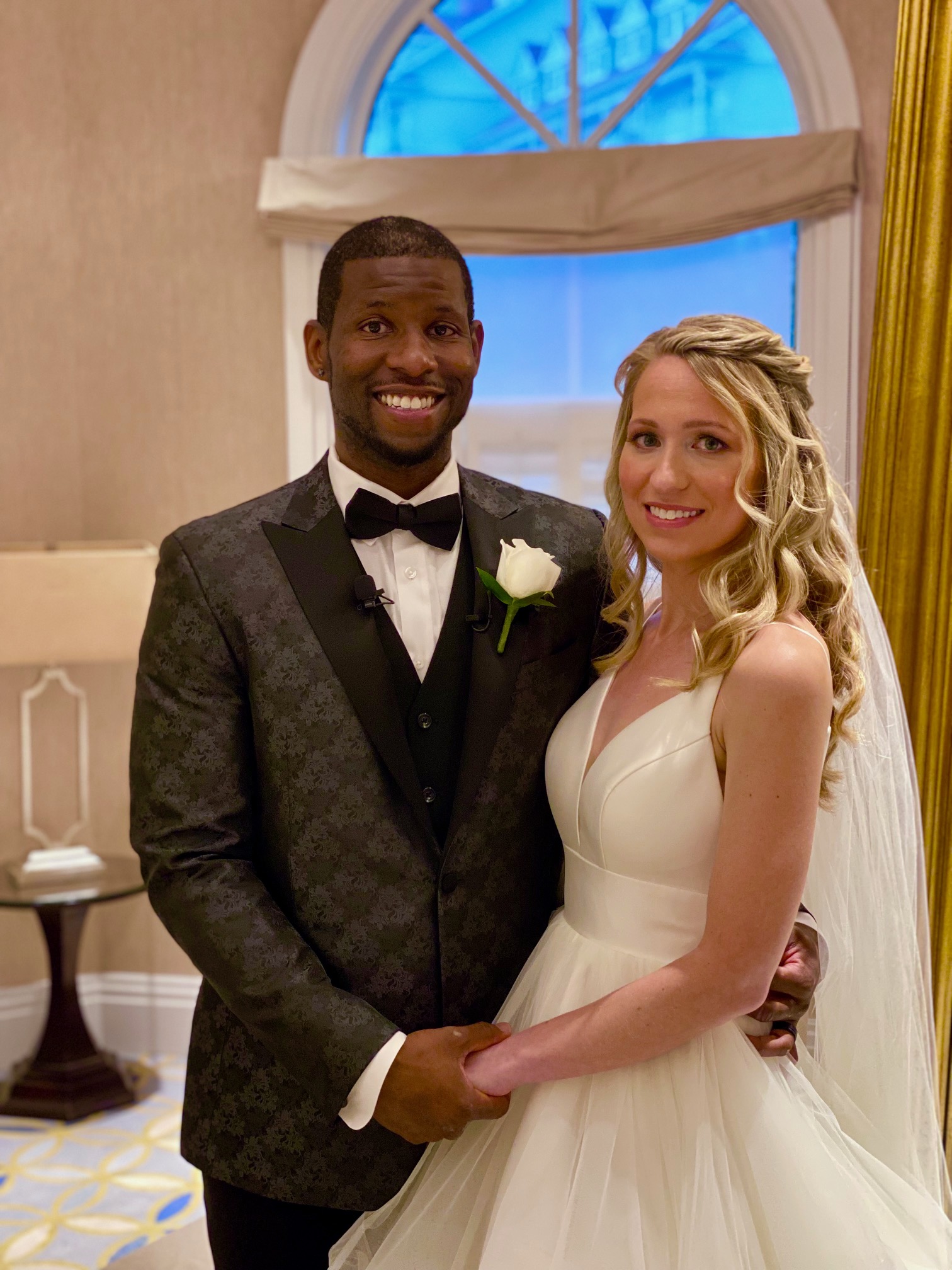 New Adventure
Sophie and Xavier met five years ago and things have never quite been the same for them.  The couple came from Ohio to Orlando to get married in the Walt Disney World Wedding Pavilion.  Surrounded by their family and friends the couple said their vows, exchanged rings and started on their new adventure together.

Rebecca and the other cast from the Disney Fairytale Weddings Department made sure that everything was taken care of for the couple as they started out on this new adventure.  From planning sessions, organizing transportation, contracting the best musicians, and making sure everything ran smoothly, they did it all.

David and Vickie worked with the couple to make sure that every details of their wedding day was photographed so they could relive this experience as they set out on their new adventure.  
Trinity Wedding Cinema pulled out the cameras and really did a superb job of capturing the day on video.  They attached their mics to the groom and the officiant and became almost invisible as they worked their magic for Sophie and Xavier.  

Sophie and Xavier wanted a beautiful and touching ceremony and so they asked Rev. Glynn Ferguson to help them as they started on this new adventure in life.  Rev. Ferguson is an official Walt Disney World Wedding officiant and owner of Sensational Ceremonies worked with them to create a unique custom ceremony that fit the two of them.  He also gave them a homework assignment to write and tell him why they love each other.

Sophie wrote of their new adventure:  Since the beginning, we've had a unique connection of understanding each other's walks of life even though they began very differently.  With that, you've helped heal parts of me I didn't know were broken, and I love you for that.  I love that somehow you're both gentle and strong.  I love you for cherishing and protecting my family (now our family).  I love how we can still be kids together.  I love that I remember the first time I met you: as you were serving us a plate of freshly grilled oysters, my dad introduced you as the guy who "worked at the castle".  I love watching you lead and teach others professionally.  I love that, to us, it's normal to watch cooking videos at all hours of the day.  I love that you're competitive and never quit on anything. I love you because you're my safe space, and I always feel loved and supported by you.  I love how you provide and care for your daughters.  I love that you're always ready for a new adventure with me.  I love that you trust me with anything and everything. I love you for the kids we will one day have and I'm looking forward to parenting with you.  I also love you because you have one of the kindest, most genuine hearts I've ever felt. To summarize, as F. Scott Fitzgerald wrote, "I wish I'd done everything on earth with you".

Xavier wrote of their new adventure:  Sophie, I love you because you motivate me and push me to strive for more. You have always had my back and continued to have my back when others didn't. You believe in me, even when I fall short. You didnt give up on us, look at how far we have come. Through the ups and downs, through the folks who were happy that we were together and those who were not and hoped we would not make it. Your faith and dedication to us never wavered and we kept trying as one believing that God did not bring us together or birth the love and feelings that we had for each other unless it was meant to be. You have a heart that is enormous and shows care and compassion for not just family and friends but all people. You are willing to fight for what is right, even when it's not what society or even family or friends may think is right. You're strong and independent, you have your thoughts and goals and aspirations that you strive for and I know you will achieve. You didn't give up on yourself, you have overcome so many obstacles and challenges in life. Somewhere others could have just given up. You don't quit, you stay the course till the end, and when you set your mind out to do something you accomplish it. I love you because you accept me for me and most of all you accept our daughters. I love you because you press and stay true to your faith in God and push to achieve your breakthrough and to overcome and beat the challenges that are in front of you. I believe in you and I know that come hell or high water we will face it together head-on and survive and overcome whatever may come our way. They say behind every great man is a great woman, for me, my great woman is by my side, not behind me and I rest assured that we are always in it together. This is why I love you, my queen.
Congratulations on your new adventure!