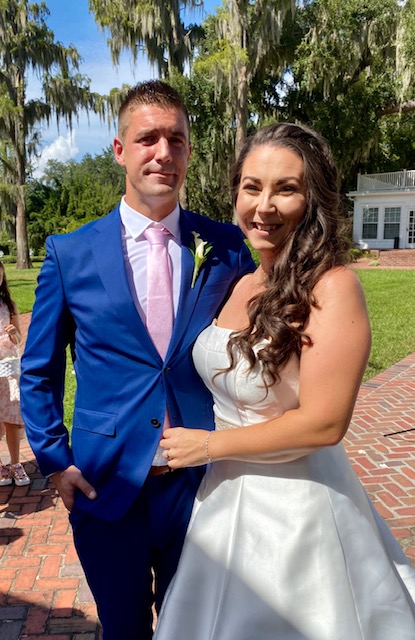 Deja Vous
Their Story
Michelle and James traveled from England to come get married in beautiful sunny Orlando, Florida. The wedding felt very deja vous for the wedding vendors.  Three years before, Michelle's sister married at the Estate House at Cypress Grove and now it was her turn.  Right there on the beautiful private lake the couple exchanged vows and rings under the iconic gazebo.  With the same awesome vendors and the same beautiful location, Michelle and James were able to put their touches on the wedding. 
Their Team
Even though Michelle's sister had used Elegant Weddings of Orlando, the company had sold to the prestigious wedding planner, Brandee Gaar, and she made sure everything was absolutely perfect. That everything she's seen at her sister's wedding was that much more beautiful.
The amazing flowers for the wedding were crafted by the super talented Flowers by Lesley.  With while calla lilies and greenery  for the bouquet and boutonniere, they really made this simple destination wedding look luxurious and beautiful. Even though the wedding flt very deja vous Leslie made sure to create special touches that would make it unique to them.
Three years before Randy Chapman with Chapman Photography had photographed Michelle's sister on her wedding day and now as James and Michelle pledged themselves to each other in front of their family and friends, it was only appropriate that he photograph her wedding as well.
Rev. Glynn Ferguson, an Orlando officiant and owner of Sensational Ceremonies, worked with the couple to create a beautiful custom ceremony.  Deja vous being in full effect Rev. Glynn wanted the ceremony to be uniquely their ceremony. Even at the last minute he was flexible enough to make slight changes and make sure everything was personal and beautiful for the two of  them.  
It was an amazing day. It was everything that a Florida wedding day should be…sunny, warm, and love all over the place.