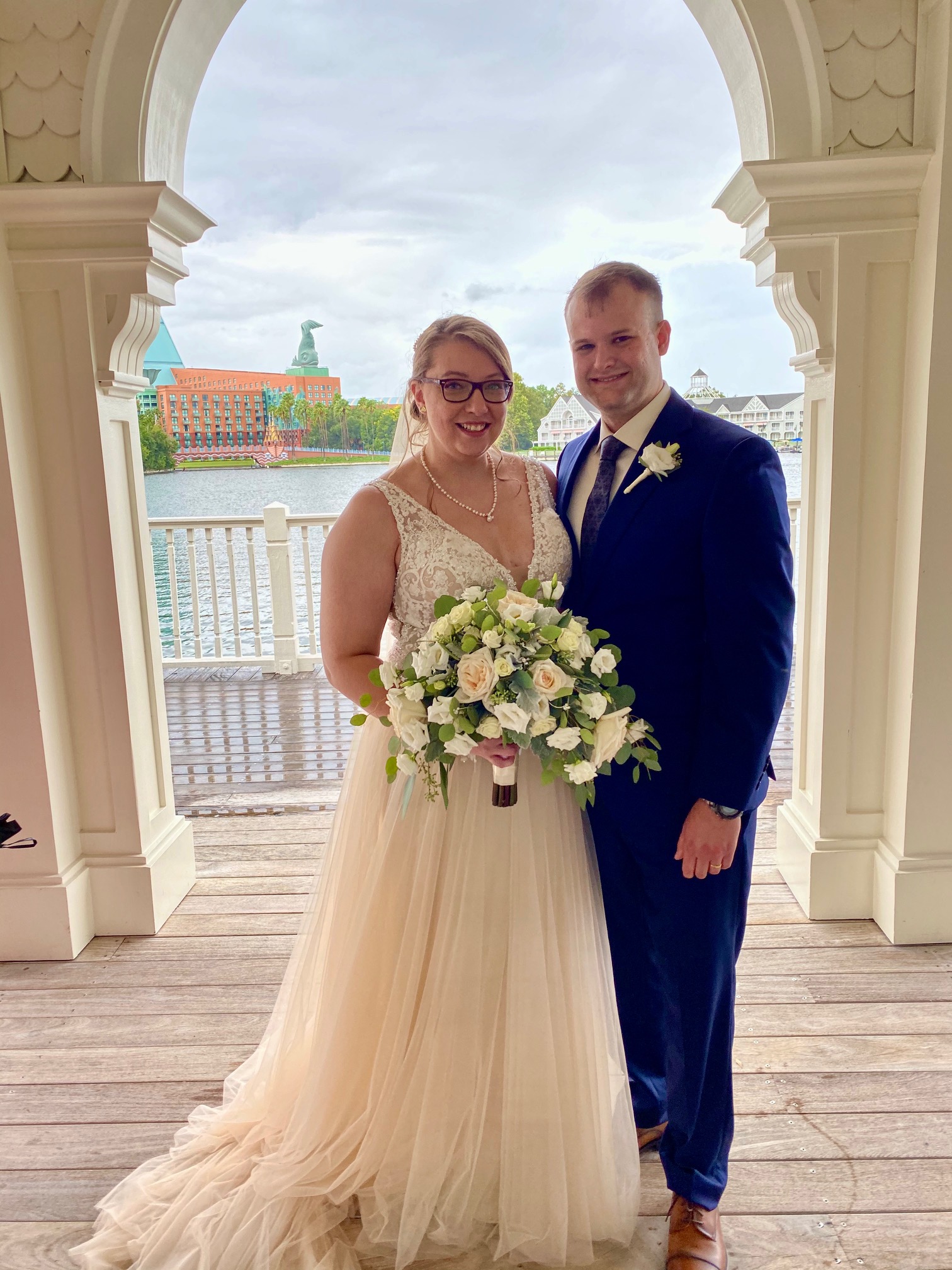 Destination Wedding at Walt Disney World
Their Story
A chance encounter in their college music class led to a beautiful love story and to their destination wedding at Walt Disney World Florida.  Michael and Serena met while attending a music appreciation class at Valencia College in Orlando.  That appointment with destiny led to a six year romance which came together in their wedding at Sea Breeze Point at Walt Disney World.  There on the shores of Crescent Lake, behind Disney's Boardwalk Resort Serena and Michael took vows, exchanged rings and became husband and wife in front of their family and friends.
Their Team
Lindsay with Disney Fairytale Weddings really did an amazing job pulling together their destination wedding.  She helped make sure every detail was accounted for, transportation arrived on time, guests knew where to go, and kept everyone on schedule.Lisa Firregno with Disney Entertainment played selections that the bride and groom chose on her violin.  While rain threatened the ceremony Lisa came prepared to play with a violin made of composite materials that could withstand the weather.  The Walt Disney World Florist created a beautiful bouquet for Serena and matching boutonniere for Michael.  Filled with garden roses, seeded eucalyptus and lush greenery, it looked amazing.Though rain threatened most of the day, it did not dampen the celebration.  Rev.Glynn Ferguson, an Orlando wedding officiant with Sensational Ceremonies and official Walt Disney World Wedding Officiant worked with the couple to make their destination wedding and custom ceremony, personal, beautiful, and just the way they wanted it.  He additionally gave them a homework assignment to write and tell him why they love each other.
Michael wrote: I love Serena because she is the only person that has every understood me. She makes me a better person and doesn't let me settle. She gets my sense of humor. She gets along with my friends and family and is always looking for a new adventure. she was willing move across the country for my career. When I see here she makes me forget about my bad day. When I see here it still feels likes the first time I've looked at her.
Serena wrote: I love Mike for many reasons. But here are only a few which make me excited to share my life with him for the rest of my life. He is truly a kind, generous, and devoted soul. He has a fierce loyalty to the ones he loves and will go to the ends of the earth to help in any situation. His smile not only lights up any room, but also brings joy and laughter to anyone around him. He is an amazing soul and only deserves the best in this world. I am so lucky to have met him in the music appreciation class in college. I love the fact that he supports me with every fiber of his being and only wishes to see me succeed in every endeavor I take on. He has truly changed my life forever and I love that he has been a perfect addition to my life.
Through the rain and the sunshine we just know their happiness will prevail.  Congratulations to the beautiful couple.