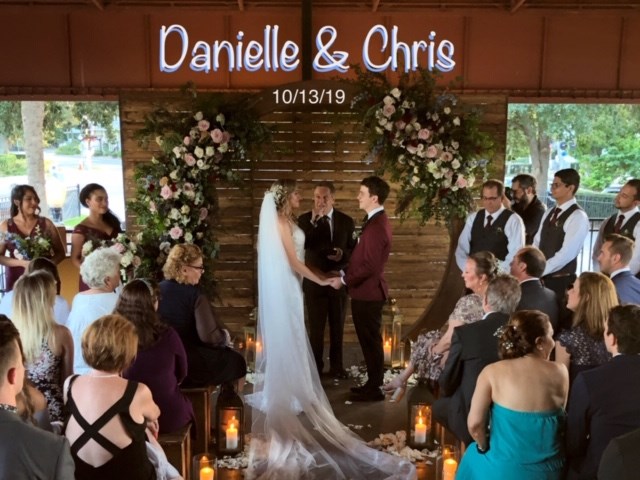 Winter Park Farmers' Market Wedding
The Winter Park Farmers' Market provides for an outstanding wedding venue in the gorgeous Central Florida city of Winter Park. It features a wonderful terrace for the ceremony, as well as an artsy reception space for wedding celebrations! It is warm and inviting and perfect for all that is happy!
Chris and Daniella are originally from Florida, but now reside in California. They invited many of their friends and family members to celebrate their marriage ceremony. Approximately 130 people watched on as they exchanged their vows and commitments to one another. They had recruited Lon Tosi of Sensational Ceremonies to build a fantastic custom wedding ceremony!  It had all the ingredients of a highly customized event.
There were words of love – each written by the couple expressing their love and commitment to one another. They elected to hold a Wine Box Ceremony. Chris and Daniella wrote special letters to one another, expressing their feeling at the time of their wedding. Those words were placed into a wine box and closed until their first anniversary. At that time they will open the box, read the letters and drink wine. What a perfect way to kick off their marriage!  They intend to write more letters for the box over the years so that they will have a running history of their love and how it evolves.
Soundwave Entertainment was on hand for the reception entertainment. Soundwave is always so professional for such occasions. Katherine Way a premiere Orlando harpist provided the ceremony music! In all it was a perfect evening for the couple.
We wish you much luck with your marriage Chris and Daniella!