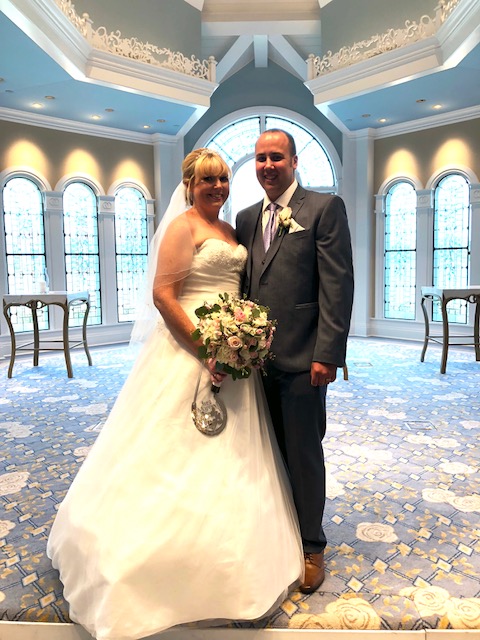 Destination Wedding at Walt Disney World
Michael and Jayne (yes, just like the children in Mary Poppins) were married in an intimate destination wedding at the gorgeous Wedding Pavilion at Walt Disney World in Orlando, Florida.
Karen with Disney Fairytale Weddings worked with the couple to make sure no detail was left untouched to make their wedding day absolutely magical.
With Bill on the organ and Rob with the violin, these musical virtuosos filled the Wedding Pavilion with the beautiful music of the wonderful Disney movies the couple has grown to love.
Carrying a bouquet of white and blush roses with seeded eucalyptus, the Walt Disney Florist made Jayne feel like the princess she was at her wedding.
Poppy the couple's beautiful niece read the poem
The One:
When the one whose hand you're holding
Is the one who holds your heart
When the one whose eyes you gaze into
Gives your hopes and dreams their start,
When the one you think of first and last
Is the one who holds you tight,
And the things you plan together
Make the whole world seem just right,
When the one whom you believe in
Puts their faith and trust in you,
You've found the one and only love
You'll share your whole life through.
Rev.Glynn Ferguson with Sensational Ceremonies worked with the couple to create a custom ceremony. He asked them to write and tell him why they love each other. Here is what Jayne wrote:
Michael and I have just celebrated 11 years together. We have already been on quite a journey together so far and we're looking forward to starting our new journey together as a married couple.
One thing that will always stand out to me about Michael since the day we met and I still love to this day, is his smile.
I love the way he is always showing a caring and considerate side, not only to me but to those who are special to us both – he is always there to offer a helping hand. He always supports me in whatever I want to take on and do in life.
I love how he is always willing to take on any challenge or task that he is asked and he is a bit of a perfectionist in what he does.
I love the way he is laid back with planning and organising and happy for me to take on that role, which is perfect as those are one of my favourite things to do.
The last point I can make is we both share a love for Disney, which is a bonus! We enjoy planning and sharing our Disney holidays together and have special memories together from each trip.
It was an absolutely magical day to be married at Walt Disney World. Congratulation on your wedding and to the adventure ahead!