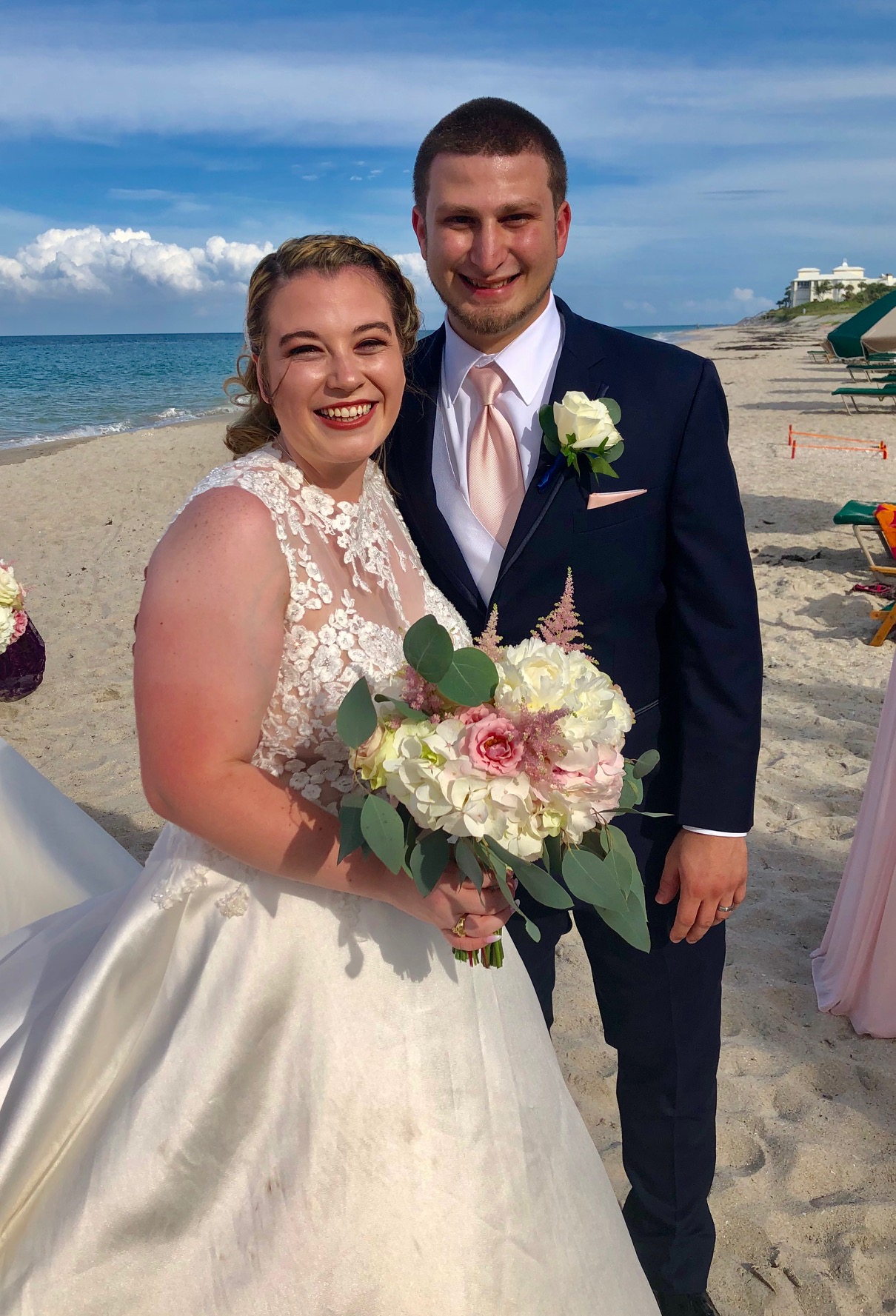 Disney's Vero Beach Resort Wedding
A Love for all things Disney and the beach
Having a love for all things Disney and the beach does not have to be a compromise. Nick and Taryn fell in love around Disney, but instead of having their wedding in Orlando, they decided to go to Disney's Vero Beach Resort for their ceremony and reception.
Vickie with Disney's Vero Beach Resort worked with the couple to make sure their vision for the perfect day all became reality. With the ceremony location on the event lawn, just behind the resort and overlooking the Atlantic Ocean, it was beautiful. Rows of white chairs stretched out across the green lawn, with Sea Grapes and the ocean behind them, it was the perfect backdrop for their wedding ceremony.
With DJ Charles Miles the couple was in great hands. Charles and his company of DJs have been rocking out Disney Weddings for year and years, with thousands of happy couples.
Hutchinson's Floral Artistry took time to listen to Taryn and Nick and the vision they wanted for their ceremony. With live plants, a floral covered arch, and beautiful bouquets and boutonnieres, they hit it out of the park.
Rev. Glynn Ferguson with Sensational Ceremonies spent time with the couple making sure they got exactly what they wanted for their ceremony. There were just three important things that the couple insisted on- short, sweet, and personal. Rev. Glynn gave them a homework assignment to write and say why they love each other.
Taryn said Why I love Nick:
I love Nick because everyday he shows me so much love, compassion, cheer, and his dependability. I can always count on him to cheer me up and be there for me whenever I need him. I adore how he makes me laugh everyday whether it is with his jokes, silly sayings, or just all around being himself. I never met someone who was not afraid to come out of their shell and just be himself never faking or lying about again. I admire his honesty and his determination in all aspects of his life. I love how close he is to his family, even when they are driving him crazy. I love how he knows family means the world to me from day one without me having to tell him. I adore him for always being there for my family as well as his, and how he lets my little nephews and nieces call him uncle. Being supportive of them by going to all these little school parties, events, and truly being there for us in our time of need. I love how he knows the little things mean the most by being there for me between my family, driving an hour on his break from work when I am sick to bring me soup and tea just to check on me, and how he is supportive of my schooling. Working with me pushing me through not letting me give up, helping me study, proof reading my papers, and telling me I am smart and that I can do anything if I put my mind to it. He lives each day showing me how much he loves me by not only telling me but showing me. He is my knight in shinning armor, light at the end of the tunnel, but most of all he is my very best friend that I want to always go to and tell everything to. I love him with all my heart and more.
Nick said, Why I love Taryn:
I love Taryn because I am able to be myself around her. From day one, she accepted me for who I am and put my happiness before hers. She gave me everything I was ever looking for in life; someone who loved and cared about me and saw past my flaws. She would move mountains just to make my day a little better, just as I try to do for her. I love Taryn because she is my best friend; we know everything about each other and always have a great time no matter what we're doing. Most importantly, I love Taryn because she taught me the true meaning of accepting someone for who they are rather than trying to change them into who you want them to be. I love her for who she was, who she is today, and for who she will become in the future and that is why I want to spend the rest of my life with her.
With crystal blue skies and gentle sea breeze, it was the perfect day for Taryn and Nick to tie the knot.
We wish them happiness for a lifetime!