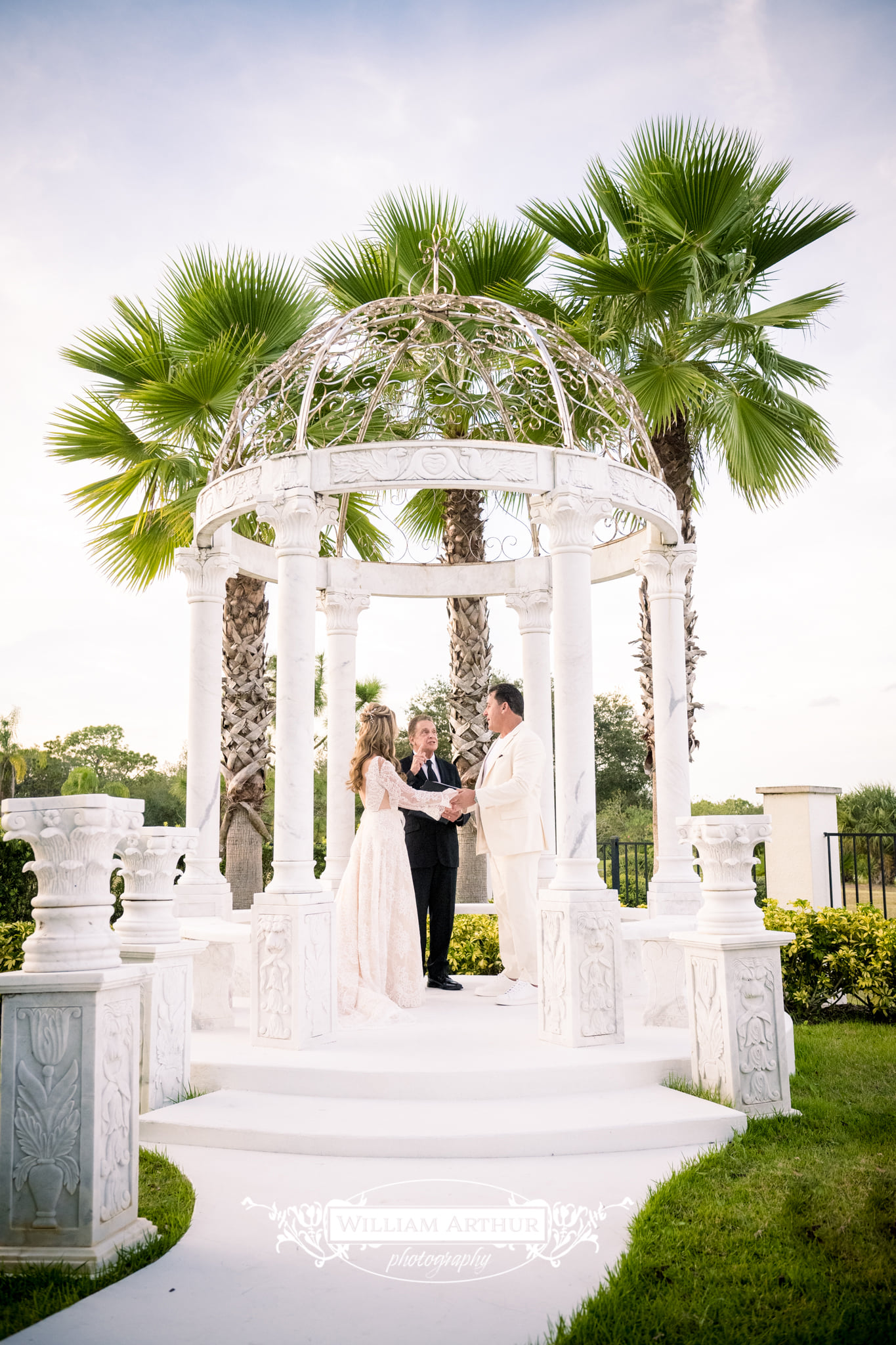 Elegant Wedding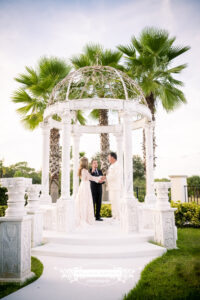 Many couples come to Orlando to be married. Literally they come from around the world. There are so many venues to choose from; venues that fit every style and taste. Some few choose to rent a property at a local resort community – Reunion. This community is located southwest of Orlando, Florida and situated near The Walt Disney Resort. There are many homes located in Reunion, that couples wishing to have an elegant wedding, can choose from.  They match in ambience and size anything in Hollywood. They are mega mansions with every conceivable convenience. Jimmy and Andrea chose one that fit their style perfectly. It featured a backyard pool and gazebo combination that riveled any home in central Florida.
This couple wanted to have an elegant wedding ceremony. They are successful business people and brought with them, not only family and friends, but also business associates to Orlando to celebrate their long and wonderful relationship. They worked with Lon Tosi of Celebration, Florida, and an officiant with the Orlando Team of Sensational Ceremonies. He helped to develop an impressive and beautiful ceremony that spoke to their core beliefs, and  would make an impression on their intimate group.
They worked with a fantastic planning kit that included many ideas and materials that could help. There was a distinct love theme to their readings. As an example: "It was love that brought you together to this moment, to unite your destinies. Always remember just how important your loving relationship is. Cherish your love forever". There was a reading entitled I Will Love You Forever.
They also wrote special words to one another that spoke of their love. He wrote, in part: "With you, I'm never alone. I just love you MORE! and nothing's gonna ever change the way I feel about you!" She wrote, in part: "I love you because you express your love for me every day, and make me feel appreciated and special." There were tears of joy throughout. There was also much happiness. Goal accomplished!
Big thanks to an amazing list of vendors needed to create that elegant wedding that everyone was shooting for.  Alison Watkins and Brandee Gaar with Blush by Brandee Gaar Patricia LeJeune with LeJeune Artistry Lon Tosi with Sensational Ceremonies, LLC, Cheryl Andrews with CDC Floral, Arthur's Catering and Events, Orlando Wedding and Party Rentals, Sugar Sugar Cake Boutique, A Chair Affair, Inc.
Thanks to all for an amazing job!
And it all happened on a sunny day in Orlando, Florida deep in the heart of entertainment capitol of the world.