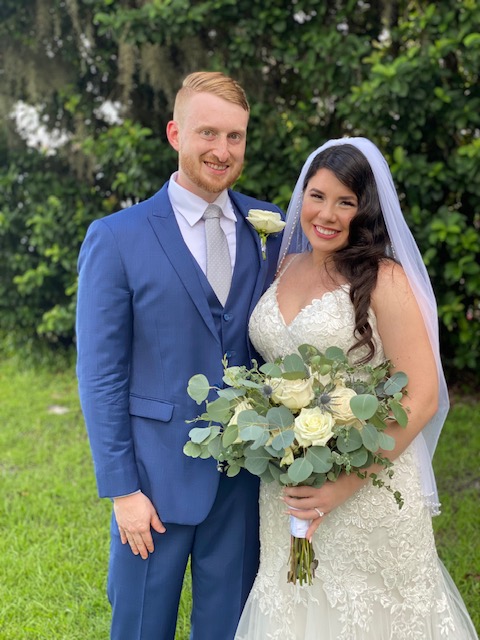 Beautifully Romantic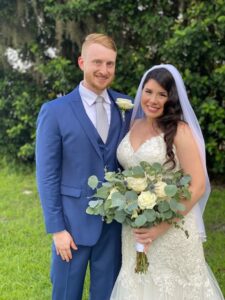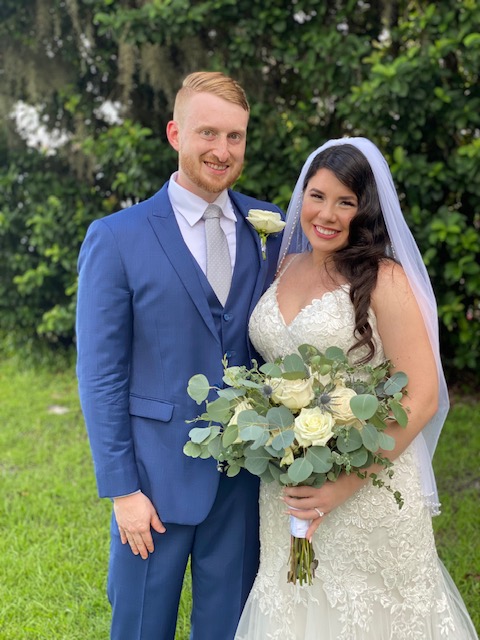 James and Jordan wanted a beautifully romantic wedding with a beach in the background, so the couple chose Paradise Cove in Orlando as the spot for their wedding. Located on the shore of Lake Bryan, Paradise Cove is the ideal spot for a beautifully romantic wedding.
With the water in the background and stunning flowers provided by Atmospheres Floral and Decor the beautifully romantic wedding was absolutely stunning. White roses, seeded eucalyptus, and thistle adorned not on the geometric arch, but the beautiful bouquet Jordan carried down the aisle.
The couple chose Rev. Glynn Ferguson, the owner of Sensational Ceremonies and an Orlando wedding officiant to help them bring their beautifully romantic custom wedding ceremony to life. Rev. Ferguson gave the two of them a homework assignment' to write and tell him why they love each other.
Jordan wrote for her beautifully romantic assignment: I love that James always gives 100% whether it's work, his friendships, his family or me. When I met him it felt like we connected instantly. He has a great sense of humor and has always been someone I could talk to for hours. One of the first things I noticed about James (other than his muscles haha) was what a caring person he is. He's always done the little things and I know he genuinely cares about me and wants me to be happy.
He's always been supportive whether I was buying my house or changing jobs – he steps up and does more than his part when I need it. I love that James is willing to try new things with me. We've learned to cook together, taken salsa classes and he even taught me to drive the Mustang! He puts up with me watching reality tv late at night, doesn't complain (much) when I make him go to Disney with me and doesn't get mad when I buy yet another throw pillow. (I put more on the registry)
I think what I love most is that James treats me like I'm valuable to him. If there's a problem, he helps us deal with it and we work through it together. He doesn't just talk about things; he actually does them. If I'm upset, he won't stop until I've cracked a smile. He's one of the smartest and best people I know. I consider myself to be the luckiest woman in the world that I get to be his wife.
James wrote for his beautifully romantic assignment: What I appreciate most about Jordan is her free spirit. When Jordan came into my life, she charmed me (almost instantly) with her confidence and joyful energy. I love that Jordan doesn't wait for happiness to present itself – she strives for it. And she doesn't wait for life to be perfect in order to decide to enjoy it. Jordan has blessed me with an optimism that has been absent from my life for a long time. I love Jordan because she inspires me to step outside of my comfort zone. With Jordan, I can live freely in a way that I could never do without her.
Congratulations to the two of you.