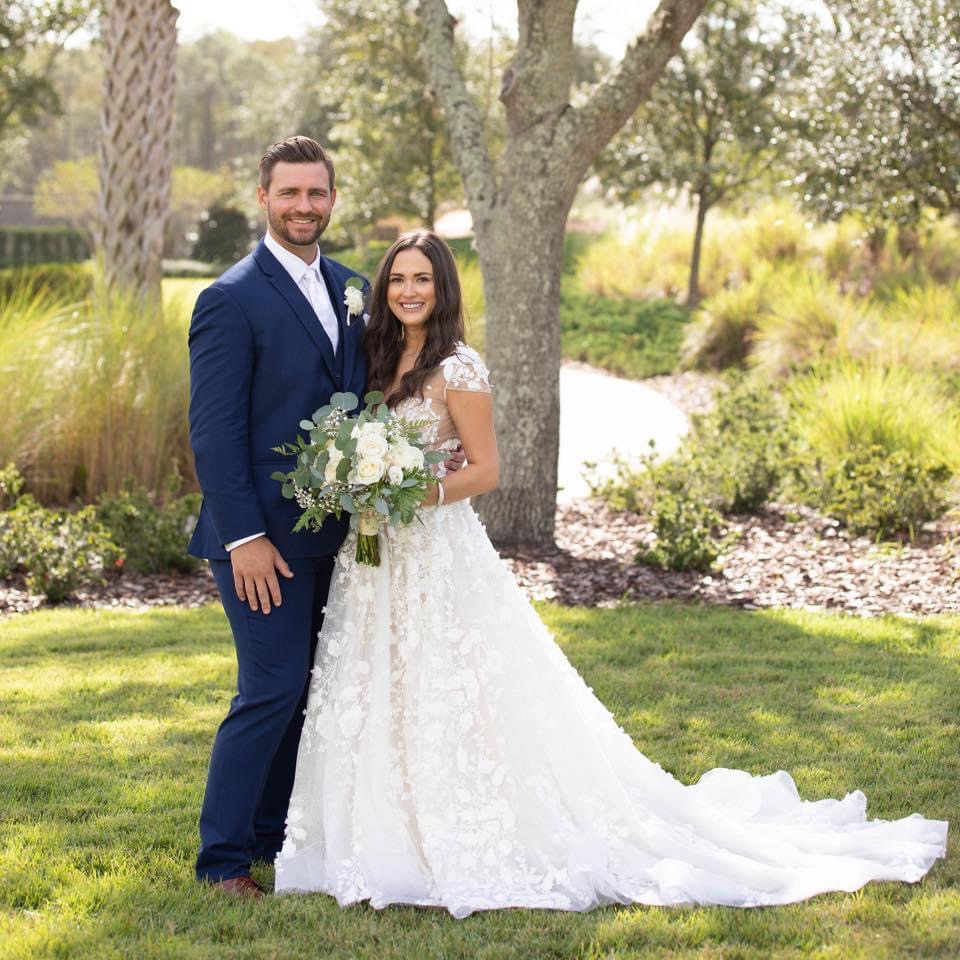 Four Seasons
Megan and Hayden were faced with lockdown due to the pandemic, but what better place to have to quarantine than her parent's home in Golden Oaks at the Walt Disney World Resort, in Orlando, Florida.  When their original plans to marry were curtailed by the many shut-downs they decided to keep it close to home and were married in an intimate ceremony at the Four Seasons Resort at Walt Disney World.  Sascha with the Four Seasons made sure that every detail was taken care of for the couple. As part of their intimate package, he assembled an award-winning team of vendors to make their intimate ceremony just perfect. Rev. Glynn Ferguson, an official Walt Disney World wedding officiant and owner of Sensational Ceremonies, worked with the couple to create a beautiful and personal custom ceremony.  Their ceremony was made all the more personal by the fact that he gave them a homework assignment, to write and tell him why they love each other.
Megan wrote:  I have loved Hayden from the moment I met him, and there are so many reasons why I continue to love him today.  I fell in love with how goofy he is, because he always finds ways to make me laugh with his witty jokes and funny faces.  I love Hayden because he makes me a better person and serves as my better half, constantly inspiring me with his creative ideas in the kitchen, career ambition, positive energy, and much more.
I love Hayden because he is sweet, romantic, and authentic – he is true to himself and is so beautifully committed to our relationship, he makes me feel loved and cherished every day.
Hayden wrote: Without making this sound too "cutesy" or "deep", Megan and I are complete opposites who couldn't be more alike.
She has qualities that, for my whole life, I wished I possessed. Her outgoing, brazen nature where she isn't afraid to go up to anyone to befriend or to confront. Her ability to manage every little detail in life and organize every minute of the day. Although we differ in these qualities, I found that I haven't relied on her for these, but in actuality she has helped me grow in these regards. I couldn't be more thankful for who she has helped me become (and am becoming), and on top of that, I couldn't admire her more.
On the other hand, I have yet to meet anyone else like her who mirrors my combination of ambition and weirdness. For her to be able to manage a difficult job during the day and compliment it with silly "out- of-nowhere" jokes and dances, amazes me.
I love how she pushes me. I love how she challenges me. I love how she makes me laugh. I love how we make each other laugh. I love her natural beauty. I love how much she cares about the little things. I love how I can completely be myself… I could only wish that I make her just a bit as happy as she makes me.
Victoria Angela Photography worked with the couple to make sure that every detail of their Four Seasons wedding was captured so they could share it with family and friends who could not be there.  
Greenery Productions did an outstanding job of crafting the beautiful floral décor for the couple and their families.  From the bride's bouquet to the boutonnieres and corsages, everything was perfect.
We wish them happiness for a lifetime.