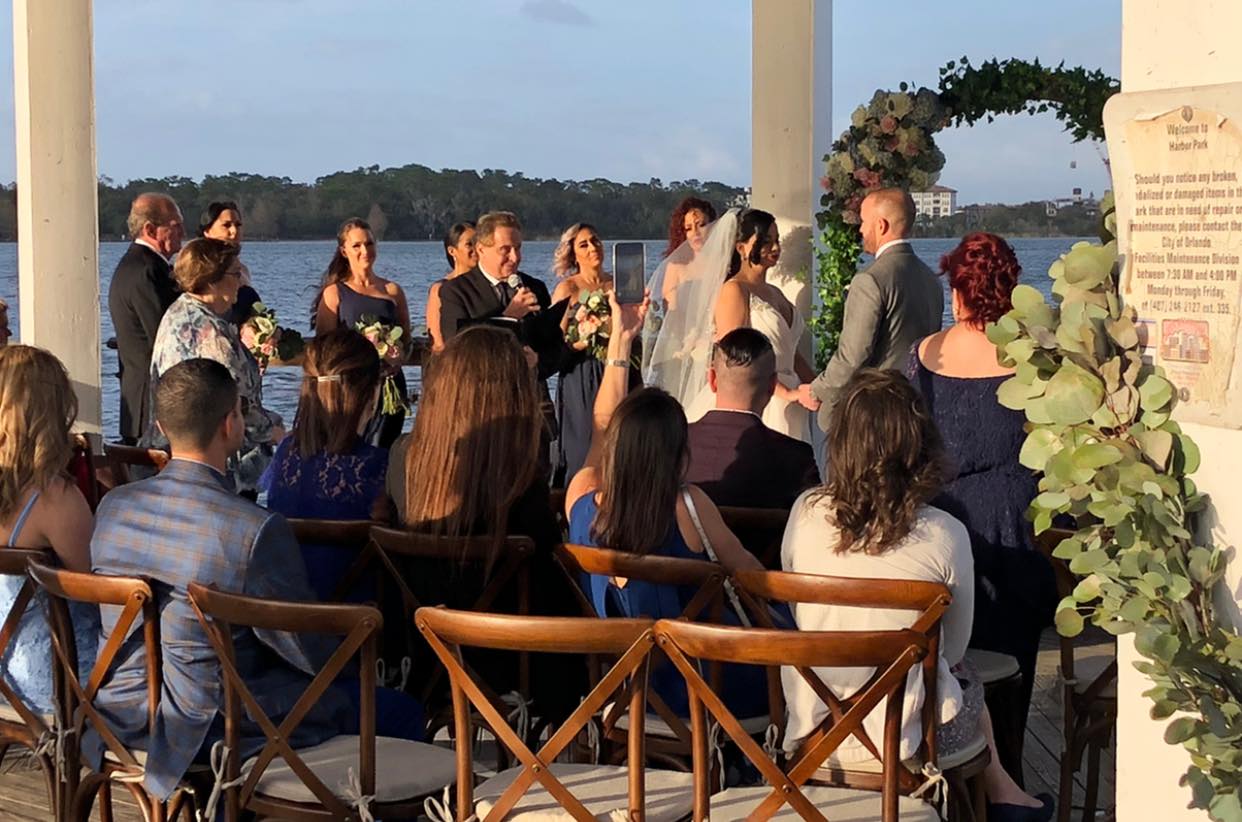 Gazebo on the Water
THE VENUE
Baldwin Park is a wonderful bedroom community located within the Orlando, Florida city limits. Amongst the hustle and bustle of the busy city around it, this community offers a quiet and beautiful respite for the weary. A lakefront fountain and walkway adds to the charm of the neighborhood, along with a boardwalk and gazebo, which stretches into the lake. That very boardwalk and gazebo on the water, offer a beautiful setting for a wedding ceremony. It was into this setting that Alan and Barbara invited their family and friends to celebrate their coming together as husband and wife.
THE CEREMONY
Lon Tosi of the Sensational Ceremonies team of Orlando wedding officiants supported the couple in constructing their custom wedding ceremony. He met with them six months ahead of the wedding to review planning kit that offers many great options. They selected items that fit their style perfectly. He brought that finished ceremony to the gazebo on the water for his presentation. He had the parents stand and thanked them for all the love and guidance they had provided to the couple. He then read the following words from a special verse that meant so much to Alan and Barbara: "The symbolic vows that you are about to make are a way of saying to one another, "You know all those things we've promised and hoped and dreamed- well, I meant it all, every word." Look at one another and remember this moment in time. Before this moment you have been many things to one another- acquaintance, friend, companion, lover, dancing partner, and even teacher, for you have learned much from one another in these last few years. Now you shall say a few words that take you across a threshold of life, and things will never quite be the same between you. For after these vows, you shall say to the world, this is my husband, this is my wife."
The couple had their hands blessed. That was such a fantastic moment in the ceremony. The blessing tells the story of a couple's hands from the time that they are married until they are aged. Just beautiful! They were pronounced as husband and wife as the sun set over the gathering. It was a perfect wedding celebration! It should be noted that Runway Events did an amazing job in putting everything together. Amy their fantastic event manager was just a pleasure to work with!
THE VENDORS
Many fantastic vendors brought their unique skills to the gazebo on the water:
Orlando DJ Group – DJ Justin took the amazing photo shown with this blog
Orlando Wedding & Party Rentals
Sensational Ceremonies Wedding Officiants – Lon Tosi
And it all happened on a sunny afternoon at a gazebo on the water! Perfect!