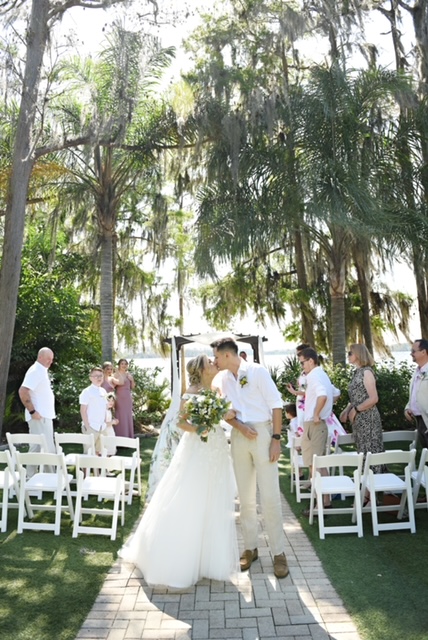 Georga and Joseph
Georga and Joseph traveled from the United Kingdom to get married at the beautiful tropical Paradise Cove in Orlando, Florida. Paradise Cove is situated on the shores of Lake Bryan, just across the highway from Walt Disney World, in Orlando.
When the couple contacted Intimate Weddings of Orlando, Victoria talked them through the pros and cons of each of the ceremony packagesthat were offered and when Georga and Joseph saw the photos from Paradise Cove they just knew they had found the perfect fit for their destination wedding. Once they had picked their venue Victoria got to work lining up an award-winner team of wedding vendors
Edmund with Rhodes Studios Photo and Video not only did an amazing job at capturing every moment of Georga and Joseph's wedding day, but his jovial demeanor really put them at ease and let them get the pictures they wanted. Whether it was ceremony pictures as they walked down the aisle or pictures of just the two of them on the beach at Paradise Cove.
Rev. Glynn Ferguson, the owner of Sensational Ceremoniesand an official Walt Disney World Wedding Officiant, really worked with Georga and Joseph to make their custom ceremony something really special. He walked them through picking out their ceremony selections from his ceremony planning kit and then making it super personal by writing and telling him why they love each other.
Georga wrote: I love Joe because he is the best dad to our children, he shows them everything that a dad should be, kind, playful and loving. Everything he does is for us, he has worked so hard through some tough years to try and ensure us a lovely future. I love him because he is my best friend, always encourages me to do my best and supports my crazy ideas. I know he will never judge me, he will always respect me and make me laugh even when I don't want too! I love that we have grown together – older, stronger and sillier! I look forward to what our lives hold together as a family, and can't wait for many more adventures!
Joseph wrote: Georga is a truly amazing person; caring, thoughtful and loving. She bring light to the darkest times and has an unrivalled ability to make me happy even when times are tough. Georga may not always realise it but she is my inspiration (along with Marlowe and Hudson) to get up and try my hardest to succeed. I love georga more each day and just being in her presence is enough to make me content.
When Georga and Joseph were picking out their details of their wedding, they chose Flowers by Lesley to help them bring their vision to life. Instead of a typical rose bouquet the couple chose succulents, wildflowers, silver dollar eucalyptus, roses, and daisies to make a beautiful bouquet and boutonniere for the couple.
To get the legal aspects taken care of, Georga and Joseph turned to Married by Mail to assist them in acquiring their Florida Marriage License. Dianne with Married by Mail made sure every form was filled out perfectly and then personally went to the Clerk of Courts office to get the license for them.
Congratulations Georga and Joseph on your beautiful, tropical wedding in Orlando.
Sensational Ceremonies
Average rating:
0 reviews