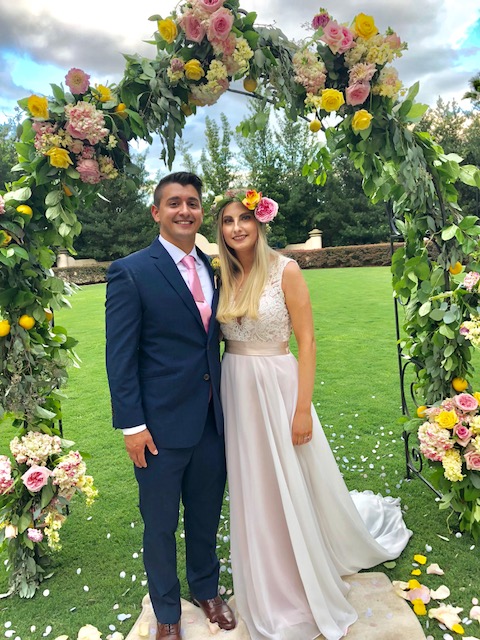 Hard Rock Wedding
Jerry and Samantha came to Orlando for their Hard Rock Wedding at the Hard Rock Hotel at Universal Studios. Under a beautiful decorated by Lee Forrest Designs the couple joined hands and hearts as they exchanged their wedding vows in a ceremony crafted specifically for them by Rev.Glynn Ferguson of Sensational Ceremonies. Rev.Glynn asked the couple to write and tell him why they love each other and here is what Jerry said:
Immediately when I met Samantha I was stunned by her beauty. When I was introducing myself to Samantha I was lost in her big blue eyes. After a week passed from meeting her, she was no where to be found at our old job and I thought, "did I scare her off?" Another week goes by and she is back at work and she told me that she went on a vacation, right away I was relieved that she was not going anywhere. However something about her made me want to talk with her, hang out with her, get to know her, start my first chapter with her. Then after my first chapter was complete with her I got to find out what it was about her, that made me want to hang out with her more, get to know her more, talk with her more, and more importantly what made me fall in love her.
Samantha's affection and personality made me go head over heels for her. We could literary talk for hours, hang out every day, go do mindless things together, and yet I still wanted to see her the very next day. That same year in Christmas 2011, I knew I was ready to risk it all to make this promise to Samantha, and that was a promise ring that I would marry her and stay with her forever. I knew the ring was something small, but it was a start. Here we are almost 7 years later getting married, starting our next chapter to some much more than just a relationship from our old high school jobs. Officially starting our lives together and still loving her the same way I did from the first day I met her. No one else in the whole world I would want in the passenger seat of my BMW M3 but Samantha, but this time I would let her roll the window down. (inside joke Samantha and I had when I had my first BMW, I didn't let her roll the window down before) I am ready to have Samantha by side for as long as I possibly can in this life and in the next.
Angela Bachelor with All About the Details coordinated everything from the set up to the ceremony to cocktail hour and reception.
The couple used Married by Mail to obtain their Florida Marriage license before they ever arrived in Orlando.
Fox Grove Films was the photographer for the day.
Orlando Wedding and Party Rentals provided the chairs for the ceremony and reception. While Orlando DJ and Lighting played the tunes that got everyone out on the dance floor and lit the room to set the mood.
Congratulations Jerry and Samantha!