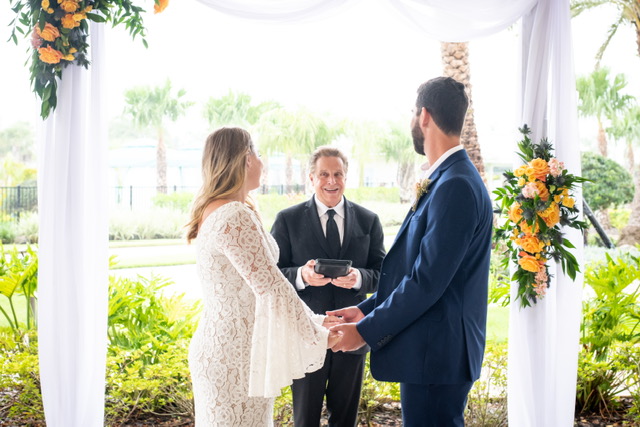 Island-Inspired
The Venue
Margaritaville Resort Orlando is an island-inspired escape offering high-end accommodations, world-class dining and entertainment, and the most relaxing facilities and amenities around. It is located just minutes away from the attractions of Walt Disney World Resort, Universal Orlando Resort, SeaWorld Orlando, and all the other Central Florida fun. Lindsey and Jon picked this amazing spot to hold their intimate and sweet wedding – their magical moment.
The Ceremony
"It was love that brought you together to this moment, to unite your destinies. Always remember just how important your loving relationship is. Cherish your love forever". Those words and many more throughout their custom ceremony represented the feelings between Jon and Lindsey. By the time of their wedding, they had known each other for four-years. They often thought it was indeed their destiny to be in this island-inspired paradise to become one as husband and wife. Lon Tosi, their officiant helped the couple to create a magnificent ceremony that truly represented their feelings for one another in their island-inspired wedding. A beautiful point in the ceremony centered around their special words to one another. Jon wrote in part: "Lindsey, I knew from our first date that you were special and someone that I needed in my life. You are the most beautiful, caring, and funny woman a man could ask for. I love that I can completely be my weird self around you.  I will always try to make you laugh even when you don't want to. I promise to always be there for you in good times and bad". She wrote back: "I admire you; you are kind, funny and intelligent. I especially love your sense of humor and how your eyes and nose scrunch up when you laugh". Two people in love – coming together as one, in one magical moment.  What a wonderful thing that is!
The Vendors
Just Events Group managed the whole island-inspired affair in a wonderful manner. It all went off without a hitch! A special thanks to Jessica Meinhart for your hard work! Margaritaville Resort provided a wonderful backdrop for this magical moment. Lon Tosi represented Orlando based officiant company Sensational Ceremonies. Stephanie Ceglia of Everlasting Photography, Inc.took amazing photos of the event; ones that the couple will treasure forever. The amazing Raining Roses Productionspresented their traditional amazing floral arrangements. Truly gorgeous!
This magical moment happened on a wonderful day in Orlando, in the heart of our country's playground.