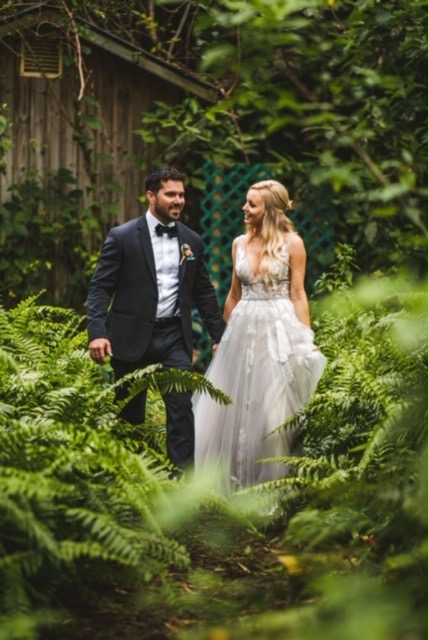 Luxurious Intimate Wedding
When Julie and Jay's large luxurious wedding in central Florida was put on hold because of a little pandemic, the couple decided on a change of plans to pour all of their creative energy into a beautiful and equally stunning luxurious intimate wedding.The couple's change of plans included moving all their wedding plans, location, and vendors more than a hundred miles to the south to Vero Beach. There, tucked away in the tropical paradise known as Waldo's Secret Garden Jay and Julie surrounded themselves with their parents, bestman, and maid of honor to have a truly epic intimate wedding.
Jennifer, the owner and lead planner for Bella Sposa Events really took the reins and helped ensure the transition from a big wedding to an intimate affair was still as luxurious and grand as they could have hoped for, while at the same time making those personal details really stand out for everyone there. If Jennifer could create a rich luxurious event for one hundred people, she could totally pimp out one for eight.
Jason with Concept Photography went above and beyond to really capture the change of plans and make sure every part of this luxurious intimate wedding were recorded for the couple to share with their family and friends that could not be there. From the perfect light of chandeliers hanging from rustic beams to the glimmer of rain drops rolling off the luscious green foliage Concept Photography captured it all.Flowers by Lesley did her part as well. Flowers hung from rafters, changeliers, over the backs of chairs, streamed down the center of tables, adorned the writs of mothers, and were carried by the beautiful bride. The flowers for this intimate wedding were over the top. Lesley poured all of her floral magic into making this wedding spectacular.
Amy, with Beautiful Music traveled from Orlando to come and bring the beauty of violin music to fill all the twists and turns of this beautiful garden. The talent this young lady possesses is truly a gift and she was sure to share it with everyone who heard her playing.
Wild Thyme Catering and Classy Cupcake Vero Beach made sure that everyone was filled or stuffed with the most delectable cuisine imaginable. From cheese and meats that cascaded down the table, to elegant plated meals for everyone (including the vendors.) It was all absolutely delicious.
Rev. Glynn Ferguson, the owner of Sensational Ceremonies and a Walt Disney World wedding officiant, worked with the couple to create a beautiful intimate ceremony for their change of plans. The couple's faith in God was truly on display during the ceremony. With a traditional Christian ceremony, the Blessing of the Hands, and a host of other personal touches, the couple wanted to make sure their ceremony was intimate and personal. Rev. Ferguson asked them to each write him and tell why they love each other.
Julie wrote: There are many reasons why I love Jay, but what immediately comes to mind is that he is loyal, trustworthy, handsome, Christian, very hard working, he supports my dreams, he can fix anything, and he makes me laugh every day. We balance each other out and have introduced one another to many different hobbies, that we now both enjoy, making life much more exciting. He introduced me to gator hunting, fishing, boating, and shrimping, and I introduced him to shopping at Homegoods, making the most of every holiday, classic rock, and I test all kinds of new recipes on him. I love that we have already started traditions that we intend to carry on for our whole lives, such as having an ugly sweater Christmas party every year. He always wants to make me happy and puts me first. I tend to worry and have a lot of fears, while he is not afraid of anything and calms my anxiety. He is very tough and manly, and also solves any problems I have. He is a Christian and wants to raise our family going to church, and I know he would make a great dad. Not only is he strikingly handsome, he has a unique and hilarious personality, while also being extremely kind and caring. I love that there is nobody else like him and that I found the man of my dreams.Jay wrote: I knew I was going to marry Julie the day of our first date. We met at a restaurant in Ft Pierce and she was a beautiful young girl that I just clicked with immediately. We sat and discussed our common interest in life and traveling while trying to get to know each other as much as we could. I would say that Julie and I grew up a little different as I was very comfortable out on the water skiing, fishing, hunting and boating. Over the last, almost 2 years, we have shared many memories in all of these interest of mine (And I believe she enjoys boating and fishing more than me now!). She has also dragged me into new ventures that I never thought I would go before like home goods, thrifting and weekend relaxation Julies family has been the best I could ever ask for with being welcoming from the beginning and showing their love and support along the way.
The reason I choose to marry Julie is for the simple fact that I love her and want to spend the rest of my life with her. Julie is a woman who is caring, loving and has faith and belief in God! She has made me a better person since the day we met and I can't wait to see what the future has in store for the two of us. I look forward to spending each day with Julie and hopefully starting a family in the future! I am extremely excited to be able to wear our wedding bands to show others the commitment that we have pronounced.
What a wonderful change of plans. Sometimes and intimate wedding can be far more than a big affair could ever be.