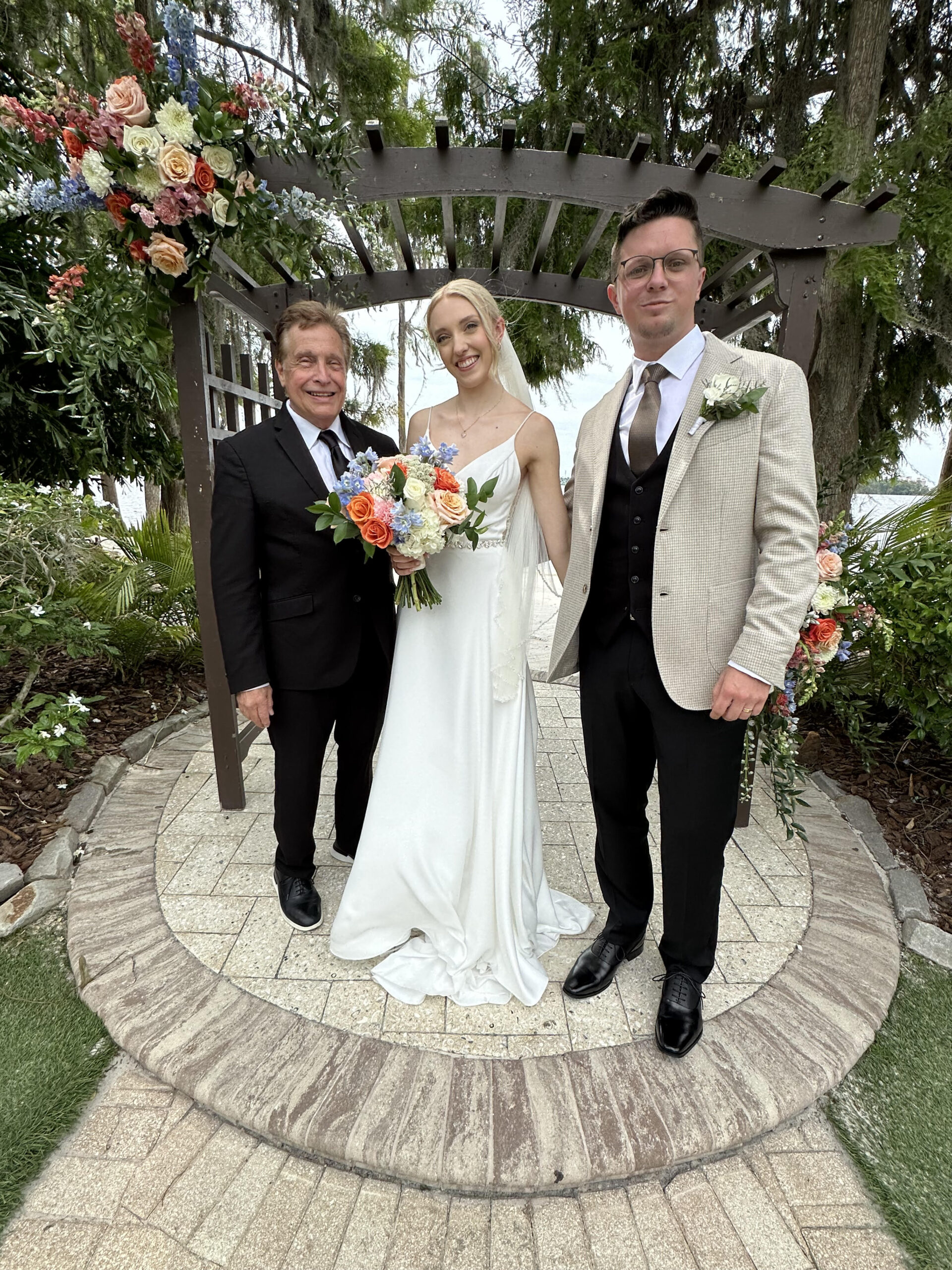 Jenna and Christian
The Venue:
Jenna and Christian brought their small group of family and friends from the United Kingdom to celebrate their coming together as husband and wife. Paradise Cove located just outside Orlando Florida is truly a lush tropical paradise. With its palm trees, multiple types of ferns, flowers, and cypress trees all surrounding a white sand beach along the calm shores of Lake Bryan, it is just the perfect wedding destination.  The raised alter with its gorgeous arch provides a perfect backdrop for any wedding.
The Ceremony:
The ceremony for Jenna and Christian ceremony featured traditional vows of intent and marriage vows as part of their custom civil ceremony. Additionally, they wrote special words to one another that spoke to the heart of their deep love. Their officiant Lon Tosi of the officiating group from Sensational Ceremonies read those words for them during the ceremony.
Christian wrote in part:
Jenna is the most amazing, inspiring and beautiful partner I could have ever wished for. She is my best friend and I've been blessed to find her so early in my life. Her determination and work ethic are something that anyone should be envy. Jenna has proven time and time again that when she puts her mind to something, there is no obstacle
that will stop her from not only reaching the finish line, but continuing another hundred meters or so, whilst making sure everyone else has the motivation to do so as-well. There isn't anything I wouldn't do for Jenna. I would walk 2000 miles into the fiery depths of Mordor for her. I would single-handedly blow up the death star if she asked me to. I would steal a blue French horn off the wall of the local Italian restaurant and I would go hand to hand with John Kreese. But most importantly, later on today, I will make an unbreakable vow and commit the rest of my life to supporting and loving her.
Jenna wrote in part:
Christian is the most loyal, dedicated, and strong-minded person I have ever known. He is my strength and guidance, the person I want to share all my thoughts with, the person I could stay up all night laughing with and is honestly my best friend. But the thing I love most about him is that I can be my whole self around him and know he will always support and challenge me to be the best version of that self. He is truly the best at giving advice and support, and please don't tell him I'm admitting this, but is right 99% of the time.
The Vendors:
No wedding can be truly successful without a wonderful group of wedding professionals working as a team. Jenna and Christian assembled a great one for certain.
Tabitha from Paradise Cove was the lead planner. Lon Tosi the award-winning officiant from Sensational Ceremonies Sensational Ceremonies officiated the ceremony. Domenico from Castaldo Photo and Video was on the job! Married By Mail provided the Florida Marriage License. Blossoms Orlando created the florals. Cocktails Catering was on hand. Frosting on the Cake delivered on their tasty treats once more. Sebamatt Music played a magical guitar for the reception.
And it all happened on a sunny May morning in beautiful Orlando, Florida in the heart of the happiest place on earth – Walt Disney World resort
Sensational Ceremonies
Average rating:
0 reviews