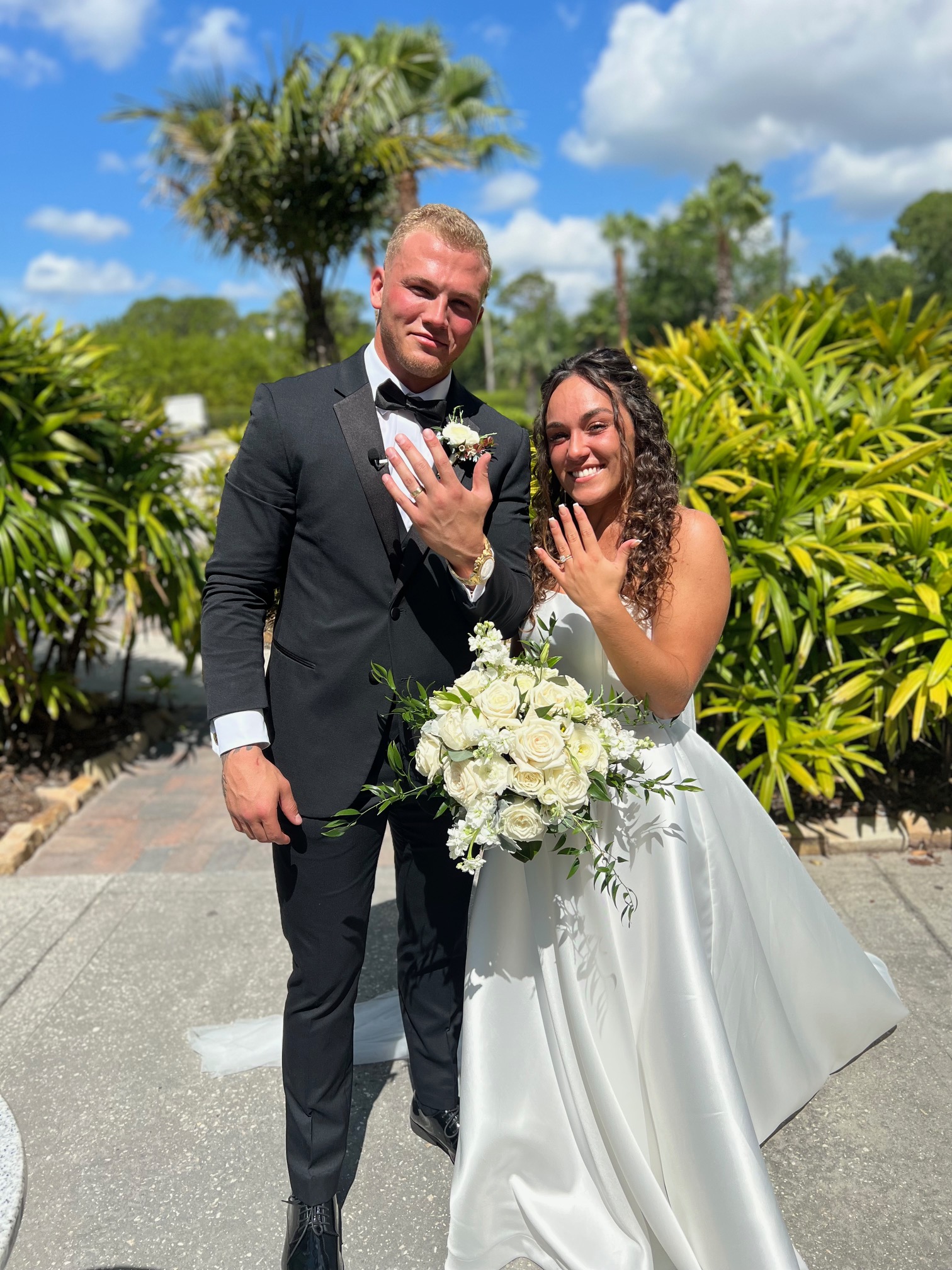 Jadyn and David
Jadyn and David's Wedding at Paradise Cove
The wedding of Jadyn and David was an incredible day full of love and laughter. The ceremony was held at Paradise Cove, a beautiful waterfront venue on Lake Bryan in Orlando, Florida. The weather was perfect, and the setting was stunning.
Jadyn and David's wedding was a beautiful and memorable event. It was a day that they will cherish forever.
The Ceremony
The ceremony was held on the platform in front of the beach at Paradise Cove. The sun was shining, and the gentle waves were crashing in the background. It was a beautiful setting for a wedding.
Jadyn and David's wedding began with a custom ceremony, so it was officiated by Rev. Glynn Ferguson, with Sensational Ceremonies. Rev. Ferguson did a wonderful job of leading the ceremony and making it personal and meaningful for Jadyn and David.
The ceremony began with Rev. Ferguson welcoming everyone and introducing Jadyn and David. He then read a passage from the Bible about love and marriage.
After the reading, Rev. Ferguson asked Jadyn and David to share their vows. Jadyn and David's vows were heartfelt and beautiful. They spoke about how much they loved each other and how excited they were to spend the rest of their lives together.
Rev. Ferguson gave them a homework assignment to write and tell him why they love each other. He shared those paragraphs before they recited their vows to each other.
Jadyn wrote: David is the man I've been praying for my whole life. God has exceeded my expectations and given me everything and MORE than I could have prayed for. Growing up my dad was my protector. Now David has easily taken that role. David is my protector and provider. He is the most trustworthy, selfless, thoughtful man I have ever met. He is also the strongest man I've ever met. He has gone through so much since losing his father and he is still able to GIVE so much love. I knew from the second I met him I was going to marry him. I love him so much!!!!!!!
David wrote: First and foremost I love Jadyn for just being who she is. The exact way that God made her and the very woman she has molded herself to be is who I love. I love her pure heart and how kind her words and thoughts are. I love how she constantly shows me her love and loyalty and commitment to me through not only her words but her actions. I love the way she gives 100% of herself to me by going above and beyond to care for me and help me in whatever ways that are needed. I love how together I truly feel that we are one, it's not just a saying but actually a feeling that we are now whole together. I love how she completes me, and by loving her in this journey I see more and more God's love for me as these are His blessings.
After Jadyn and David shared their vows, Rev. Ferguson pronounced them husband and wife. The crowd erupted into cheers, and Jadyn and David kissed for the first time as husband and wife.
The Reception
After the ceremony, everyone moved to the reception pavilion for dinner and dancing. The reception hall was decorated beautifully with flowers and candles. The food was delicious, and the music was great.
Jadyn and David's friends and family danced the night away. They had a wonderful time celebrating the couple's love.
The Vendors
KMD photo and film did an amazing job of capturing Jadyn and David's wedding day on video. The video will be absolutely stunning and will be cherished by the couple for years to come."
Atmospheres Floral and Décor created a beautiful and elegant floral arrangement for Jadyn and David's wedding. The flowers were stunning and added a touch of magic to the day. Atmospheres Floral made a beautiful floral arrangement for the cross that Jadyn and David stood in front of to take their vows.
Cocktails Catering provided the delicious food for Jadyn and David's wedding reception. The food was fresh and flavorful, and everyone had a great time eating.
Christine MacPhail played the harp beautifully at Jadyn and David's wedding ceremony. Her music added a touch of elegance and grace to the event."
McKinley Phillips with Wildlands Photography did a beautiful job of capturing every detail of Jadyn and David's wedding day.
Congratulations Jadyn and David. We wish you happiness for a lifetime.
Sensational Ceremonies
Average rating:
0 reviews