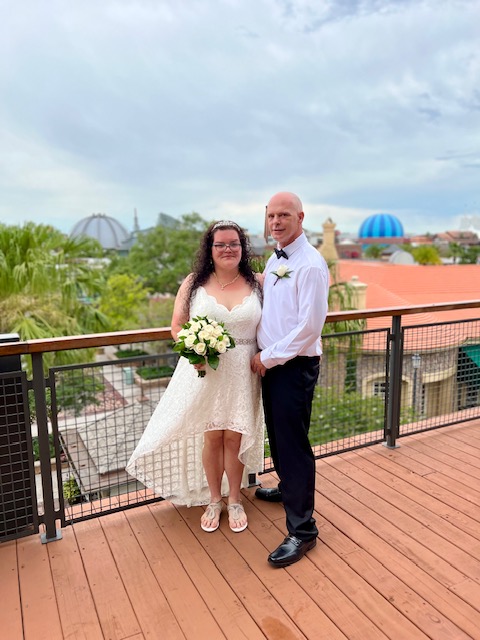 Jessica and Henry
Jessica and Henry traveled from  Massachusetts to vacation in Orlando, Florida and get married.  The couple reached out to Intimate Weddings of Orlando to help them pick a venue and a fantastic vendor team to make their dream become reality.

Victoria with Intimate Weddings of Orlando pulled together a fantastic team for Jessia and Henry.  For their venue the couple chose Paddlefish, located at Disney Springs.  With a beautiful 3rd floor deck and scrumptious food, the decision to have their wedding there was simple.

Flowers by Lesley went to work to make Jessica and Henry's vision of their wedding come to life through florals.  The white bouquets filled all sorts of greenery, like seeded eucalyptus were exactly what they were looking for.

Edmund Rhodes, from Rhodes Studios,  was chosen as the photographer for Jessica and Henry's nuptials.  Edmund assessed that the ceremony could possibly be chased inside due to rain, so he hit the ground running to get pictures of the couple even before the ceremony began.

Rev. Glynn Ferguson, the owner of Sensational Ceremonies and an official Walt Disney World officiant worked with Jessica and Henry to make their ceremony beautiful and very personal.  He asked them to write and tell him why they love each other.  

Jessica wrote:  I love Henry because he is a great guy. He is loving and caring. He is an amazing dad. He does everything for his daughter, and he's always there. He loves her so much. He is my best friend. I tell him absolutely everything that I would never tell anybody else. I met him when I was 17 years old, and I have been with him for 20 years on May 20th, 2022. When we met, we were only friends and I didn't see it as anything more. Plus he was older than me. We loved to play basketball together, go to concerts, and we loved bowling together. The more time we spent together, the more I fell in love with him. He loves to act silly and make you laugh. He has always treated me well, he's always there when I need him, and he works hard for our family. We have been through a lot of situations in the last 20 years together. We both lost our mother's in the past few years, etc. He was my rock through a lot and I hope that I was his too. He is my other half. When I'm crazy or lose my temper, he stays calm. When I'm sad, he makes me laugh. He loves to aggravate and antagonize me too though. Sometimes he does drive me crazy, but I love him anyway. He'll do whatever makes me happy, just to make me happy. We do everything together and I couldn't imagine growing old with anybody other than Henry.

Henry wrote:  When I met Jessica, I thought she was pretty and smart. I wanted to get to know her better and the more time we spent together the more I fell in love with her. She always puts everybody else first. She is a hard worker and a great nurse. She loves to take care of people and help others. She has a good heart and she takes great care of our family. She's an amazing mother who does everything for her daughter. We do everything together and we have lots of fun together. After 20 years, I couldn't imagine spending the rest of my life with anybody else but Jess. 

Congratulations Jessica and Henry.  We wish you happiness for a lifetime!