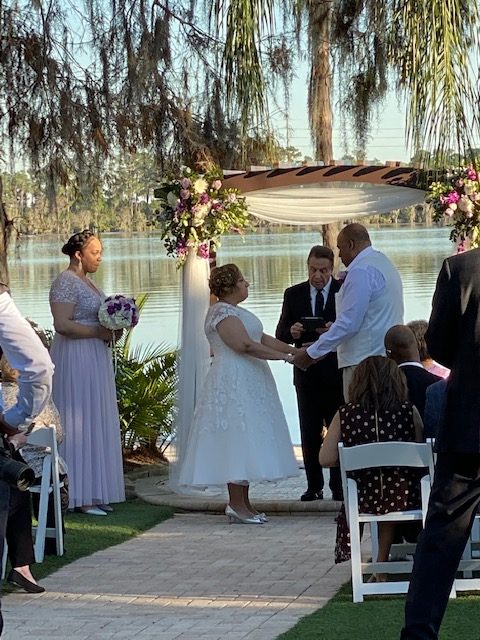 Placid Lake
The Venue
Wedding days can be remembered for many reasons. They hold very subjective impressions. For the wedding day of Kathleen and Allan there was much to remember. There were the beautiful birds flying above. The placid lake at Paradise Cove was like glass that day, and there was just a slight breeze of the day blowing. The moss hanging from the Cypress Trees was hush still but beautiful as if by plan to honor the special occasion. The draperies over the arch hung majestically over the scene. And, the gorgeous flower arrangements made their statement for certain. Yes! There was much to remember about the day that Allan and Kathleen were married, and it was all wonderful and magical! She wore those beautiful shoes and that magnificent dress. He was in awe of her, and his love shined through. So much to remember!
The Ceremony
Allan arrived on a boat to the James Bond theme song. It was a grand entrance to what turned out to be a beautiful heartfelt wedding ceremony. Lon Tosi of the Orlando Team of wedding officiants from Sensational Ceremonies delivered a custom ceremony that the bride and groom had constructed with his assistance. He said, "you think that I am handsome", and she said "I love your huge heart". There were other words of love. ", this mysterious and magical joy is the greatest treasure of all". Lon's wish for the couple was simple. He said: May happiness be your companion and your days together be good and long upon this earth". What a fantastic day it was!
The Vendors
Married By Mail provided the couple with their Florida Marriage License. It was quick and easy. Dianne their president hand delivered the license to Lon for the wedding. Sensational Ceremonies of course represented by Lon Tosi provided the outstanding officiating service. Of course, the Courtney from Paradise Cove made certain that all went well in her usual fashion! The florals were provided by Debra at Atmosphere's Floral and Décor. Amazing – all of it! Our DJ Rocks as represented by DJ Stasia was present to give the entire affair an air of excitement. Cricket's Photo and Cinema captured all the wonderful moments. Cocktails Catering was on hand to serve up delicious drinks. Adam always does that service with his great smile! Cut the Cake did a cake that was both delicious as well as gorgeous! Perfect!
Lon Tosi
Lon Tosi is a successful wedding officiant serving the Central Florida and Orlando area. He has conducted thousands of ceremonies over a decade of service. Lon works with each couple to create a custom wedding document that actually speaks of their story. He always requests that they write special words to one another, that he will read for them. The ceremonies are peppered with readings that they select. As a Florida Notary, he conducts weddings of both a religious and non-religious nature. He also serves as Vice President of Business for Sensational Ceremonies the largest officiating company in North America.  Lon is an award-winning officiant. There are numerous videos of his work on the internet for your viewing pleasure.
And it all happened on a sunny afternoon in gorgeous Central Florida, on a placid, mirrored lake!