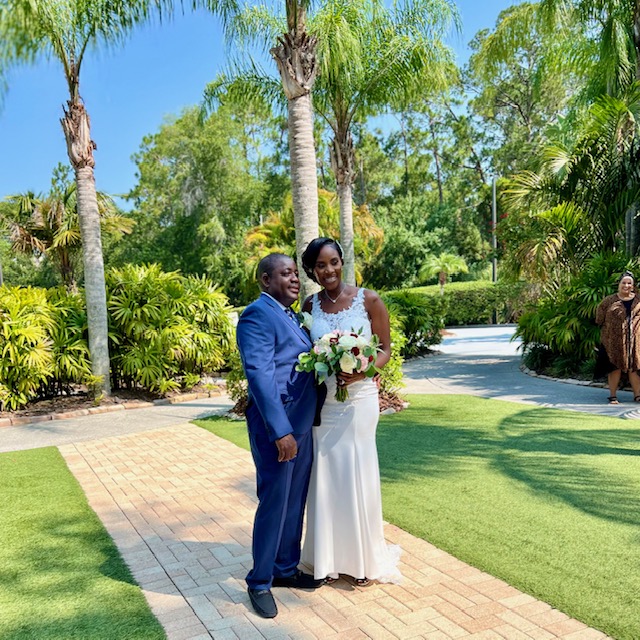 Leonilla and Johson
Leonilla and Johson were both from Saint Lucia, but found love when they met in the Orlando area. With their friends and family traveling from all over they wanted to have a location that would have easy access from the airport, but with a tropical vibe. Paradise Cove Orlando fit the build perfectly.Tabitha with Paradise Cove worked with Leonilla and Johnson to make sure every detail of their wedding day was perfect. From selecting great vendors to recommending the caterer Tabitha helped them stay on track.
Ceremony flowers for the arch, the bride's bouquet, and the groom's boutonniere were provided by Blossoms Orlando. Amy really made sure that tropical vibe was felt in every arrangement.
KMD Photo and Film was sure to capture every moment of Leonilla and Johnson's wedding day. From getting ready shots in the bridal suite to the groom's entrace on a speed boat, and through the ceremony and cocktail hour, KMD captured it all through photography and videography.
A List DJ hit it out of the park (or venue) with great music for Leonilla and Johnson dance down the aisle to and their guests to enjoy. Ahser even brought the music as the groom entered via speedo boat.
Rev. Glynn Ferguson, an Orlando officiant and owner of Sensational Ceremonies, worked with Leonilla and Johnson to make sure their ceremony reflected their Christian faith; that this marriage was a covenant marriage. He also made it personal by asking them to write and tell him why they love each other.
Leonilla wrote: Jay, which is the name I call him, has been everything I have needed in a husband. He has made loving him very easy. He is my best friend, my confidante, my support system, my everything. I love the way he makes me laugh and his smile is infectious. It's never a dull moment in his presence. He has shown me
unconditional love and has never wavered from that. He has made my happiness a priority, and that hasn't changed throughout the years. He has been consistent in everything he does. He is thoughtful, values family like I do and never hesitates to step in to help someone. He has a heart of gold and I'm blessed to call him my husband.
Johnson wrote:I love Leonilla because of the moment I first laid eyes on her there was a joy busting inside me, wishing that she would be the ultimate woman I would happen to spend the remaining days of my life with.
Her exciting, fun-loving incredible soul makes it impossible not to think of her throughout every second I`m away from her.
She`s the most beautiful and precious gift I`ve ever received. Everyday I`m convinced that I can`t possibly love her more and yet everyday I`m proven wrong.
I love her because she believes in me and she`s taking a leap of faith with me.
Leonilland Johnson we wish you happiness for a lifetime. May your happy days together be more numerous than the grains of sand you poured in your sand ceremony!
Sensational Ceremonies
Average rating:
0 reviews