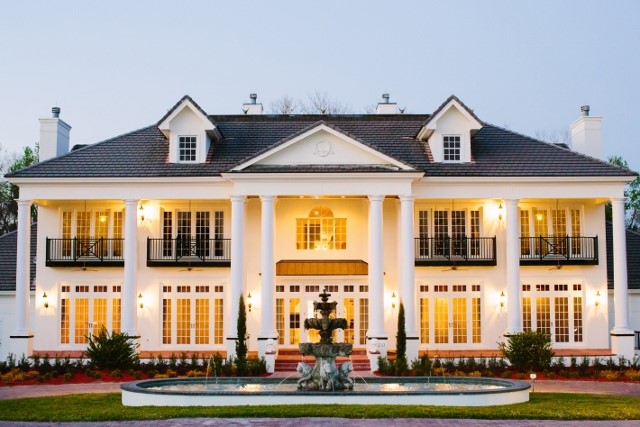 Luxmore Grande Estate Wedding
Chris and Crystal chose the gorgeous Luxmore Grande Estate, located in beautiful Winter Springs, FL for their special wedding. Winter Springs is just a short distance from Orlando. The estate is indeed grand and was built and decorated in the tradition of a fine southern mansion. Located on the edge of Lake Jesop, it provides for a wonderful setting for a special day! Lon Tosi of Sensational Ceremonies presided over a truly custom wedding ceremony. As part of the ceremony, the couple poured colorful glass beads into a vase. The combining of the beads into a single combination was to symbolize the combinations of the couple's separate lives, friends and family into one unit. They were to have the beads melded into a gorgeous vase that they will treasure forever. Lon spoke to the couple in a very intimate manor, using a sound system provided by the award winning White Rose Entertainment. Everything was captured in both photos and video by the incomparable Rhodes Entertainment. Floral was provided by Flowers By Leslie. Just look at the beautiful bouquet that Crystal is holding the attached photo! Gorgeous! Blush by Brandee Gaar orchestrated the entire event perfectly from the arrival of the bride and groom via VIP Transportation to the cutting of their cake that was provided by Sprinkles Cake. RW Events manages the Luxmore Grand Estate and provided the seating, tables and other linens for the event. The bride's beauty was enhanced even more by the fantastic makeup artists at M3 Makeup. Big City Catering provided that outstanding reception feast. At the end of the ceremony, Lon read a lovely verse entitled All I Want. It speaks to the dreams and aspirations from both the bride and groom perspective. It reads as follows:
ALL I WANT
All I want is to love you for the rest of my life…to wake up every morning with you by my side, knowing that whatever happens, I will be able to come home to your loving arms. All I want is to share everything with you…to talk to you about our ideas, our dreams, the little everyday things that make us laugh, and the not-so-little things that we can't help worrying about. All I want is to give out my love…as a place you can always come to for acceptance or the simple comfort that the silence brings, when things left unspoken can still be understood. All I want is to grow old with you…to watch our life unfold, our dreams, one by one, come true. All I want is to love you forever.
All we want for you Chris and Crystal is much happiness on this journey through life. You are off to a great start!