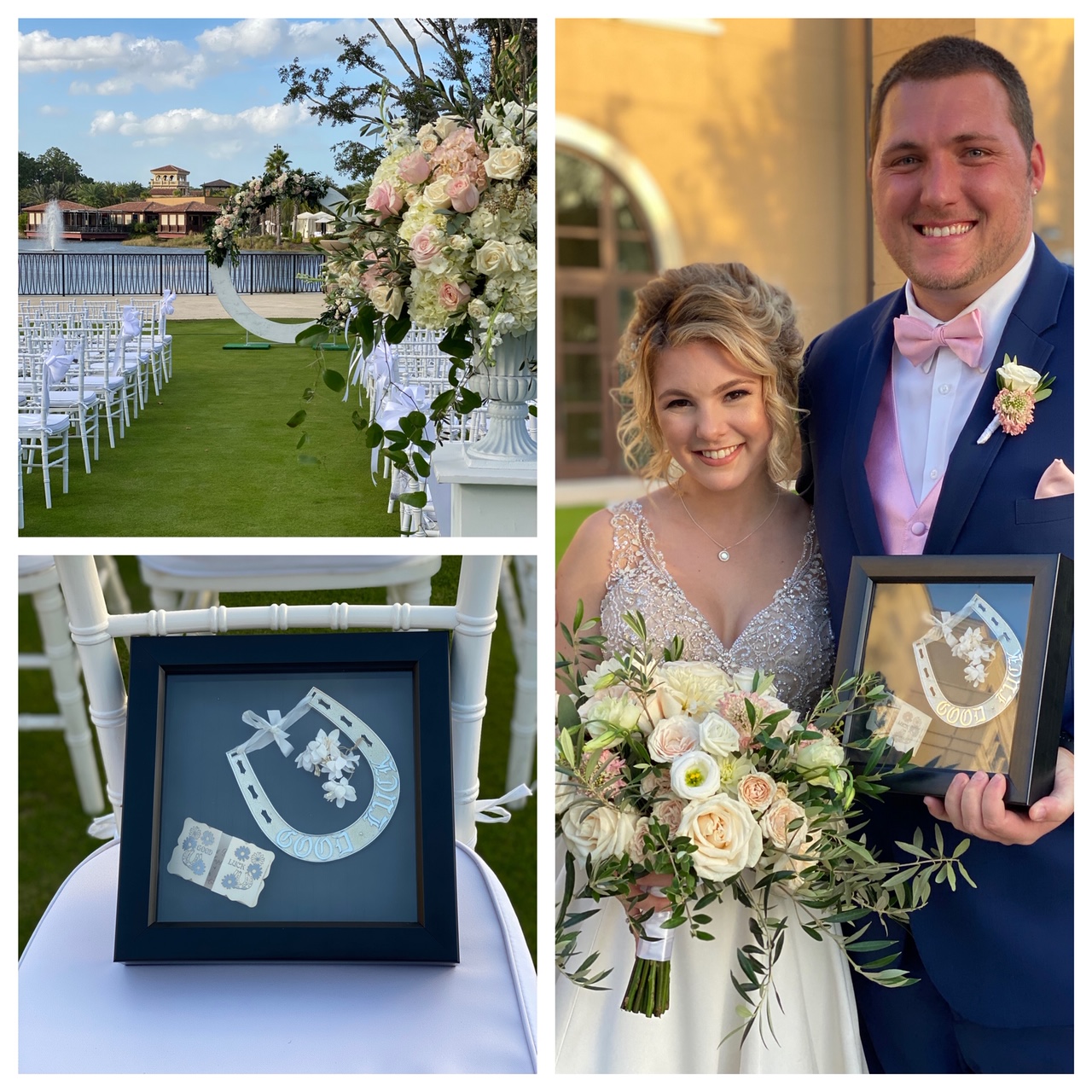 Luxurious Wedding
Living in South Florida Brandon and Kaye had a passion for coming to Walt Disney World, so it was only appropriate that they bring their vision for their luxurious wedding to The Four Seasons at Walt Disney World. There on the King Meadow Lawn of the Four Seasons Resort the couple walked into their happily ever after. Kara Cardinal, with KC Weddings and Events, worked hand in hand with the couple and their families to make sure their vision for their luxurious wedding would come to life. Working with the couple to put together a fantastic team of vendors, Kara took care to make sure everyone was on the same page.KV Photography knocked it out of the ballpark. With their attention to detail and the elegance of their photos, they were a perfect fit for this luxurious wedding at the Four Seasons. They worked hand in hand with the fantastic videography team at MDV Films, to capture every moment of the couple's day.Talk about Wow factor. Raining Roses from their A Game to this wedding. Yes, we've all seen luxurious weddings before, but the team at Raining Roses gave the venue and the bridal party the feel of opulence, style, and beauty. Over the Top provided the gorgeous table linens and Orlando Wedding and Party Rentals brought out their beautiful gold chiavari chairs for the ceremony and reception of this luxurious wedding. Kaye and Brandon's love for Disney drew them also to Rev. Glynn Ferguson of Sensational Ceremonies. Rev. Ferguson is an official Walt Disney World Wedding Officiant and they just knew that he would bring the magic to their luxurious wedding. He worked with them to create a custom ceremony, just the way they wanted it and making it oh, so personal. He gave them each an assignment to write and tell him why they love each other.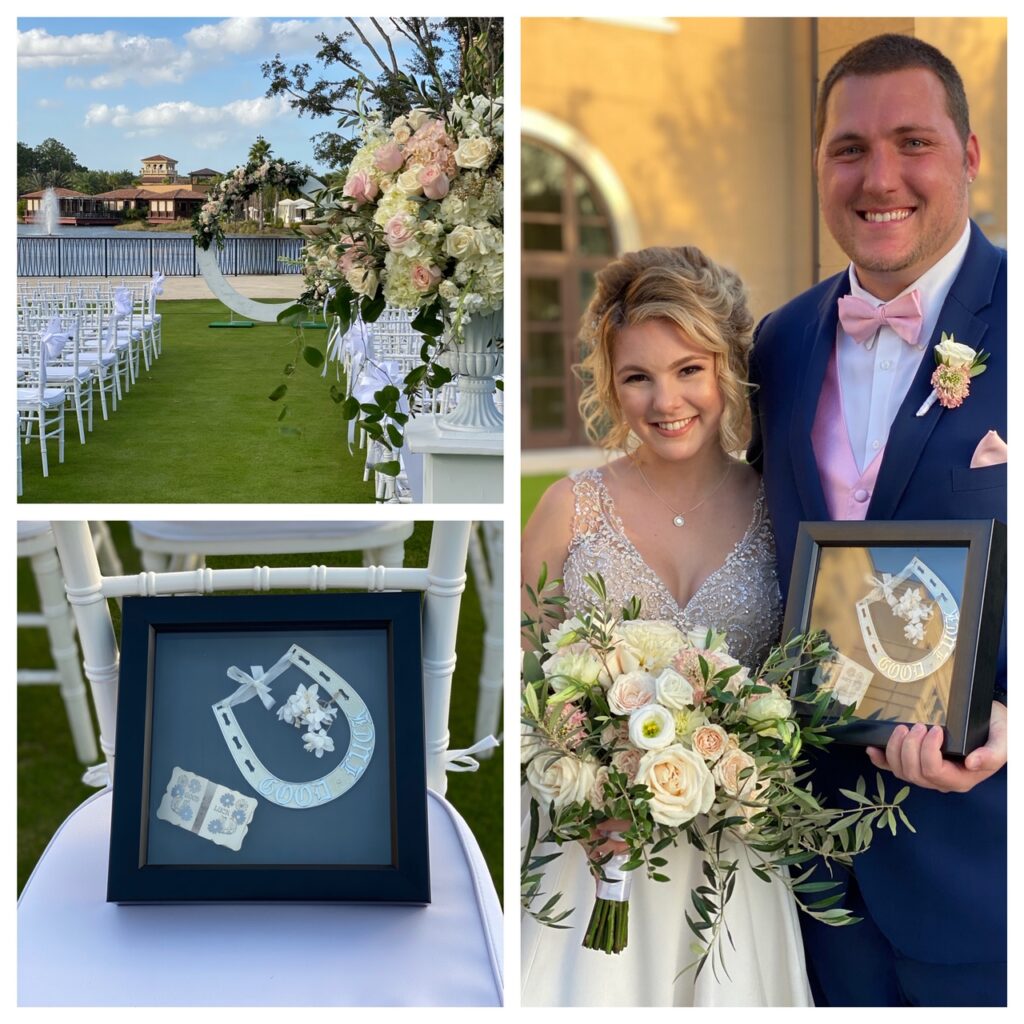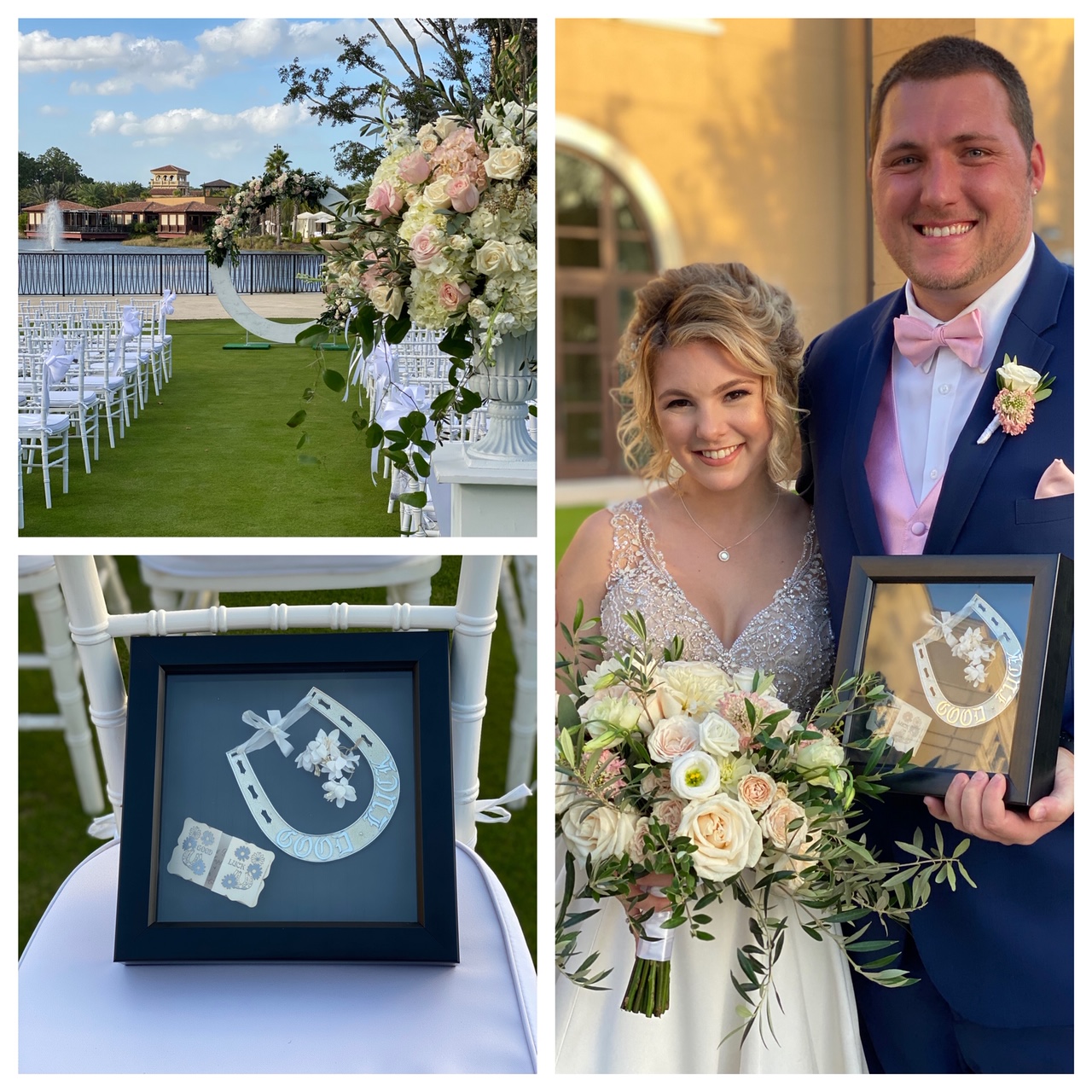 Kaye wrote: Brandon ~ Ever since I was little I always wanted to believe.. in magic, in Santa … and of course, I wanted to believe in true love. But I was never certain until I met you. Just thinking about every little detail that had to take place for us to have even met is proof alone that …when the time is right…things do happen for a reason, and that every soul has another half.
I have grown so much with you that it feels so right that you only know me as Kaye, where my past knows me as Katy. I feel like I don't know that girl anymore and I mean that in the best possible way. I have blossomed into someone I never thought I could be and it's all thanks to you. Being with you has allowed me to branch out and be who I wanted to be, and I love who I am when I am with you.
There is so much I love about you and no way to say it in words … But here goes nothing. I love how you are my rock and my teddy bear at the same time. You keep me grounded and you are the most loyal person I know. I love how we can be big kids together and how you love me even when I have had a little too much sugar… I love when you give me that look and start dancing, I love that you can pick me up and rock me to sleep. You're funny, smart and my biggest supporter. You are my best friend.
I promise to love you unconditionally, even if we disagree on something. Like whether football or cuddles is more important. I promise to always remember that we are human, and humans make mistakes. I promise to not take our time for granted and to always show you how much I love you. I will always encourage you to chase your dreams, I will always be loyal and faithful and I promise to always put you before all else.
There is no place I would rather be right now then standing here with you and I cannot WAIT to start our journey together as hubby and wife. You and I both know how indecisive I can be at times. But if there's one decision I know is right, its to spend the rest of my life with you. After all… You're my fairy tale ending. P.S I have now claimed you, and you are now my mine.
Brandon wrote: "I know how often you say that I'm good with words, and although I try my best to always be there is nothing easier for me than when I get to explain why I'm in love with you. So many words and feelings fill my heart every time I think about what makes you special. And even though I'm filled with so many words, none of them do justice to how amazing you truly are. You're beyond the spectrum of what exists in the world. If I were to say you're the most beautiful, loving, and caring person (which you are) it somehow still doesn't emulate how much greater my feelings are for you. Words of affirmation are always something that you and I and most people enjoy hearing from people they love. I only wish there were words that truly made you feel the way you make me feel. You're the only person who can make me the best communicator and also put me at a loss for words. Not only because you consistently take my breathe away, but because you make all the words in the world seem lacking in comparison to how much greater you are. You're the best type of person the world has ever known. Not only do you have the biggest heart, you're the type of person everybody strives to be when they want to be better. To say how lucky I am to have you would not only be cliche, but it would understate the true value of having someone like you. There's a reason this beautiful wedding exists and is filled with so many wonderful caring people, and the reason is because of you. You make everyone and everything around you better and more positive and although our families are here to celebrate our joining, I can speak for mine when I say they couldn't have wished for or even invented a better person to be standing here with me. People say women dream about their wedding day when they're little girls. Although I had never really thought of what my wedding day would be like, I did always wonder with whom I would be standing. Well even I couldn't of dreamed of standing up here with someone as special as you. Everyone knows how we met and as much as we joke and laugh at the idea that we met on a movie set when had to play love interests, none of that was any acting for me. Most of us enjoy romantic movies because it's a depiction of what we wish we had or what we hope for one day. I was lucky enough to find it with you the moment I saw your picture. Once I did I knew that playing a character who had to be in awe of you, would actually be a letdown compared to how smitten I truly was from day one. I know a lot of this may not traditionally describe my feelings for you but I hope you know how full my heart is standing here looking at you. There isn't anything else I want to look at everyday for the rest of my life. You are truly more than I could have asked for and better than anyone (including me) deserves. My biggest hopes from this are that you one, believe in your true value and realize that you never need to try and impress anyone because you naturally do everyday. Everyone here knows how special you are. And two, how much I truly love you more than any soul can love anything. Even more than our dog Luna loves her bulldog. (I know some of you will not understand that reference. Ask us later and we will be happy to share). I promise to always be what you need me to be and to stand with you in every situation. I love you Pumpkaboo and always will."

What a beautiful and luxurious wedding for two beautiful people. We wish you happiness for a lifetime.