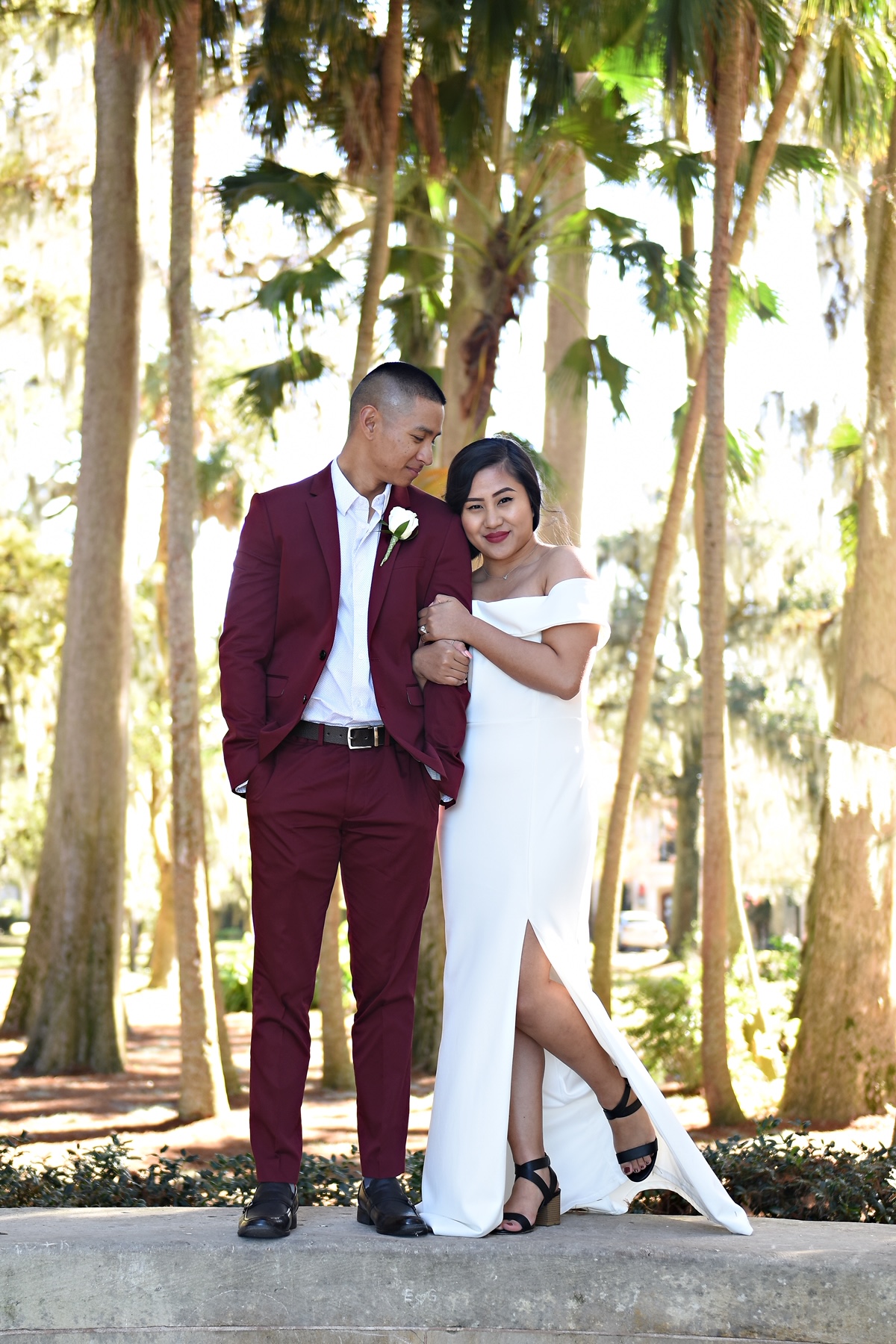 Tucked Away
Jennil and John traveled from Las Vegas to Orlando, Florida for a beautiful intimate ceremony. Tucked away in the beautiful Kraft Azalea Garden, the couple were surrounded by the towering bald cypress trees on one side and Lake Maitland on the other.Victoria, with Intimate Weddings of Orlando, helped to coordinate this elopement. From booking the park and enlisting the vendors, she made sure that every detail was ready for their tucked away wedding.
Flowers by Lesley really took the vision for this simple elopement and gave it a touch of elegance in the florals that the couple requested for their tucked away elopement. Simple white roses, without any additional greenery were tied together for the Jennil's bouquet and John's boutonniere.
Rhodes Studios was fantastic at capturing every moment of this elopement. The feeling of being tucked away from the hustle and bustle of the city could be felt in every aspect of their wedding and Edmund Rhodes was sure to give it that intimate feel.
Rev. Glynn Ferguson, an Orlando minister and owner of Sensational Ceremonies, was asked to work with the couple to create a custom intimate ceremony for their tucked away wedding. With a touching traditional ceremony, the couple chose to personalize it with paragraphs that wrote about their love for each other.
Jennil wrote: I do not know how many times I have tried writing this, but at first, I would say I love John because of the feeling I have when you know you love and care for someone. However, as I continue to rewrite my reasons why I love him, the more I realize that there are just not enough words to express why I love John and the way he makes me feel.
One of the biggest reasons why I love John is his patience. I will admit that because of the walls I put up, I am not the easiest person to get to know and understand. Throughout the years, John has worked to understand and get to know me, especially during the times when I am still trying to understand myself. He has waited and allowed me to break down my walls to let him in. The kind of patience he has for me is something I will always be grateful for.
I love John because without knowing, John has become my light when my life felt dark, and my light when I felt like there was no light within me. When I look into his eyes there is this kindness in them and the rest of the world just seems to blur out and disappear. From the start, there was nothing but the feeling of comfort when I was with him. I did not have to be anyone but myself. I never felt the need to change the way I was or who I was for him to stay with me. I love John because I am my best self when I am with him.
The support he has been in my life is something I never knew I needed. I have witnessed the way others do not support their significant others in what they want to do or in what they do. I have never felt that with John. He continues to support me in whatever path I want to take, in all my choices and my dreams. I love John because of how much he believes in me, even in the moments that I have doubted myself.
John wrote: In the last 9 years, he has never given up on me or our relationship. Even when there have been moments where he could have. Being in a military relationship comes with the stereotype of infidelity, although, not once have I ever doubted John's faithfulness in our relationship. I was never one to believe in marriage for myself but that changed because of him. It is true when they say that the idea of marriage will change when you have found the right one. If I could come up with an ideal person, John does not fit into any of those categories. I truly believe it is because God does not give you someone you want, but someone you need. I love John because I know life is not easy, but there is no one I would rather experience life with than him.
Why do I love Jennil Matias Lacson? I love her because she makes me feel that I have a purpose in life. She motivates me whenever I'm feeling down and always brings me back up to my feet when I fall. I love her because she cares about me that no one ever has before. She watches me succeed and supports me in everything I do in life. She encourages me to get out of my comfort zone. She has been there for me through thick and thin. Long distance has made our relationship hard but it also made us stronger. Everytime I leave or she leaves, I get this feeling in my chest that I can't explain. With her, I can be me. I can do the stupidest thing and she will still love me for me. Not only was she my girlfriend, now fiancé, soon to be wife, she is only my best friend. I can go to her for anything, knowing she will listen and care. After everything we have gone through not only did she stay, she still picks me.
Congratulations to the two of you. We wish you a lifetime of happiness.