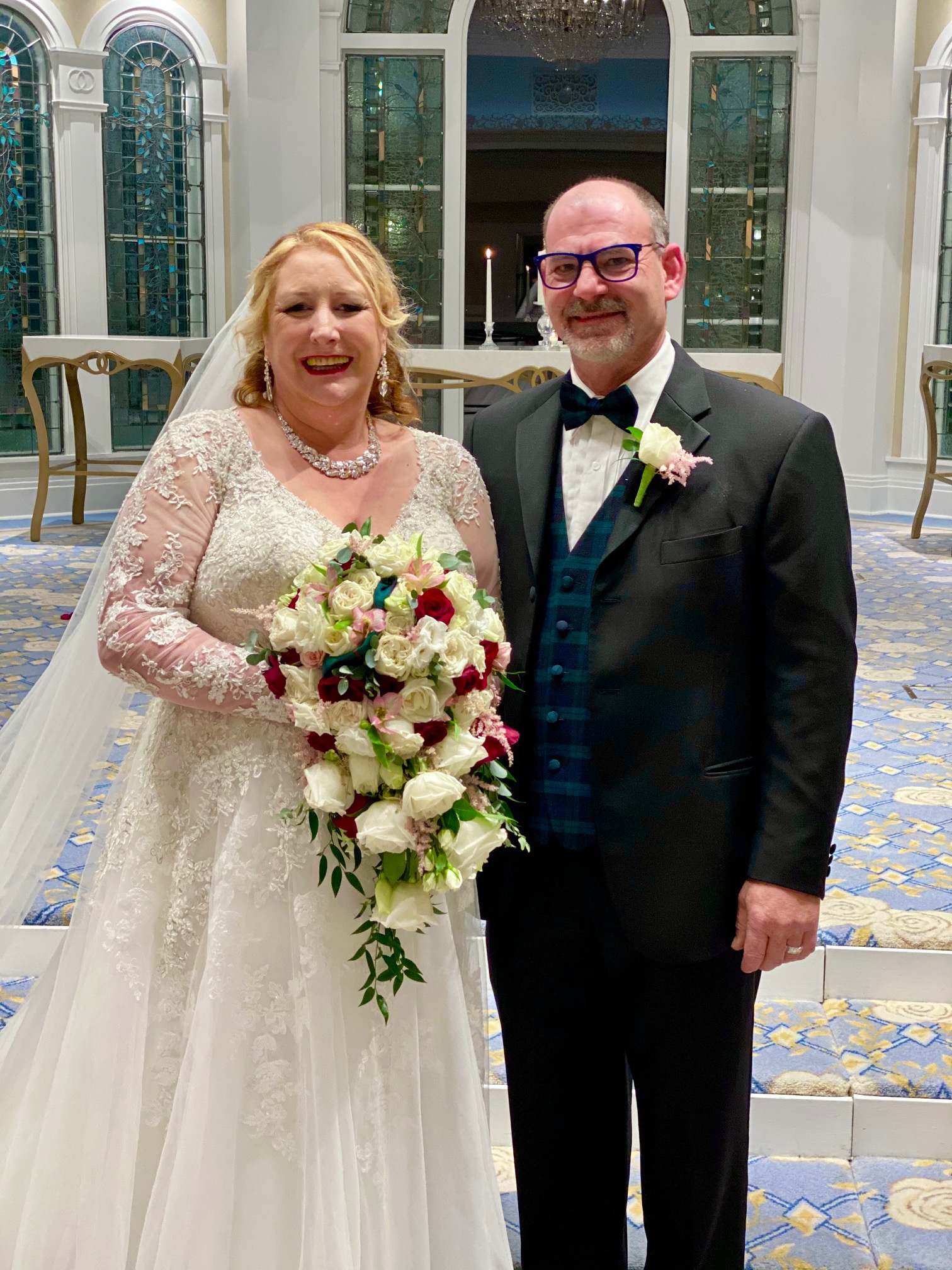 Magical Evening
What a magical evening for Jeff and Janette.  The couple met years before when Janette was widowed and they were introduced.  Over those years they had grown closer together and they decided to become husband and wife. 
 The couple contacted Diane with Disney Fairytale Weddings to help make their dream of a magical evening come to life.  From coordinating the cast members to assist the couple reach the Wedding Pavilion to pinning on the groom's boutonniere, she took care of every detail.
Bill, with the Disney Entertainment Group, played the organ and made sure that every song enhanced this magical evening and fit the couple perfectly.
They say a picture is worth a thousand words, but with Dawn from Disney Fine Art Photography, a picture is a masterpiece.  Dawn made sure to capture every moment of this magical evening.  From portraits of the bride and groom before the ceremony to the exchange of their vows, she photographed it all.
Janette and Jeff asked Rev. Glynn Ferguson, an official Walt Disney World Wedding Officiant and owner of Sensational Ceremonies, to work with them to create a custom ceremony for their magical evening.  From including the Scottish Wedding Prayer to having her two sons walk her down the aisle it was perfect
.Rev. Ferguson also gave the two of them a homework assignment for their magical evening.  He asked them to write and tell him why they love each other.
Janette wrote: He is truly one of the kindest people that I have ever met, he has shown unconditional love to my three children and has provided them with a father figure once again. Jeff treats me with love and respect at all times.He is my partner, lover, and best friend and I am eternally grateful for him to have chosen me for his wife. 

Jeff wrote: I love Janette because she is truly a wonderful caring person with a huge heart. She knows how to make me feel special and takes good care of me.  Janette also knows how to make me laugh. She is a great mother and has done a great job raising her family and accepting my daughter into the mix as well. It warms my heart knowing I get to share the rest of my life with her. 

Congratulations.  May you continue to put your marriage in God's hands.