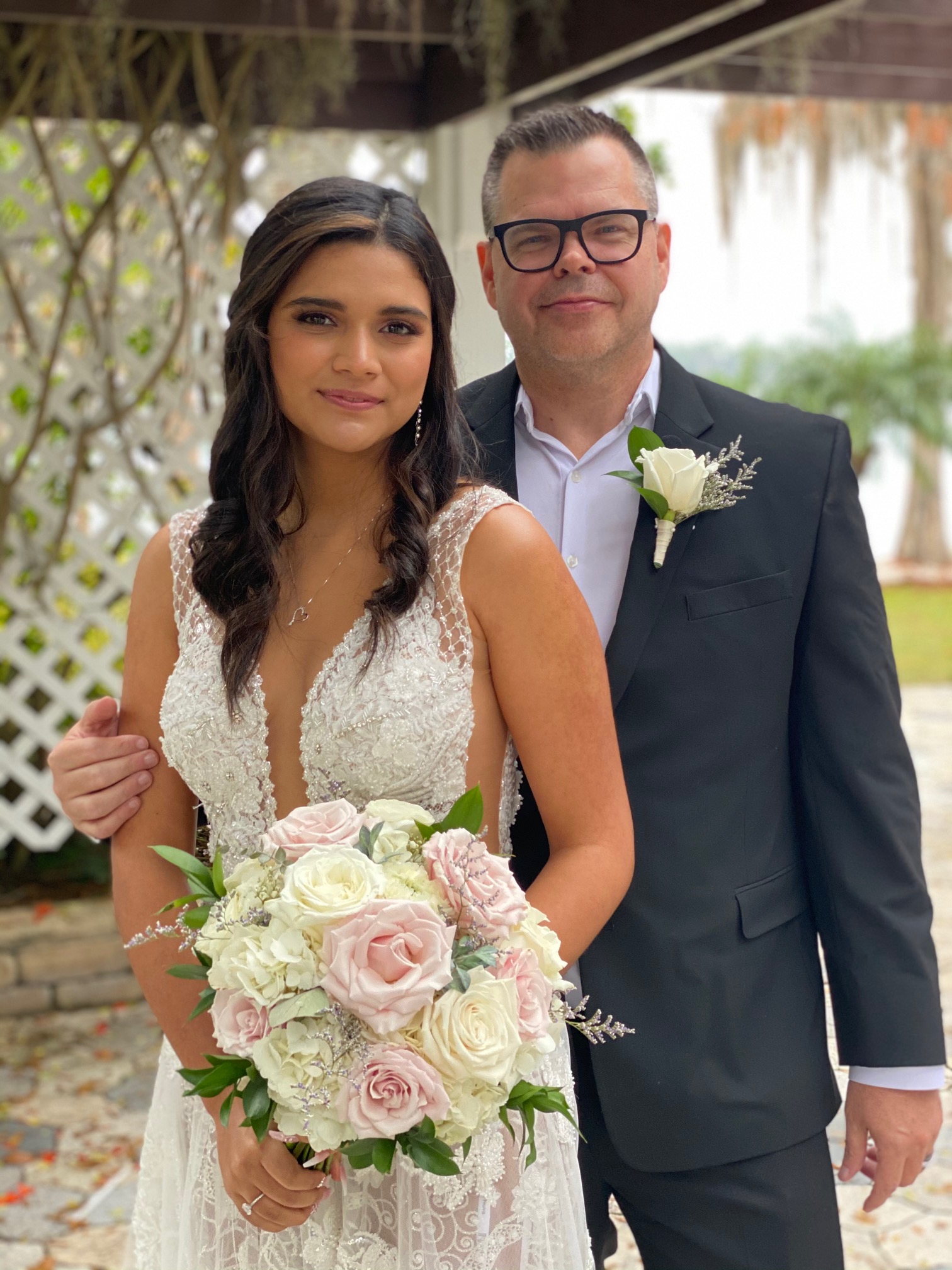 Beach-side
What a beautiful day for a wedding. Daniac and Jonathan wanted a beach-side location in the heart of Orlando, so Paradise Cove fit the bill perfectly. There on the shore of the beautiful Lake Bryan the couple gathered with their guests and family, they took their vows, exchanged rings, and became husband and wife.

Dominico with Castaldo Studios photographed every minute of this beach-side wedding. From photos of the bride getting ready, through the ceremony, and to the gorgeous formal portraits afterwards. Castaldo really has an artistic eye that makes the ordinary, extra ordinary.
Amy with
Blossoms Orando worked her magic on this beach-side wedding. From the beautiful wedding arch, the brides bouquet, and the groom's boutonniere were all outstanding.
Rev. Glynn Ferguson, an official Walt Disney World Wedding Officiant and owner of Sensational Ceremonies, worked with Daniac and Jonathan to make sure their beach-side wedding was a perfect fit for the two of them. He gave them a homework assignment to write and tell him why they love each other.

Daniac wrote of Jonathan: My mom always told me that I should be with someone that makes me free, someone who always can respect me. Jonathan is that person, I can be myself with him, I can trust him, and I feel safe and loved by his side. I know that he is never going to hurt me. And I can see every day how he tries to be a better man, a better son, a better father, a better boss, a better boyfriend. I can feel his love every day. So, I am not scared to marry him, I am not scared to give him everything, I am not scared to share my life and dream with him, I am not scared for the future, with him I feel we can do everything together. Our love is honest, empathy and true, I don't have to try to make us fix, everything is natural, peaceful. Even when we are not agreed with something, we can talk, we can share our opinions and we know that the other person is trying to listen and understand. We have really good communication.
About specific things about him, I love when he kisses my forehead, when he caresses my hair and tells me that he loves me, I love when he sings in a language that only he knows with his daughter (they invented a language to play). I love when he smiles and plays with me, when he acts like a small child, because I know that he shows himself vulnerable only with me, because he feels that he can trust me. I love and deeply value his trust, from the moment he met me he was so sure about me. I love that he believes in me, in dreams, in my spirit, in my humanity, and he respects every inch of them. And he never could know how he already helped me and saved me, he is a blessing from God to me.

Jonathan wrote of Daniac: From the moment I laid eyes on dani I was floored by her beauty. However what made me fall in love with her was her incredibly big caring heart. I've never met anyone that combines all the qualities that she has. She's Beautiful and passionate while at the same time being caring and intelligent. She always puts others ahead of herself yet somehow is still ambitious and determined. I never thought I would meet someone that would make me want to change my stubborn ways but every time I fall short I recognize it immediately and want to be better. Simply put she is my gift from God.
Congratulations on our beach-side wedding!
If you would like a beach-side intimate ceremony similar to this click here for more information.