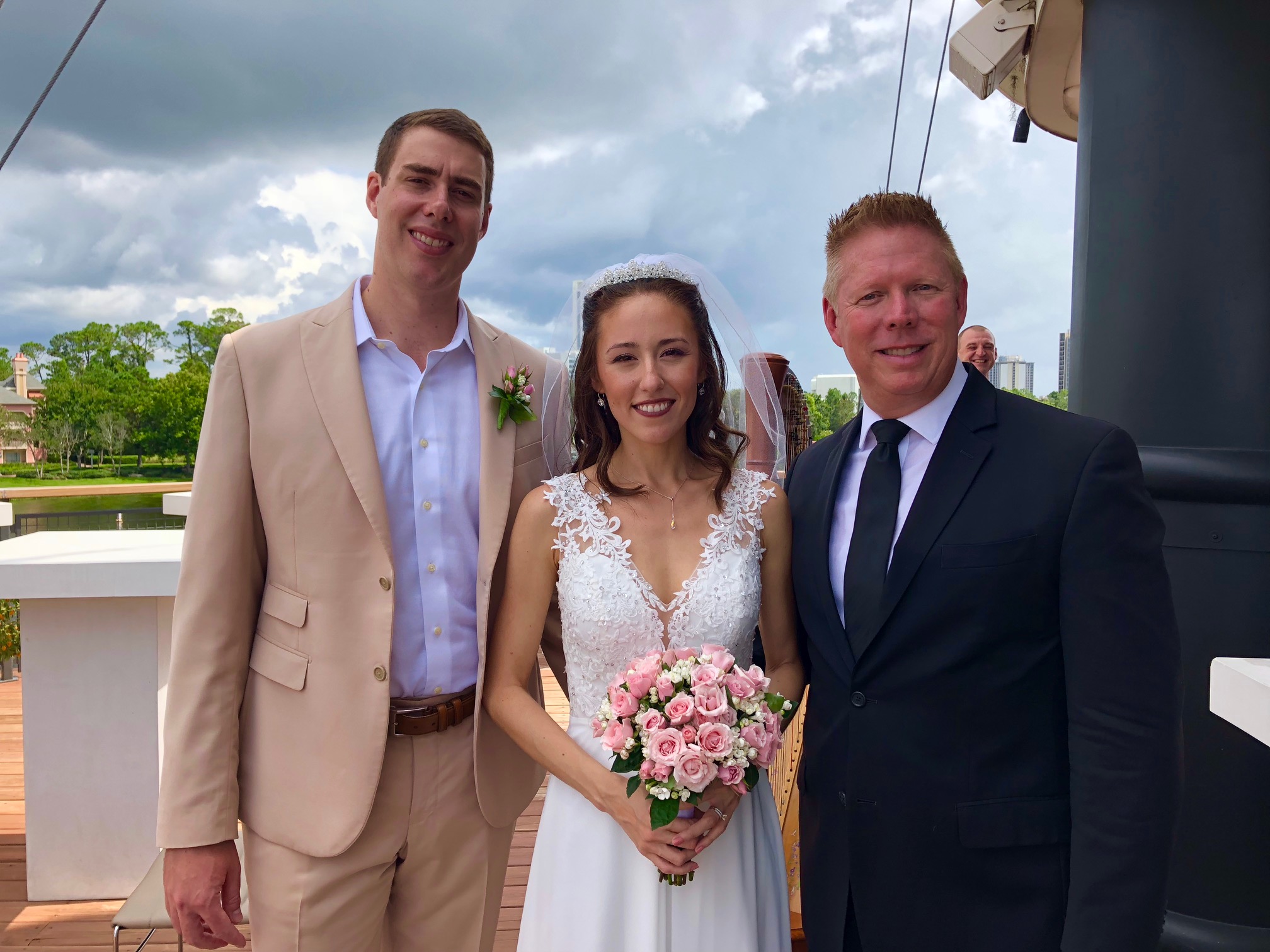 Married at Disney Springs
Stephen and Saaya came home to Orlando, Florida to get married at Disney Springs at Paddlefish at the Walt Disney World Resort. Stephen previously served as a chef at the local Grand Bohemian Hotel in Orlando and Saaya was a ballerina with the Orlando Ballet when they met at a friend's party more than ten years ago. There on the third flood deck of Paddlefish, surrounded by their family and friends the couple exchanged vows in a custom ceremony created by Rev.Glynn Ferguson of Sensational Ceremonies. As with many couples they decided to accept the "homework" challenge Rev.Glynn gave them and write paragraphs explaining why they love each other. Saaya wrote:
Stephen and I met and quickly became good friends. After a couple of years of friendship our relationship grew to love. We have been together now for over 8 years and he is still the loving, supportive, compassionate man I fell in love with. I trust him completely, he supported my decision when I took a job in Romania, where I spent 2 years. Long distance was a challenge, especially with the time difference, but being able to stay together, stay loyal and maintain our love for each other just proved to me that he is the man I want to share my life with. He can always brighten my day with just a look or a smile. I'm looking forward to spending the rest of my life in his arms where I feel safe, happy and loved.
While Stephen wrote: We have been best friends and supported each other over the years and have a level of trust that is unmatched. Saaya has a strong spirit and knows how to make me happy no matter what I am going through; she is truly inspirational to me. We love to travel together and discover new things, whether it be places, foods, or new cultures. For me a destination is not a place but rather a new way of looking at things. Sharing new experiences around the world with Saaya makes my heart warm knowing we are going through this life together. We can share these experience what life brings our way!
Angelika Krug was hired by the couple to capture the entire event through photography. She took detail shots of the beautiful florals the couple had purchased through the local Publix grocery store. Stephen's mother took those floral arrangements and placed them in containers she had decorated for every table and place in the reception.
Christine MacPhail was booked through Intimate Weddings of Orlando and asked to play the harp for the guests as they arrived, the ceremony, and during photos after the ceremony.\
Stephen and Saaya chose a morning wedding to avoid the rain that comes many afternoons in Central Florida. As soon as photographs were finished the rain began–good luck for your wedding day!