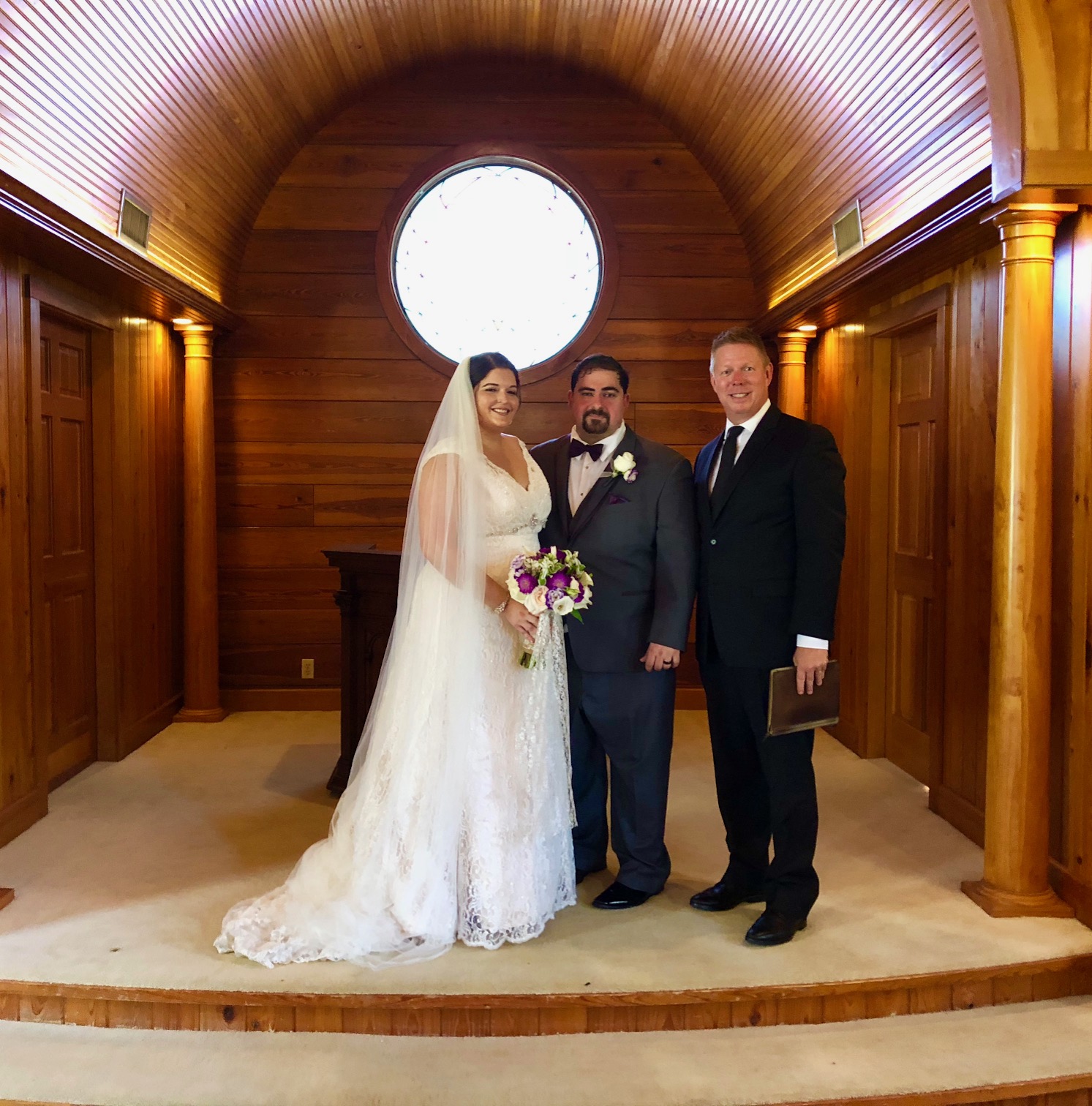 Romantic Destination Wedding
Ronnie and Brittany had a romantic destination wedding to the Estate on the Halifax in Port Orange, Florida. The couple chose the beautiful historic wooden chapel to exchange their marriage vows before their family and close friends.
April Dorsey with The Dtales was their day of coordinator and worked hard to make sure every detail was just the way they wanted it. From pinning on boutonnieres to straightening the bride's veil before she walked down the aisle, April and her team made it look effortlessly.
Mark Dickinson Photography always does a fantastic job of taking care of our brides and their wedding parties. This was no exception. The personal time he spent getting to know the couple's vision for their wedding photography, just made the day go spectacular and he worked side by side with the videography team of In Perspective to make sure they were not in the middle of everything, bu captured EVERYTHING.
What Really Matters was the florist for the couple, their parents, and the wedding party. They stayed to make sure that everything still looked fresh and put together even after the ceremony concluded.
Rev. Glynn Ferguson with Sensational Ceremonies was chosen by the couple to create a one-of-a-kind custom ceremony, that fit the two of them. With blending their two different backgrounds they chose a mostly civil ceremony, but on the advise of Rev. Glynn they chose to do his "homework" assignment and write what they love about each other.
Ronnie did an awesome job when he wrote:
I can be myself when I am with her
she always knows how to make me laugh or smile
She is the most caring, compassionate, and generous person.
I always smile when I think of you
Her weirdness goes perfectly with mine.
I know I can fully trust you with my life and heart
She makes me feel like a kid when I am with her in that the world has infinite possibilities and anything seems possible.
She lets me tell the same stories over and over again
She introduced me to the wonderful world of being a cat daddy
I can sing around her and she never cringes
You always are there for me when I am sick or upset and you laugh at my stupid jokes.
She loves me as I am. Imperfections and all.
She has given me two remarkable and precious gifts. Her love and friendship.
She puts up with my redskins viewing and commentary. She even watches games with me. ( I am pretty unbearable)
Her Betty Rubble laugh
She's a great cuddler
She's my best friend. We never get sick of each other.
She fits in so well with my family
I can tell her anything with no fear.
When she is in my arms my hearts slows and my body relaxes with the knowledge I am home.
There are many more reason I love Brittany but I am going to stop because I have the rest of my life to find more reasons.
What an amazing evening of love, vows, dancing ,eating, photos and more love. Congratulation to Ronnie and Brittany!