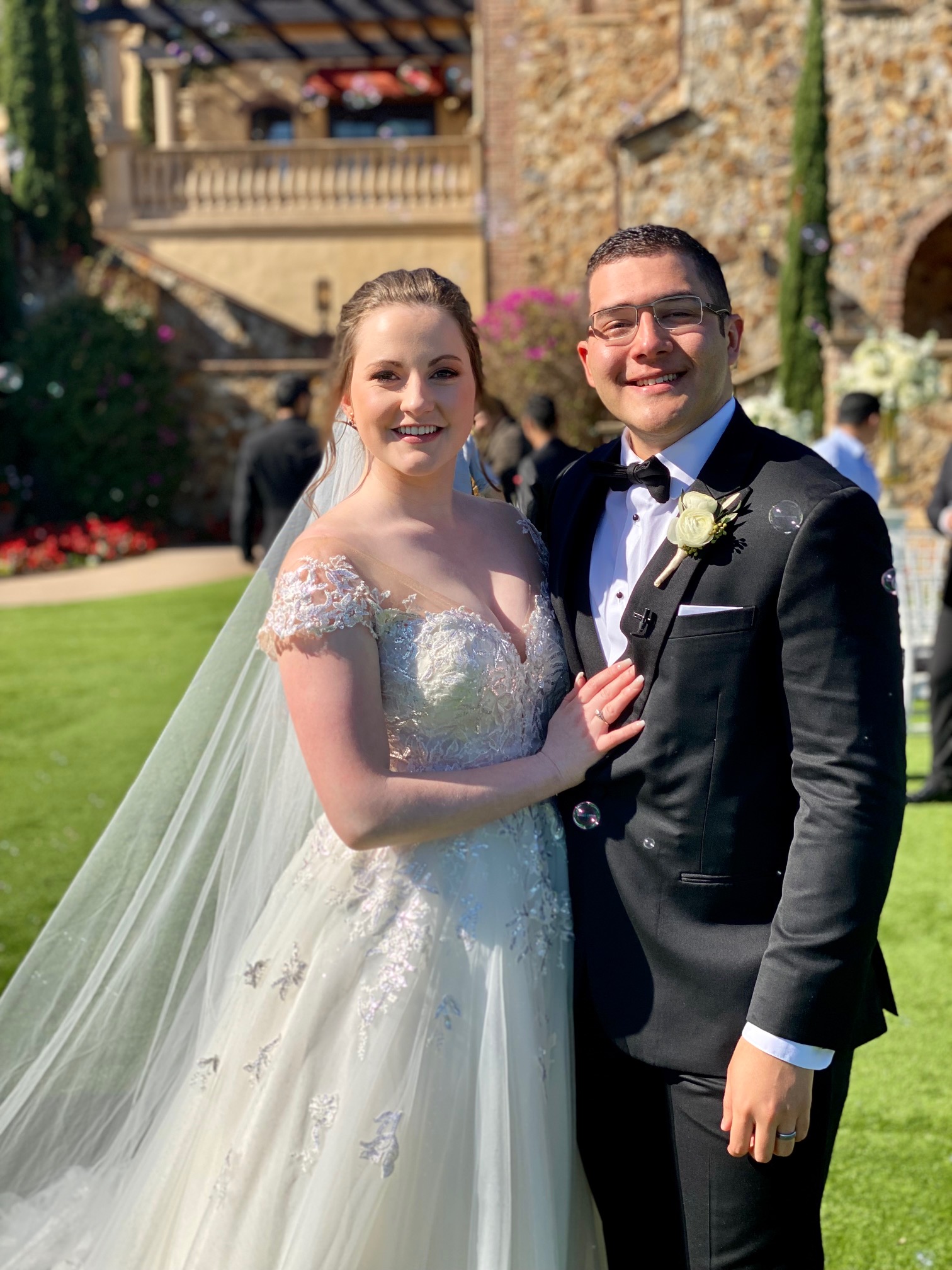 Married in Tuscany
Henry and Erin met in Orlando and fell in love. When they decided to get married there was no other choice, but for them to get married in Tuscany, but the trip was a little far for their guests, so they did the next best thing and married at Bella Collina.
Bella Collina is nestled in the rolling hills of Central Florida, just outside of Orlando. Driving through the gates of Bella Collina is like traveling to Italy. With a castle on the hill, groves of olive trees and Italian architecture, any couple choosing to tie the knot here is getting married in Tuscany.
Erin and Henry chose Bella Sposa to help plan their wedding. With the attention to detail and the fact that they work at Bella Collina often, it really helped the couple to have their vision to be married in Tuscany come true.
Atmospheres Floral and Decor worked with Erin and Henry to make sure all of their flowers kept with their vision of getting married in Tuscany. The white floral arrangements down the aisle gave the perfect framework for the couple's intimate ceremony and the bouquets and boutonnieres were the perfect touch.
Erin and Henry chose to keep their guest list small, but they still wanted to involve their family and friends in the process of getting married in Tuscany. They did this by the incredible team of photography (Paris Scott Photography) and videography (DeMarco Films) that they assembled for their wedding day. This way their guests could enjoy the couple's images and video, without being present on the wedding day.
Our DJ Rocks really did bring the beautiful music to this ceremony. Getting married in Tuscany never felt so romantic as when it is accentuated with beautiful music. From classical music to songs inspired by their favorite movies, Erin and Henry could feel the love around them through their music.
The couple chose Rev. Glynn Ferguson, the owner of Sensational Ceremonies and an official Walt Disney World Wedding officiant, to work with them to create a custom ceremony as they were married in Tuscany. Erin and Henry wanted a ceremony that reflected their unique relationship, but was beautiful and filled with love and laughter.
Rev. Glynn gave them a homework assignment to make their ceremony super personal. He asked them to write and tell him why they love each other.
Erin wrote: I love you because you care so deeply about the people around you. Your heart is so kind and tender, and I love you because you show your love in acts of service for others. You are the type of man who will walk across town to buy me a bouquet of roses just because you know it will make me smile, and you are also the type of man to stop and help a stranger who dropped something just because you know it will make their day a little bit better. You are the type of man who will make sure to wipe down an airport food court table after you've used it just because it'll make the next person's life a little easier. I love you because of your selflessness and because you don't even realize how big your heart is.
I love you because of how patient you are. Not only were you unbelievably patient while we were separated by distance, now that we're together, you take the time to understand me, especially when I have a hard time telling you what I'm thinking or feeling. Even when we can't seem to get on the same page, you don't rush me or get irritated with me, you are compassionate and patient. And no matter what, we are always able to find each other again and I love you more and more each time.
I love how willing you are to learn about new things. You have learned the complexities and nuances of an entire language, but you're also willing to let your curiosity lead you down a Reddit rabbit hole when something new piques your interest.
I love how affectionate and cuddly you are. You love to hold my hand and kiss my forehead, no matter where we are or who is around. I love that so much!
I love how you encourage me in my hobbies and interests. You definitely could have just thought I'm a little whacky for being a self-proclaimed moon witch, but instead, you bought me moon tea towels and bathmats to make sure our whole place has a cohesive moon theme!
I love how much you have become a part of my family. I love knowing that my sister could call you anytime for anything, knowing that her big brother will be there for her. And I'm so proud to be a part of your family, too. After meeting your mom, dad, Mary, and Juan the very first time, I could see exactly where you got your kind and loving heart from.
I love you, Henry, because our life together is even happier and brighter than I ever could have hoped. Being with you is my greatest joy! I love you because you are my partner, my support, my teammate, my lover, and my best friend.
Henry wrote: I love you because I can look back at our old messages and realize that, surprisingly, you have loved me just the way I am from the very beginning, even when I was being clingy, weird or awkward.
I love you because I have always been able to trust you as much as I trust myself.
I love you because you stuck with me in a long distance relationship that lasted over 4 years until we were finally able to be together.
I love the fact that you have an awesome family that loves me, just like I love the fact that my family loves you because you are awesome.
I love that we both think that a perfect date consists of simply watching 90 day fiancé while eating a bowl of pasta and cuddling.
I love that whenever we have a discussion, we both try our best to make peace as soon as possible to avoid being upset at each other. I also love that some days later we usually end up making fun of the silly things that started our discussions.
I love going to the bathroom every night and coming back to the bed to find you sleeping in a really weird but adorable position or simply taking my side of the bed.
I love talking to you while you are sleeping and having crazy conversations that you can't remember the next morning.
I love how sometimes when we are hanging out with other people and I tell a joke, you are the only person who finds it funny because you actually understand my sense of humor.
I love that you are the perfect teammate for everything we do. Including grocery shopping, moving out apartments, putting together furniture, and so much more.
I love your willingness to try some of the odd things that I find entertaining or interesting.
I love how you can make me laugh out loud in ways no one else can.
I love the way you hug me and kiss me every morning before you leave for work.
I love the cheesy good morning messages we send each other every day.
I love reading the messages you send me throughout the day and realizing that I'm suddenly smiling.
I love that whenever we don't know what to say, we simply give each other a long and loud air kiss that sounds like this. *Makes sounds*
I love the way you take care of me and how you always make sure that I feel happy.
I love that you are really organized.
I love that you are smart and funny.
I love that you are super beautiful and sexy.
I love the way you smell.
I love that you are patient.
I love that you are really loving and caring.
I love you because you make me a better person.
Finally, I love you for being exactly who you are.
Erin, I love you with all of my heart.
Congratulations on getting married in Tuscany!