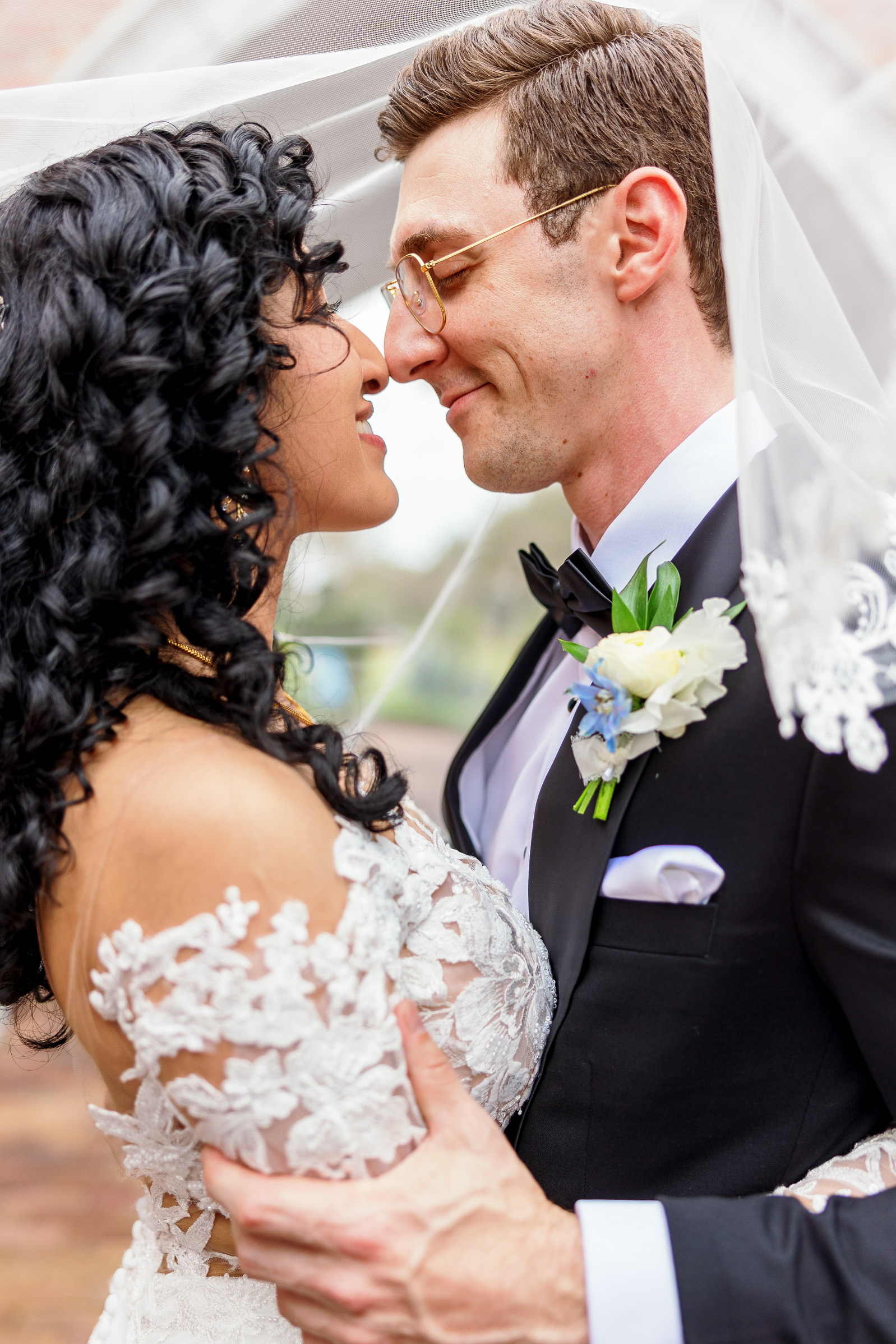 Michael and Phyllis
Just when you least expect it, life brings you a love story.  Michael and Phyllis met when the schedule of other people brought their paths together.  One was a back up for a friend on a hiking trip and the other was on a waitlist for the same trip.  When both got the green light to join the hike, it was like a match made in the Appalachians.  
Their friendship started on the hiking trail and quickly became a romance and love story. Micheal and Phyllis decided to marry and then they wanted a location that fit the two of them. Casa Feliz in Winter Park, Florida was the perfect spot. Built in 1933 the house has been the site of numerous weddings, social events, and tours.
Knowing who to trust with you wedding can be a daunting task, so Michael and Phyllis asked the talented ladies of At Last Weddings and Events to help them make the vision for their wedding day come to life. From guiding them through design and inspiration to seeing it all come together in real time, everything was flawless.
Jennifer Nicole Photography was the first vendor that Michael and Phyllis chose to help them make their wedding dreams come true. With a great team that captured every moment, the pictures turned out Amazing!
What is a wedding without flowers? Dull. Michael and Phyllis chose the very talented Alyssa Maldonado Design to make their gathering beautiful and filled with the lite touches that they were looking for. Simple, lite, airy, florals filled Casa Feliz with fragrance and beauty.
Jay with Liquid Entertainment brought the party to the people. Michael and Phyllis loved his energy and playfulness and knew he was the perfect DJ for their wedding reception.
For their ceremony music Michael and Phyllis wanted a classical touch to it all. They hired the Anthology Quartet. Sitting, perched above their guests, on a balcony the quartet brought the beautiful music that enhanced the couple's wedding ceremony.
For their ceremony Michael and Phyllis knew that they wanted something that acknowledged their faith, but at the same time they wanted something that was very personal to them. After doing their research and listening to friends who had used Sensational Ceremonies, the couple asked Rev. Glynn Ferguson, the owner and an official Walt Disney World wedding officiant, to help them make their ceremony, one to remember.
Rev. Glynn gave Michael and Phyllis a homework assignment to write and tell him why they love each other.
Michael wrote: Every year, my mom takes the time to tell me the story of my birth. Along with showing me baby pictures, how much I weighed, how I was without question the best baby out of all of my siblings (by a long shot) she tells me how a few complications during delivery were nearly catastrophic. I almost died the morning of my birth. To this day, I am convinced that my mom somehow struck a deal that took all of her luck and gave it to me so I would be able to live.
Out of everything I've experienced in life, nothing confirmed this luck more than how I met Phyllis. We met on a group hiking trip in the summer of 2017, one that was her back-up plan, and one I was a part of only because someone else backed out.
On our path from our first meeting to this very day, I met a person who is full of life, magnetism, compassion, gentleness, beauty, and intelligence. I came to understand her experiences with struggle, suffering, and loss, and continue to be inspired by her warmth and benevolence.
She shows her ability to sacrifice, and show commitment to self, others, and her values. She roots our relationship in faith, family, and friendship. She has given my life happiness, contentment, meaning, and purpose. Five years of learning and growing beside Phyllis has proven that my life was unlived before her.
I am eternally grateful to fall in love and be loved by someone as special as Phyllis. In life it's unlikely you have the chance to be in the right place, at the right time, and be the person you need to be all at once.
We have been lucky enough to find all three in each other, and I can't wait to officially call her my wife.
Phyllis wrote: Michael, my life changed when I met you on that hiking trip five and a half years ago. I was immediately drawn to your gentle eyes, your comforting smile, your wholesome laugh, especially to all my jokes, and your charm. You helped me see the world in a different perspective and still awaken a sense of adventure in me to this day.
Now all these years later, you are my favorite travel companion. You are my favorite goofy goober. You are my best friend. You are the first person I want to celebrate with during the good times and the first person I want to turn to when times are hard. You have always been so supportive of me and my dreams in ways that I could not have imagined. You are selfless and always go out of your way to make me happy. Even the little things you do are so meaningful to me. You've opened your heart and allowed me in just as I am. You've even persevered through cultural differences for our love.
Michael, I love you for who you are and can't imagine my life without you. I thank God that our lives crossed paths all those years ago and couldn't be more excited to continue this journey with you, now as your wife, for the rest of my life.
Michael and Phyllis had an amazing team of vendors that included LePetit Sweet for their delicious cake, Arthurs Catering for all the delicious goodness that was served at the cocktail hour and reception, and Resurgent Fire Films for capturing every moment of the couple's day on video.
Congratulations Michael and Phyllis. May you hike through life's journey hand in hand, heart in heart.
Sensational Ceremonies
Average rating:
0 reviews