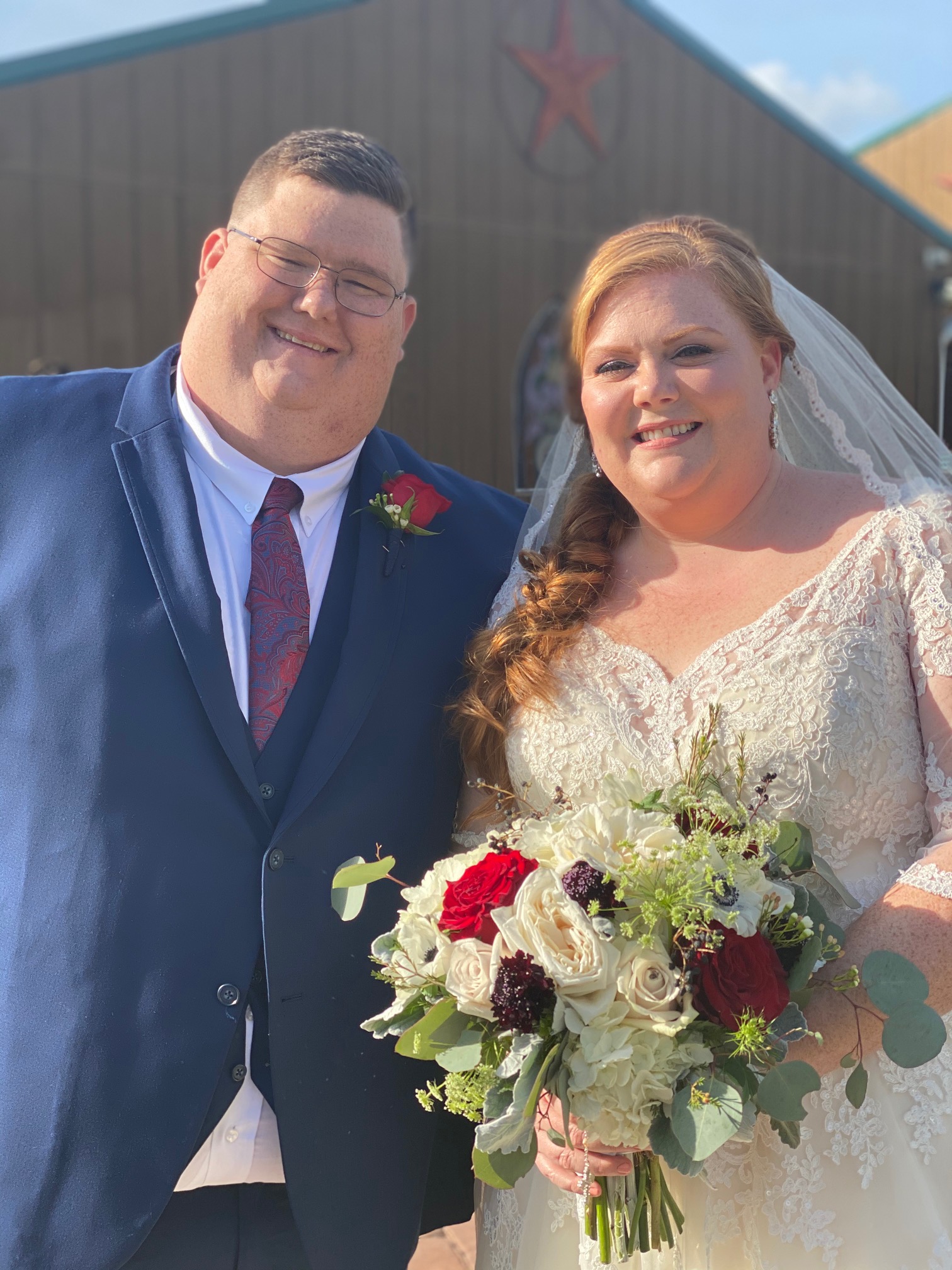 Miracle Wedding
To say that Sarah and Daniel's marriage was a miracle might be an understatement.  The couple met online while Daniel was undergoing chemotherapy and still in the hospital.  A Miracles Wedding did happen and the rest is history. 
 For their venue the couple chose the Hidden Barn in Apopka.  Out in the country and not well known, this venue was the perfect backdrop for their Miracle Wedding.  With barns, a saloon, open air chapel, wagons and a ton of other backdrops this place is best described as rustic chic.
To fit their Miracle Wedding theme the couple chose Mission BBQ to cater the event.  From passed appetizers, and the most scrumptious BBQ this was the perfect touch for their laidback style.
To take care of all things that involved sound or music Sarah and Daniel asked DJ Johnny with BlueChip Entertainment to take the reins for their miracle wedding.  Johnny not only provided the music and microphones for the ceremony, but kept the guests on the dance floor late into the evening.
  Ever After Hair and Makeup really took care of the ladies.  They arrived early and made sure Sarah and her bridesmaids all looked fantastic for this miracle wedding. 
 The Flower Studio really came through for this miracle wedding.  Sarah and her ladies carried beautiful bouquets of  O'Hara's garden roses, Red Heart roses, white hydrangeas, and Privet berries while the gentlemen had boutonnieres of roses and greenery.
Captiva Photography did an amazing job of capturing every moment of the couple's big day.  From getting ready pictures, a private gift exchange, through the ceremony, reception and family portraits.  They really did a great job of documenting those intimate moments that make a wedding so beautiful.
  To make this wedding more than just a party the couple asked Rev. Glynn Ferguson with Sensational Ceremonies to officiate their custom ceremony to make this a miracle wedding and not just a miracle party.  Rev. Ferguson crafted a beautiful Christian ceremony for them and asked Sarah and Daniel to write and tell him why they love each other.
Sarah wrote:  From the beginning, Daniel was different.  I felt like I had known him for years and, for the first time, I wasn't anxious about a relationship.  It wasn't easy by any means but there was this constant assurance that everything would work out.  There was never any anxiety over whether I should text him or call him.  Never any anxiety over being too much.  I have always just been myself with him.  I love Daniel because he's my best friend.  He is the person who knows my every flaw and loves me just the same.  Daniel is the first person I dated who reminded me so much of my dad.  My whole life I've always said that what I will remember most about my family is how much we laugh.  Daniel makes me laugh so hard it hurts.  He fits in so seamlessly with my family, which is really important to me.  Daniel challenges me and pushes me to be a better person.  I'm not always peachy, admittedly, and he takes it in stride.  Just like our wedding song says, "Sometimes we're oil and water but I wouldn't have it any other way." I know that Daniel is my future because he has held my hand through the roughest of days.  For a long time I thought that marriage was about finding another half but I realized, through loving Daniel, that we are whole on our own but we are better and stronger together.  At the end of the day, I love Daniel because he's my person.  He gets me, he accepts me, and he loves me.  Daniel is the one person I want standing next to me during the best and worst days of my life.  

Daniel wrote: Why do I love Sarah? This is going to be long winded, Bear with me.Love is a funny thing. I've spent my entire life looking for it, and at times I've found that I've even tried to force it to appear. Needless to say, I could never truly find it.
Cut to my 25th year on this earth, it's August, I had just been diagnosed with Acute Myeloid Leukemia. I was told that unless I began a rapid and aggressive course of treatment that I had less than a 5% chance of survival. I was told all of this sitting alone in a hospital room. My family didn't even know yet.The first thing that came to my mind?  "I'll never get married, I'll never be a husband, I'll never be a father"
Pretty grim right? I agree, but at this moment in my life that's where my head was at. I was concerned that I would never get to meet my soulmate.
I'm not the best catholic, I'll be the first to admit it. I don't go to church every Sunday. But right there in that hospital bed, I talked to God. I didn't ask to be spared. I didn't beg him for my life.I asked him to send me someone that will love me no matter what was going on.
A few months later, I'm in the middle of chemotherapy. I had just decided to download "Match.com" on my phone. Shoot, I'm already dying, what could it hurt?! I spent the next couple of days looking at all of the different profiles.I saw this one profile, her name was Sarah. "Great name" I thought. She had very long red hair in the photo, and her smile was amazing. I read her profile over and over and over, and then I finally decided to message her.
Wouldn't you know it she messaged me back. We began talking and instantly hit it off. We talked about anything and everything. And we finally decided to meet. There was one problem though.
I had forgotten to mention to her that I was sick.
Well, we finally meet on the date, I had just gotten out of the hospital, so I was very pale, weak, and pathetic looking. She didn't seem to notice.While we're making small talk, looking over the menu at Mario's Italian restaurant, I finally tell her. "I need to tell you something…..I have cancer".She looked at me and said "Okay, what kind?" I told her.
It didn't phase her in the slightest, even after I told her the prognosis and all. She didn't seem to mind at all. I was so Worried that she would have walked right out of that date. I mean, I wouldn't have blamed her. Who wants to get romantically involved with someone who might not be alive in the next year?
We continued talking and seeing each other after that. She would come visit me during chemotherapy. She brought me cookies and sweets during Christmas when I was in the hospital. She would get off work in Gainesville and drive the two hours to Daytona beach just to see me for a couple hours. When I finally got out of my last chemotherapy treatment it was early may 2018. Sarah told me she wanted me to move in with her so she could take care of me. I had absolutely no problem with that.
A week later I was back in the hospital in Shands cancer center. I was very very sick. I ended up having to be intubated. They told sarah and my mother that I most likely wouldn't make it out of the hospital this time. Sarah stayed by my side the entire time. She held my hand when I was scared. She fed me when I couldn't feed myself. She took amazing care of me. Then, all of a sudden I was better. The doctors told me I was in remission. Sarah and I went home.
The rest is history.
God sent Sarah into my life at the perfect moment. He sent Sarah because he knew I needed someone with an amazing sense of humor. Someone who wasn't afraid to laugh and act goofy. He sent Sarah because he knew how much I loved and valued intelligence. He sent Sarah because he knew I needed an empathetic compassionate person in my life.Sarah is all of those things and more. She is my best friend, and I will spend the rest of my life loving her and laughing with her
Now, if you need a tissue after reading these, just imagine how it was on their wedding day.We wish Sarah and Daniel happiness and good health for a lifetime!