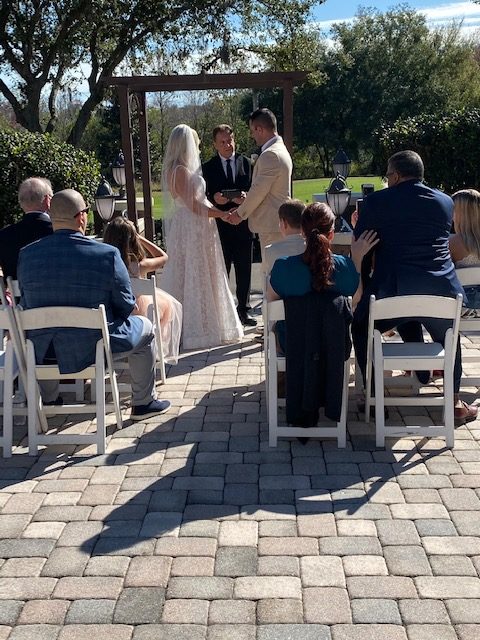 Mystic Dunes Beauty
THE VENUE
Nestled in the rolling hills of Central Florida is a magnificent golfing and recreation retreat.  Mystic Dunes by Diamond Resorts is a distinctive family resort as well in Orlando, FL near Walt Disney World Resort®, Universal Studios Orlando®, and SeaWorld Orlando. The resort is in close proximity to everything Orlando has to offer. It is just a few miles from sensational shopping and dining. Built on one of the highest elevations in the area, This Mystic Dunes Beauty is nestled on over 600 acres of rolling hills, lush Florida nature preserves and beautiful tropical landscaping. It also offers a fantastic wedding venue and an amazing array of delicious entrees that any wedding party would love.
THE CEREMONY
Amy and AJ brought their intimate group of friends and family members to this amazing destination to celebrate their wedding ceremony in what can only be described as a Mystic Dunes Beauty!. Lon Tosi of Celebration Florida and the Central Florida officiating team of Sensational Ceremonies worked with the couple to build a custom ceremony that brought all who witnessed it to tears. Amy and AJ actually selected the specifics of the ceremony to match their needs using a great planning kit offered to them by Lon. Their ceremony featured a "love theme" that got right to the heart of the meaning of their relationship! Lon read: Love is a promise that is always kept, a fortune that can never be spent, and seed that can flourish in even the most unlikely of places" Wow, that was so very powerful! He also read: To see with loving eyes, is to know inner beauty. And, to be loved is to be seen, and know as we are known to no other. One who loves us, gives us a unique gift: a piece of ourselves, but a piece that only they could give us". The ceremony featured a Warming of the Rings celebration. Each member of the small audience held the rings for just a moment and warmed them with their silent best wishes. What a wonderful way for the couple to involve each of their audience members in the celebration! Just before their pronouncement by Lon, he read the following words that topped off the gorgeous proceedings: All I want is to love you, All I want is to love you – forever!
THE VENDORS
Our Mystic Dunes Beauty was catered to by the wonderful professionals at Mystic Dunes and of course, Lon Tosi representing Sensational Ceremonies. Custom weddings can never be better than this heartfelt and warm wedding celebration!
And it all happened on a sunny and inviting winter day in the heart of Central Florida, within the aura of Walt Disney World Resort and the world's Orlando playground. We wish you much luck Amy and AJ and your wonderful children. You are off to a great start!